Hard Boiled Eggs-How to and recipes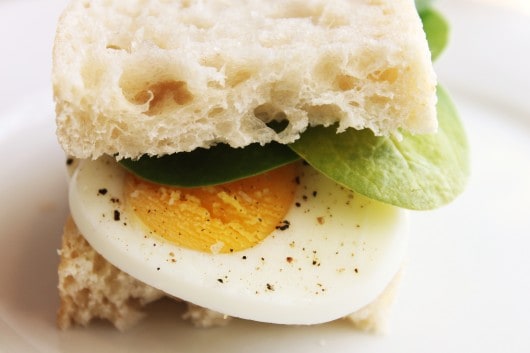 This is an easy sandwich to make, and it sure is good. Sometimes the simplest things often are. Don't you think?
I often have hard boiled eggs in the fridge as my family loves them, well some of them like the whites only, I think they are crazy. I like the yolks just as much.
It's great having hard boiled eggs in the fridge when you are hungry, just peel, slice and place the egg on a piece of crusty bread with some salt and pepper and a few leaves of spinach. Makes a great quick lunch as I'm heading out the door!
To make hard boiled eggs, place eggs (beginning with room temperature eggs they say prevents cracking) onto a saucepan and cover the eggs with an inch of water, two tablespoons of white vinegar and a teaspoon salt. bring it to boil, cover the pan with and remove from the hot burner for 17-20 minutes depending the size eggs I use. Pour off hot water and fill pan with cold water, leave eggs in cold water until they are completely cooled. Peel them under cool running water, or refrigerate to use later.
I don't make deviled eggs often. When I do, I make them with nonfat yogurt instead of mayonnaise. I substitute nonfat yogurt for mayo in lots of recipes.
By replacing the mayo with nonfat yogurt, I feel I'm able to eat more sweet treats that way.
I make potato salad without mayo as well as tunafish.
I also make deviled eggs with nonfat yogurt.
Cut the hard boiled eggs in half length wise and scoop out the yolks.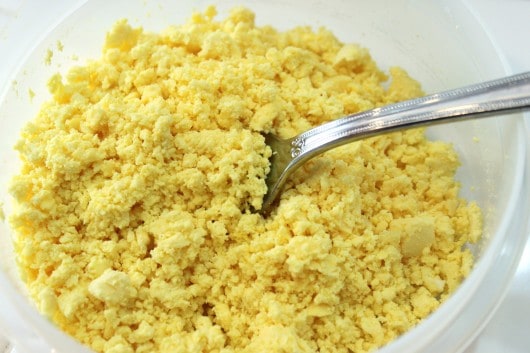 With a fork and crumble the yolks before adding the yogurt so there won't be lumps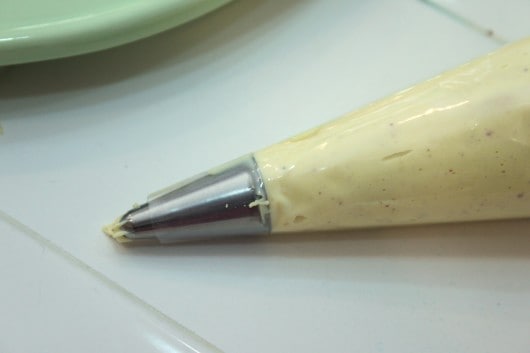 For six hard boiled eggs I add 1/4 cup nonfat yogurt, 2-3 tablespoons brown mustard, salt and pepper. Mix it until it's smooth and creamy. Fill a piping Bag with egg mixture. I used a 2d tip.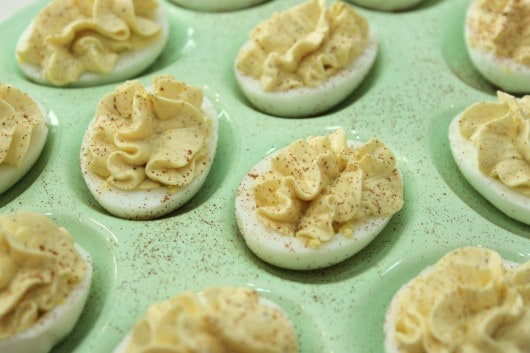 Pipe onto eggs white halves and sprinkle with paprika.
Okay….now get those eggs boiled 🙂