This is an easy and flavorful vegetarian dish with a Mexican flavor profile that will have you thinking it's Taco Tuesday any day of the week.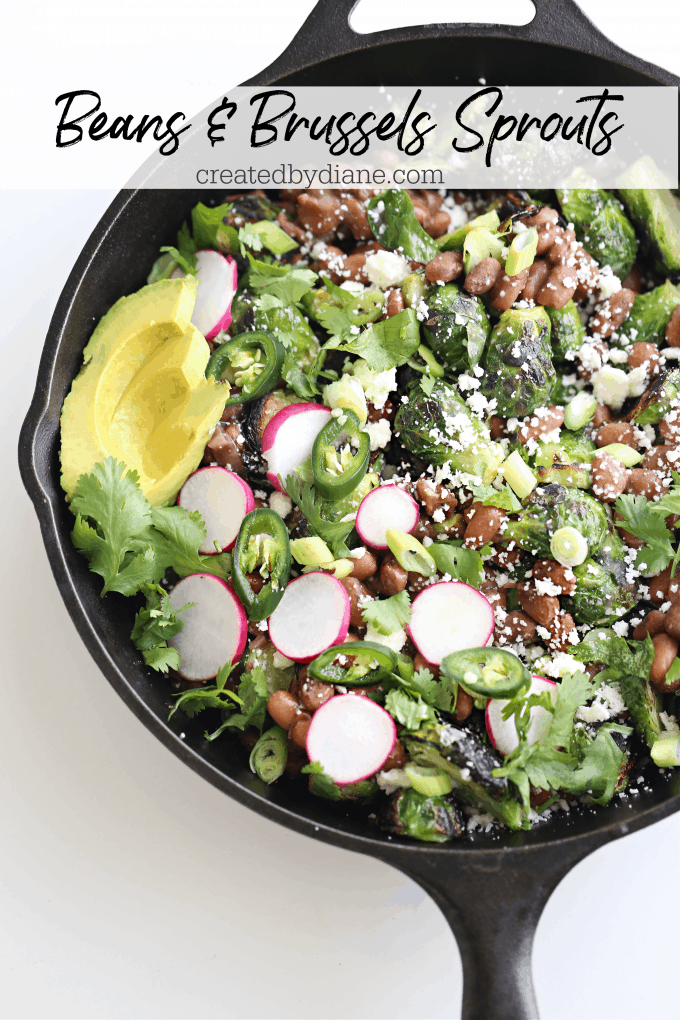 I'm always looking for quick and easy items to make,
this was surprisingly fun. I had made pinto beans in the Instant Pot (you could use canned beans) and as usual, had Brussels sprouts in the fridge, so I adding in a few more items and WHAMO, 
a vegetarian dish with some fun flavor. 
It's topped with cilantro, avocado, green onion, cotija cheese, lime juice, and radishes, which give it a nice crunch and flavor.
I sauteed jalapenos and added some taco seasoning to begin the dish, you could add some onion and garlic if you choose.
I try to eat low carb, but I do include beans recipes as they're full of nutrition and are high in protein and fiber.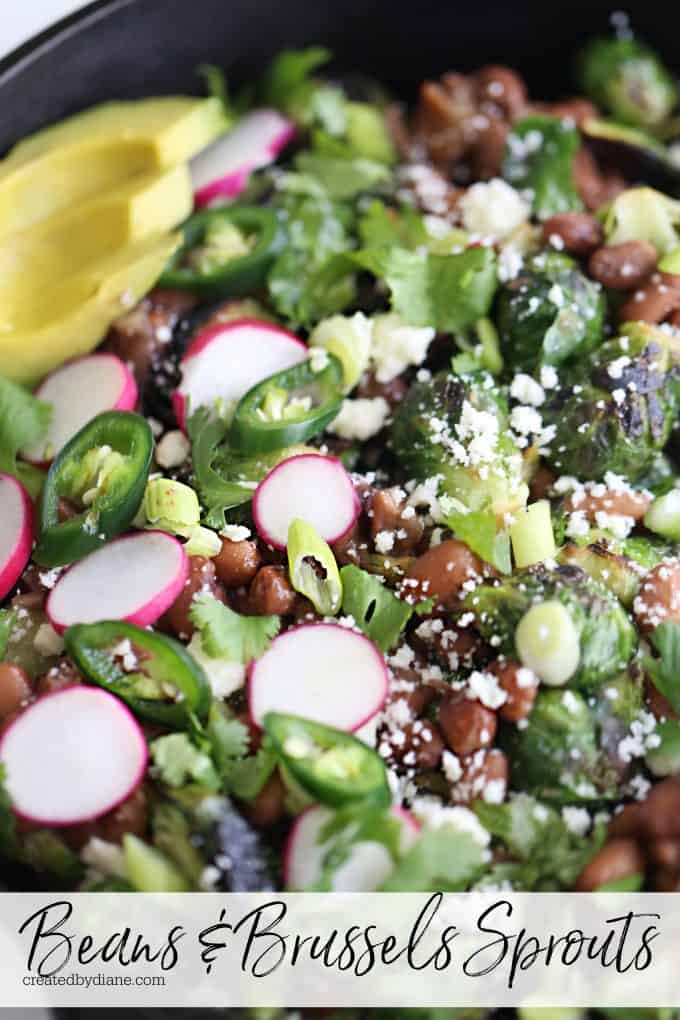 Let's begin:
Heat a skillet (I like cast iron as the Brussels sprouts get charred nicely and the heat of the pan keeps the food warm long after taking it off the heat)
Place the oil in the pan and heat the jalapeno and taco seasoning, then add in the Brussels sprouts.
Cook them until they start to char, then add a tablespoon of water and place a lid on top so they cook until tender (but not soft)
Add in two cups of pinto beans (or another type of cooked beans) add lime juice, then stir until everything is heated.
Take the pan off the stove, then pile on the toppings
Add some radishes, green onions, avocado, cilantro, and cotija cheese for a fun and flavorful side dish or vegetarian main dish.
Add salt and pepper to taste.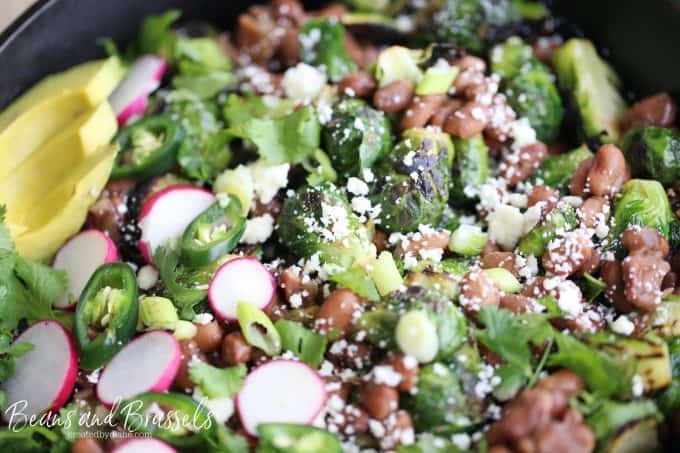 More Brussels sprouts recipes
Find some more Bean Recipes HERE and if you have a hankering for more Mexican food give some of these recipes a try.
Brussels Sprouts and Beans
A fun vegetarian dish with Mexican flavors like jalapeno, avocado, cilantro, lime, and cotija cheese
Author:
Diane Schmidt, Created by Diane
Recipe type:
Vegetarian, Main Dish
Ingredients
1-2 tablespoon oil
2-3 teaspoons taco seasoning
1 lb Brussels sprouts, cut in half
2 cups pinto beans or 1 15oz can or similar (black beans, white beans, pinto beans)
1 jalapeno sliced thinly
1/2 lime, juiced
2 radishes, sliced
2 green onions, sliced
2 tablespoons cotija cheese
1/2 avocado, sliced
2 tablespoons chopped cilantro
Instructions
In a hot skillet add oil then add taco seasoning and jalapenos, heat for 1 minute.
Add Brussels sprouts and cook for a few minutes, add a tablespoon of water and place a lid on top to cook until just cooked.
Add in the beans and lime juice, stir everything, and heat at medium temperature.
Remove pan from heat, add in the green onions, radishes, cotija cheese, and top with radishes, avocado, and cilantro.
Add salt and pepper to taste.