A delicious flavor combination comes together in this easy dessert.   
Chocolate Strawberry No Bake Cheesecake
Don't miss one delicious recipe from Created by Diane and get my FREE e-cookbook click here!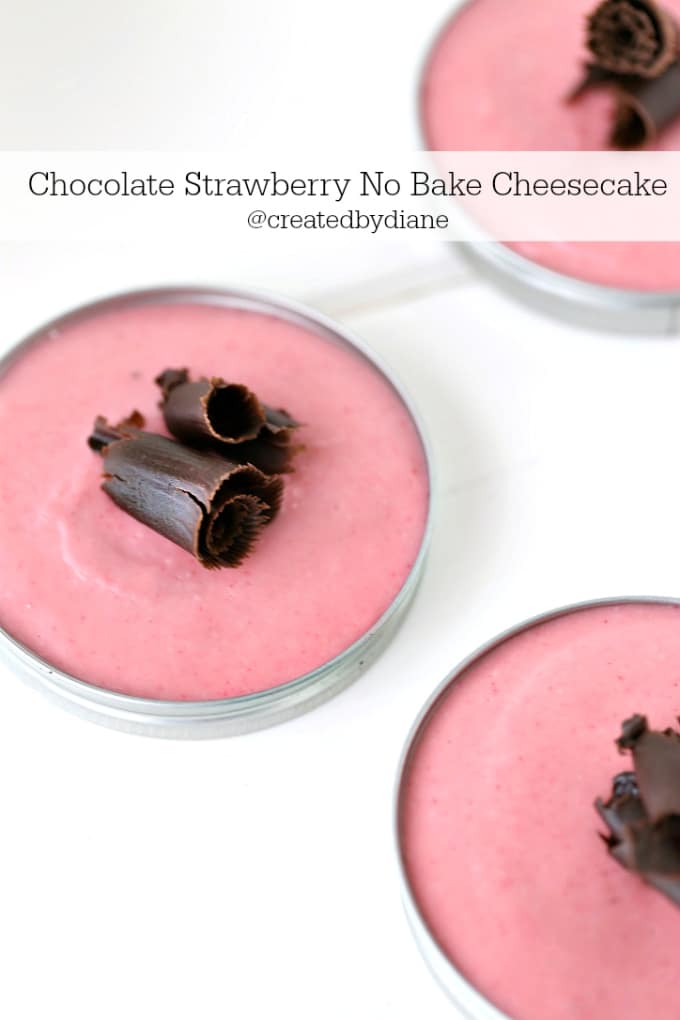 This recipe is made on the stovetop, which makes it super easy, quick and no need to turn on your oven.
I just love mini desserts and this recipe is simple, but it looks WAY harder than it is.
I added some chocolate curls to the tops of these, which are not too hard to make, but if you don't want to bother with them, add some crushed up oreo pieces or a tiny oreo on top, or even a strawberry.
I made these in Jar Lids, yes glass jar lids are great for making mini pies, you can bake in them or use them like for these no bake cheesecakes. Here is my post on Mason Jar Lid Mini Pies, if you think they are as cute as I do.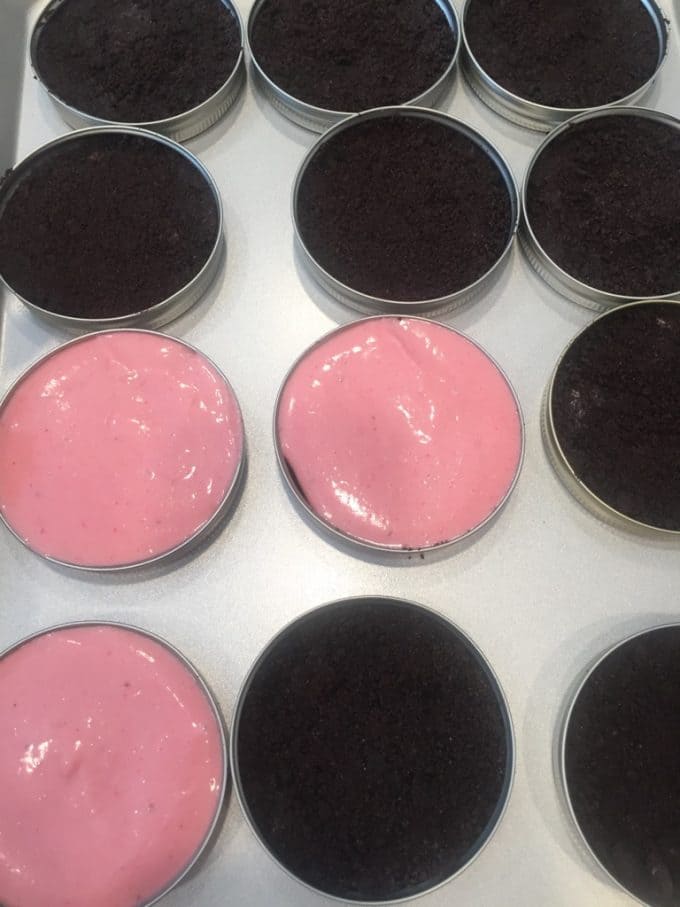 Two part jar lids come in so handy for mini pies, you can eat these pies with a fork out of the lid, or pop them out.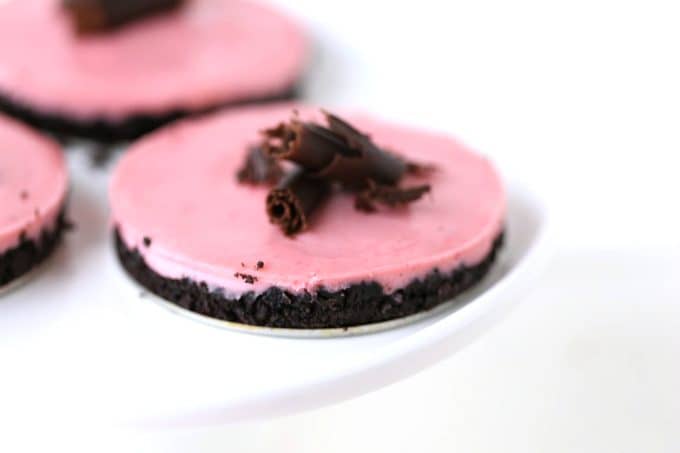 I use a ton of mason jars and have them in all sorts of sizes, I have plastic lids, lids to fit straws and a whole drawer full of mason jar lid associated items. Even a juicer attachment!
I bought a set of replacement lids just for making desserts in, so I was sure to have plenty when the need came to make sweet treats in them, I don't have to worry if I have enough that aren't being used already.
Chocolate Strawberry No Bake Cheesecake
Ingredients
24 Oreos
3 tablespoons butter
1 cup strawberries
2/3 cup sugar plus 2 tablespoons sugar (measured separately)
1-8 oz package cream cheese at room temperature
Instructions
In a food processor mix Oreos and butter.
Place two tablespoons into mason jar lids.
Press the mixture with the bottom of a small measuring cup to pack it tight.
Place the lids on a baking sheet so they are easy to move, and place them in the fridge for 15 minutes.
in a medium saucepan heat strawberries with 2 tablespoons sugar, bring to a boil and cook for 3-4 minutes. Until the strawberries are completely soft.
Press the mixture through a fine strainer.
In another saucepan heat cream cheese and 2/3 cup sugar and heat on medium and whisk until smooth.
Add strawberry mixture to cream cheese mixture and whisk until creamy smooth.
Pour about 3 tablespoons of the mixture into each mini pie crust.
Place them in the fridge for an hour to firm up, or freeze them, they are great cold from the fridge or freezer.
Top them with chocolate curls.
to make chocolate curls, heat chocolate candy melts in the microwave, then spread them on the back of a baking sheet and place in the fridge to chill for a few minutes. Then curl with a pastry scraper to create curls.