If you're a fan of mint and chocolate this cake has your name written all over it. This mint chocolate cake is topped with a deliciously creamy mint Swiss meringue buttercream frosting that you will want to eat off a spoon!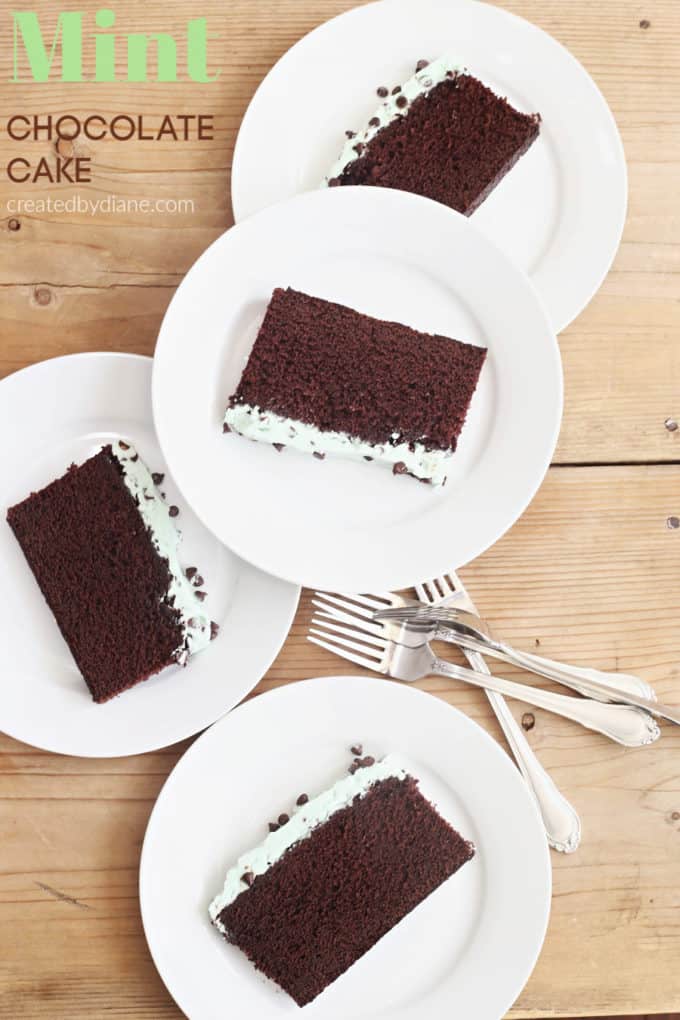 I'm a huge mint chocolate fan… give me some mint chocolate chip… anything and I'll smile.
Think mint chocolate chip ice cream, girl scout thin mint cookies, a McDonald's Shamrock shake, yep all yummy in my book!
This cake is so delicious it doesn't' even need frosting, you could dust it with some powdered sugar if you prefer, but I LOVE this frosting.
It's thick and creamy and minty and oh so delicious!
I added in some chocolate chips to the frosting then topped it off with some more mini chips.
Now about you…
This cake is for you if you like cake…
you want a really delicious dessert…
you can't ever get enough of all the minty and chocolatey and yummy.
This cake is nice and thick, so you can choose to serve big pieces or thin slices… either way, it'll be devoured.
What kind of mint is in mint chocolate items?
The specific mint flavor in Mint chip items is really Creme de menthe (mint cream) although there is no cream in it, it's a sweet creamy mint flavor.
It's not peppermint and its' not spearmint.
There is a huge difference in flavor.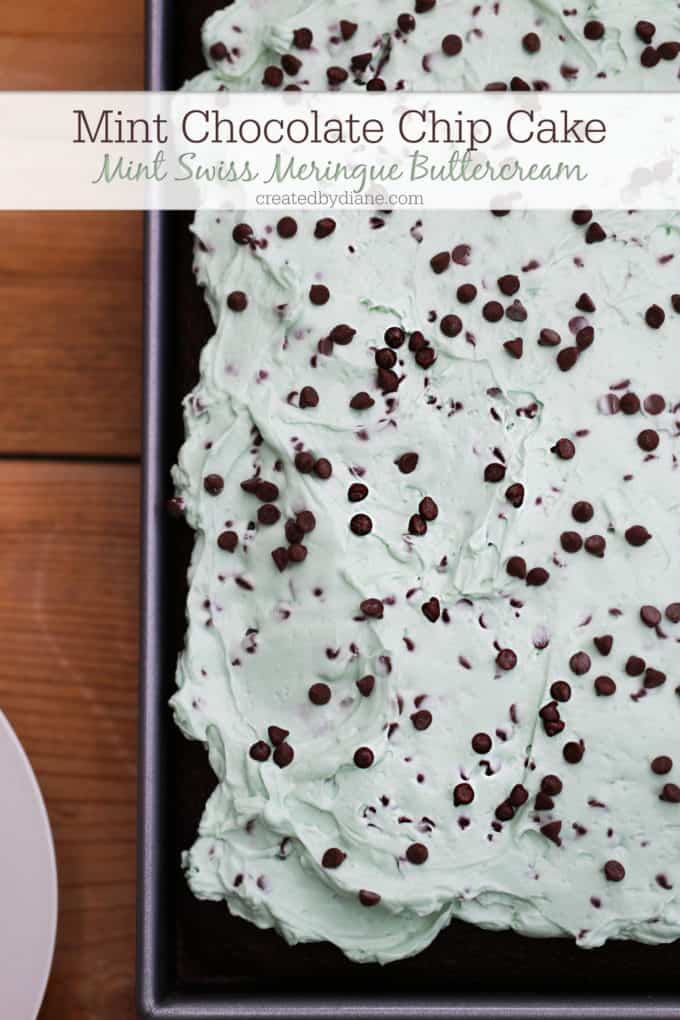 I have lined up all three and smelled and tasted them and know the delicious flavor of creme de menthe which is typically found in the alcoholic section and labeled as such.
Alternative non-alcoholic options can be found in stores or online baking supply shops and get this type of Creme de menthe flavor which is ultra-concentrated or this Creme de menthe extract. 
I'm a huge mint chocolate fan and have a nice size bottle of the liquor, I've had it for years and as with any liquor, it doesn't go bad the combination of alcohol preserves it.
Another favorite item to make with it Mint Meringues Cookies (OH THESE ARE SO YUMMY!)
And another fact is the green creme de menthe allows for the perfect color green in items, without making it too green, it offers just about the most perfect green hue ever!
You can find creme de menthe syrup online or you may find it locally.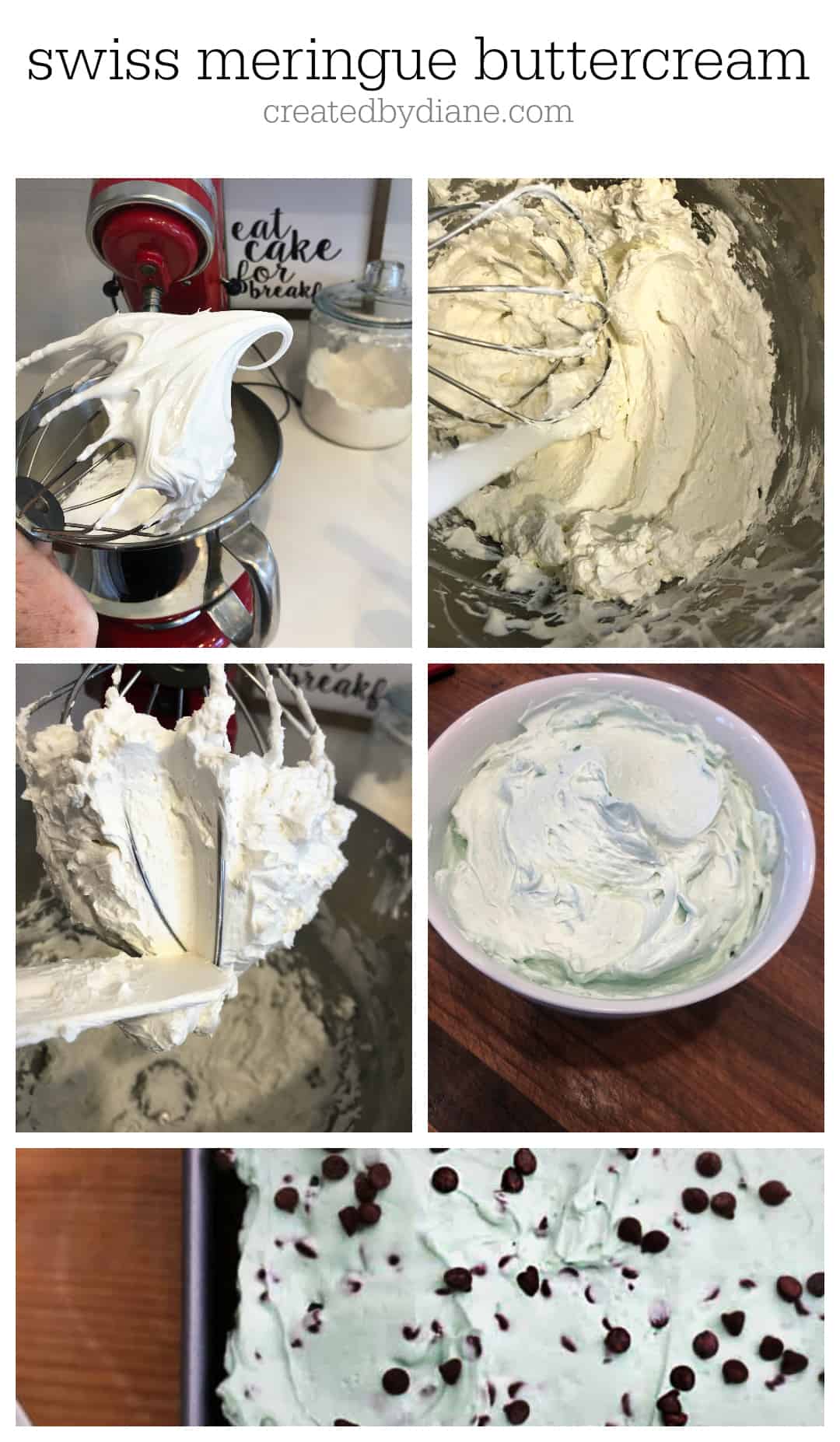 The mint Swiss meringue buttercream is not as sweet as traditional American buttercream, it has a smoother richer taste. And it's amazing! It takes a little longer to make, but SO worth it.
I added mini chocolate chip to the frosting… and if you'd like you can also add some to the cake batter. I'd add up to 1 cup of mini chocolate chips just before adding the batter to the cake pan.
This is the 13×9 cake pan I just got,
and I LOVE!
The sides are nice and square, it's a nice heavy pan that won't flex in the oven.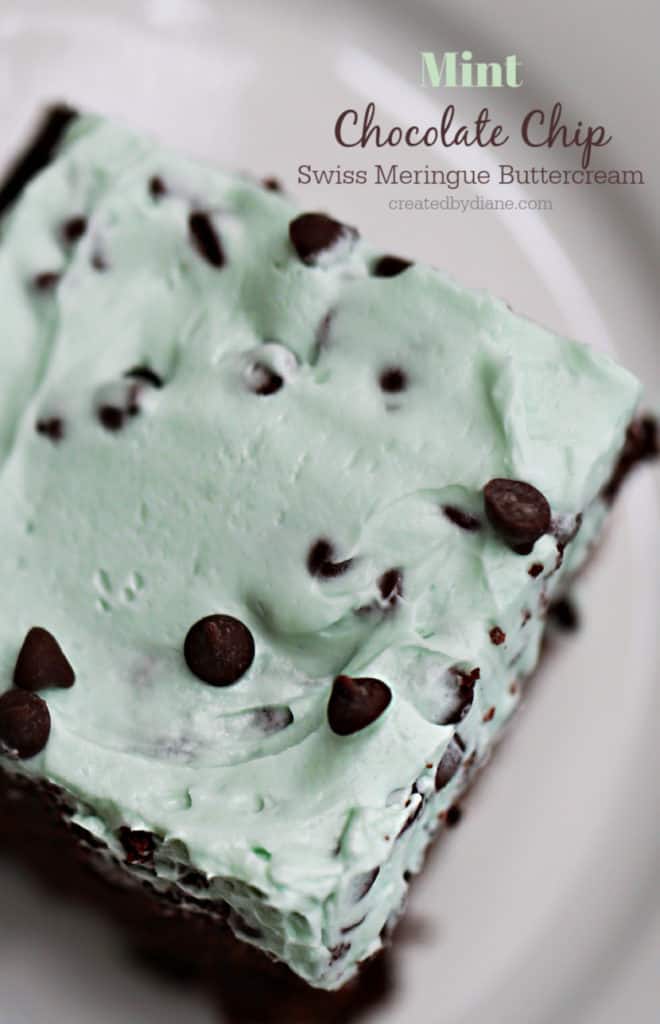 Be sure to take a look at some of my other fun mint recipes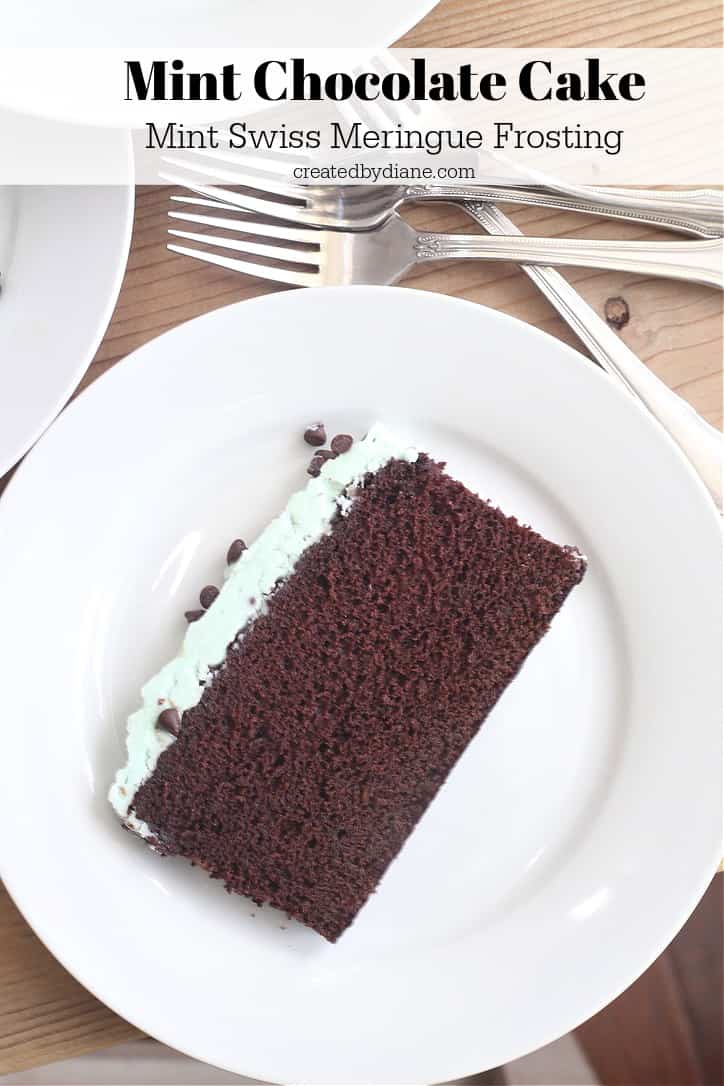 See, I told you I love Mint Chocolate items, I'm sure it all started with mint chocolate chip ice cream…. when I was a kid.
And funny enough…
my husband said this cake tasted exactly like eating a bowl of mint chip ice cream when he had a piece of this cake, he said it's so delicious! YAY, I love it when that happens.
Other great options for chocolatey-mintiness I found on some great blogs are these
Homemade Thin Mints from Sue at The View from Great Island
Mint Chocolate Square from Lori at The Recipe Girl
Chocolate Mint Cream Cheese Buttons from Trish at Mom on Time Out
Mint Chocolate Chip Blondies from Sabrina at Dinner then Dessert
Mint Chocolate Cake
rich and delicious chocolate mint cake with mint swiss meringue buttercream frosting with mini chocolate chips, the flavor is fantastic and perfect for the mint chocolate chip lover in your life!
Ingredients
2 cup boiling water
1 cup unsweetened cocoa (I use dutch process cocoa)
1 cup butter (room temperature0
2 1/2 cup granulated sugar
4 eggs
1 teaspoon vanilla extract
1/4 cup creme de menthe
2 1/2 cups all-purpose flour
2 teaspoons baking soda
1/2 teaspoon salt
1/2 teaspoon baking powder
Mint Swiss Meringue Buttercream Frosting
3 eggs whites (from large eggs)
3/4 cup granulated sugar
1/2 cup butter, cold
1 tablespoon creme de menthe
1/2 cup mini chocolate chips
Instructions
In a medium bowl, mix the boiling hot water with the cocoa and set aside.
Preheat oven to 350°
In a 13x9 pan, apply a baking spray or use shortening and flour so the cake when sliced will release easily, even in a non-stick pan.
In a large bowl of a mixer beat butter with sugar and eggs and then on low add in vanilla and creme de menthe.
Next slowly add in flour, baking soda, salt and baking powder on low speed.
Next, slowly pour in the cocoa mixture, mix on low until combined or it will splatter, then mix on a little bit higher speed but not over medium speed.
The batter will be smooth and creamy.
Pour the batter into the baking pan.
Bake for 35 minutes or until a toothpick comes out clean start checking at 30 minutes so you don't over bake it. No one likes a dry cake!
Allow cake to cool completely. I left the cake in the pan to serve out of. Alternatively, you can cool the cake for 10-15 minutes, then turn the cake out onto a cooling rack to cool completely and serve on a platter or box it to go.
Frosting -make the frosting while the cake bakes or as it cools, the frosting takes about 20 minutes to make.
In a double boiler, over high heat bring egg whites and sugar to160°
A double boiler is when you have a pan of boiling water with a bowl on top without the water touching it to gently cook the item inside, in this case, egg whites and sugar.
Stir or whisk until the mixture reaches 160°.
In the bowl of a mixer whip the egg white mixture to stiff peaks and keep mixing until the mixture cools, this takes about 10 minutes. The sides of the bowl shouldn't be warm if they keep mixing.
Then on medium speed add in the butter 1 tablespoon at a time, the mixture may look clumpy, separated, or look runny, just keep mixing.
It will then become thick and when spread with a spatula it's smooth.
If it's runny, put the bowl in the fridge for 10-15 minutes.
Then mix more until it's thick and smooth.
Stir in the creme de menthe.
Add 1/4 cup mini chocolate chips into the frosting.
Spread the frosting over the cake.
Then top it with more mini chocolate chips.
Place the cake in the fridge to firm up the frosting.
If serving soon, just leave it in the fridge for about 5 minutes.
If you are serving it after it's been refrigerated for longer than a half-hour, allow it to come to room temperature for 30 minutes, then slice and serve the cake.
Spread the frosting over the cooled cake and immediately