Sweet and salty items are always at the top of my favorites list…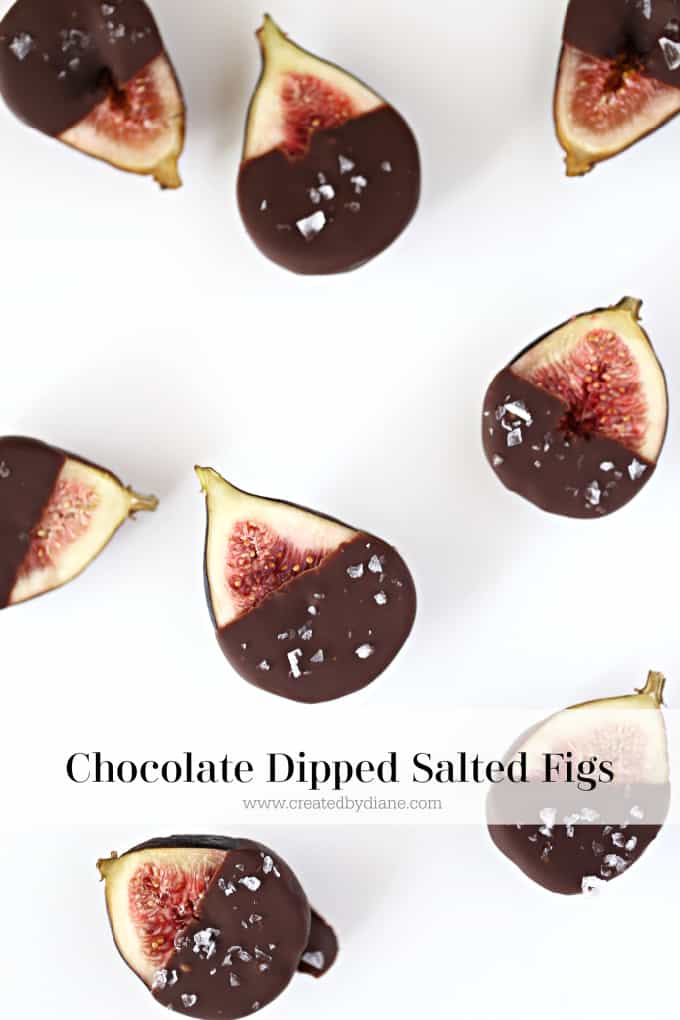 now add figs to that and WOW what a great flavor combo.
As soon as I see figs I start grabbing them up as I know that fig season won't last long and they are so yummy.
I typically just eat them as is, but I'm not going to lie… adding chocolate and salt put them over the top delicious!
And if you like chocolate these Fig Scones with Chocolate are amazing! Figs are a great accompaniment to a cheese platter or charcuterie board so if you see them, give them a try if they aren't on your typical grocery list.
Now if salted chocolate isn't your thing, just skip the salt… but you may want to give it a try if you're feeling adventurous.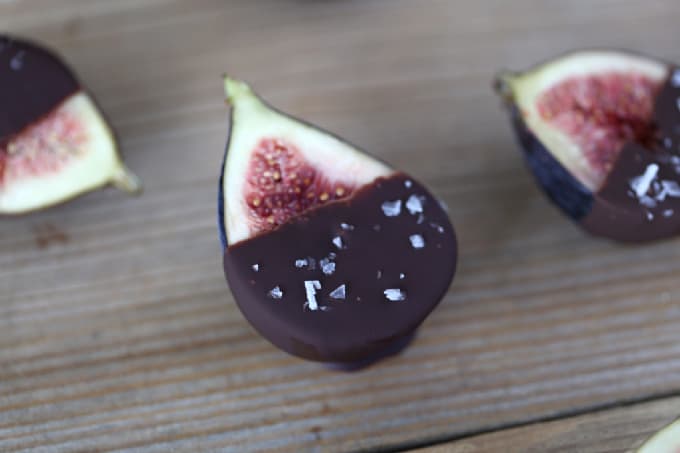 My favorite chocolate for dipping into is Ghirardelli 60% cacao chips (it's not overly sweet, it's one of the things I like about it most). 
I add some coconut oil to the chocolate to melt it, it remains smooth and creamy and it also ensures it'll be thin enough that the excess chocolate drizzles off easily.
The finished chocolate-dipped figs result in a smooth texture. Perfect for the salt to sit upon. If you don't have coconut oil, add in vegetable shortening (not vegetable oil).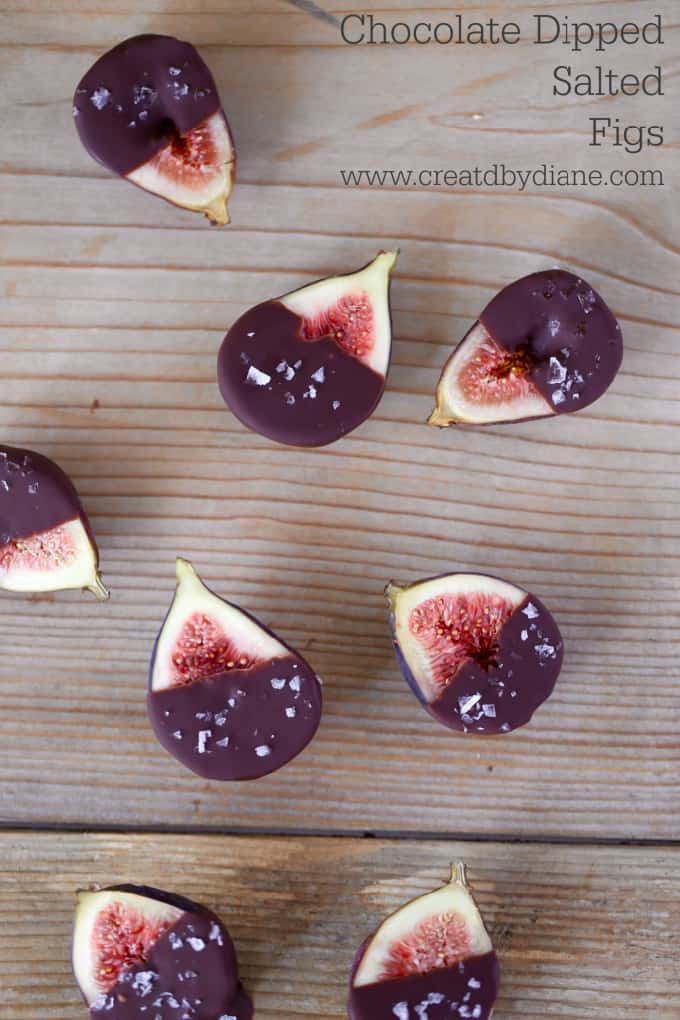 As with all fresh fruit recipes, the better the fruit is the better the results will be. Select ripe fruit to ensure it'll have the best flavor and texture.
*as for the variety of figs, I most often find black mission figs and brown turkey figs available in my area, I believe often they are not labeled so sometimes it's a guessing game maybe they are Calimyrna or Kadota.
Chocolate-Dipped Salted Figs
Ingredients
8 figs
1 cup dark chocolate ( I use Ghirardelli 60% cacao chocolate chips)
1 teaspoon coconut oil (or vegetable shortening)
1 tablespoon large sea salt flakes (I use Maldon Sea Salt)
Instructions
Wash and dry figs.
Slice figs in half.
Melt chocolate with coconut oil by placing them in a microwave-safe glass bowl and heat at 30-second intervals until melted. Stir at each interval and heat until fully melted.
Dip the figs into the chocolate, gently shaking figs back and forth over the chocolate bowl to allow excess chocolate to drip off.
Then place them on a parchment-lined baking sheet, sprinkle salt onto the chocolate.
Place the baking sheet into the fridge to set the chocolate for 15 minutes.