I just LOVE fresh baked cookies and the combo of salty sweet always gets me!!!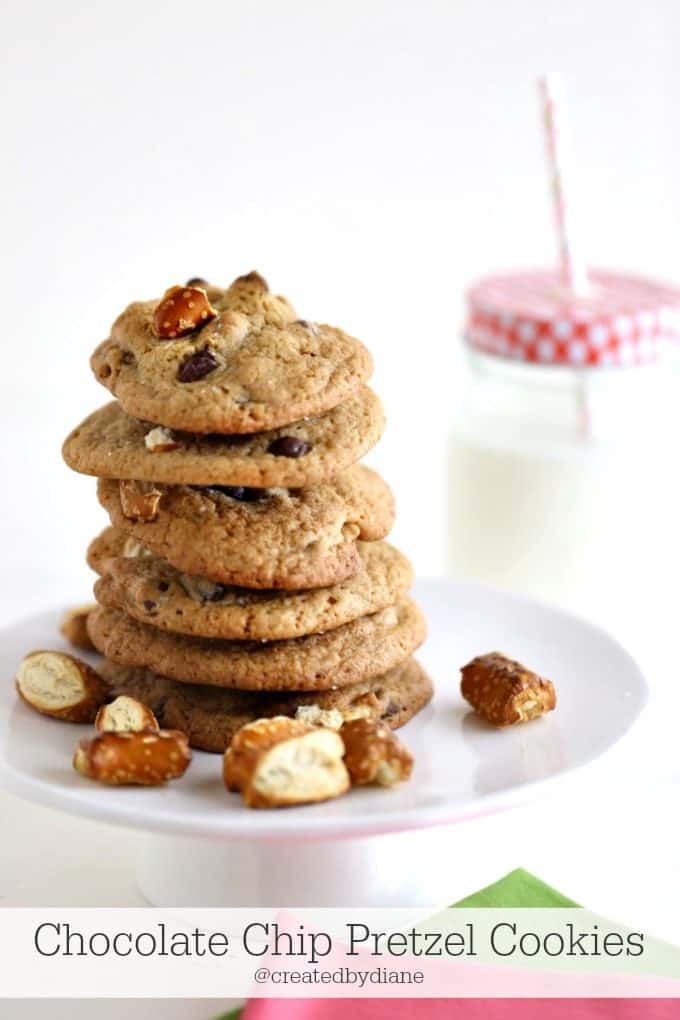 Chocolate Chip Pretzel Cookies
Don't miss one delicious recipe and get my FREE e-cookbook click here!
 Salty sweet snacks have always been a favorite of mine
and these cookies are a win-win in the salty sweet area!
This recipe is easy to make and you can use any type of pretzel you prefer, I like the pretzel nuggets.
I chop them lightly so that each cookie gets plenty of pretzel yumminess in each one.
Whip up a batch today and watch them disappear!!!
I've included a few items in this post today to show you what I use to turn out GREAT COOKIES every time I bake.
I use a 2 tablespoon scoop so the cookies all come out the same size. It's one of my favorite tools when making drop cookies.
Chocolate Chip Pretzel Cookies
Ingredients
1 cup butter
1 cup brown sugar
1/2 cup sugar
2 eggs
2 teaspoons vanilla
2 1/2 cups flour
1 teaspoon coarse kosher salt (why coarse salt, it adds to the salty sweet flavor in these cookies)
1 teaspoon baking soda
1/2 teaspoon baking powder
1 1/2 cups chocolate chips
1 1/4 cup chopped pretzel nuggets
Instructions
Preheat oven to 350 degrees
In mixer bowl beat butter and sugar on medium-high until whipped together 1-2 minutes.
On low speed add in eggs and vanilla and mix until combined.
Add in flour, salt, baking soda, and baking powder and mix on medium until all combined.
Stir in chocolate chips and pretzel pieces.
(I saved a few pieces of chocolate chips and pretzels to top the cookies with) You can either mix them all in or reserve some pieces if you want to see the chocolate and pretzel pieces on top of the cookies.
On a parchment lined baking sheet drop, two tablespoons sized scoops of dough two inches apart so they bake evenly.
Bake at 350 for 8-9 minutes or until edges are lightly golden. Cool on a baking sheet.
These are the baking sheets I use and I love how evenly cookies bake on them
Now there are MANY types of parchment sheets and these are not the cheapest, but you can bake using them 4-5 times and they are indispensable in a kitchen if you bake a lot. I use them for all my cookies, cut them into rounds for cakes and bake scones, bread and just about anything I'm baking on them with excellent results!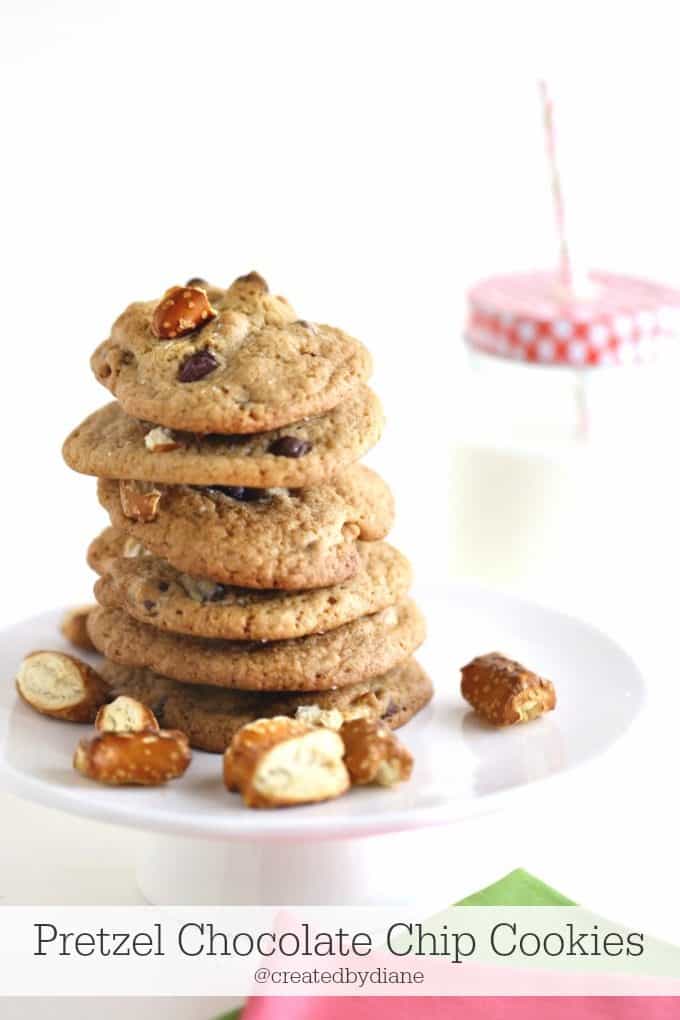 These cookies are both crispy and chewy and filled with chocolate chips and pretzel chunks and taste delicious!
*this post included affiliate links to products and yes I may earn a few pennies if you purchase the products, it's one way I keep free recipes on my site available to you so I can continue being creative in the kitchen.