Creamy and full of flavor, this savory whipped goat cheese will have you spreading and dipping, over and over again.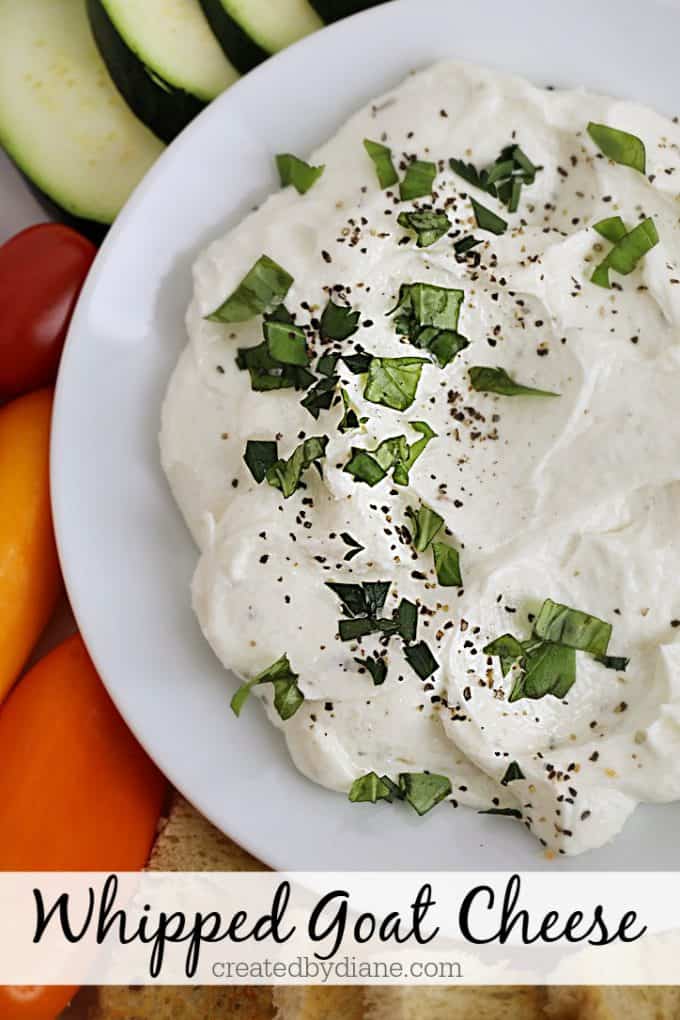 Not only is this a great snack and appetizer, but it's a great accompaniment to a charcuterie board.
Great for parties and can be made at a moment's notice, this whipped goat cheese will become a staple at your home, as it has mine.
One of the best things about goat cheese is how adaptable it is, there are a million and one ways you can enjoy this cheese. And not only is it versatile in uses, but you can mix it up by experimenting with adding different spices, even making a sweet option like these rum raisin goat cheese bites.
Chevre' (French for goat) was created in the 8th century A.D when the Moors brought goats to the Loire Valley where French goat cheeses were first made. And so began our love affair with spreading it on crackers, baking it in bread, and using it in new and creative ways like on pizza.
And the addition of cream cheese makes this mouthwatering, but not too rich as lemon cuts through to offer a fresh taste, and garlic gives it a kick, which is great for your sandwich game!
And it's great on roast beef, a grilled veggie sandwich, or spread on a portobello mushroom burger. Other fantastic ideas include:
Or just spread on a bagel or toast in the morning with your coffee for a nice simple breakfast.
Easy to make, you'll be stocking up on goat cheese and I find Costco has a great deal on 2 large logs of goat cheese so keep that in mind as the holidays roll around it's a great item to have on hand, and why not? It whips up quickly and is a real crowd pleaser!
You need only a few ingredients and it's completely customizable. 
In a food processor measure out your cream cheese and goat cheese.  
Then measure out your garlic, lemon juice, sour cream, and salt.
Blend until everything is smooth, with no lumps.
And that's it! How easy was that?!
Add in some herbs and spices as you prefer.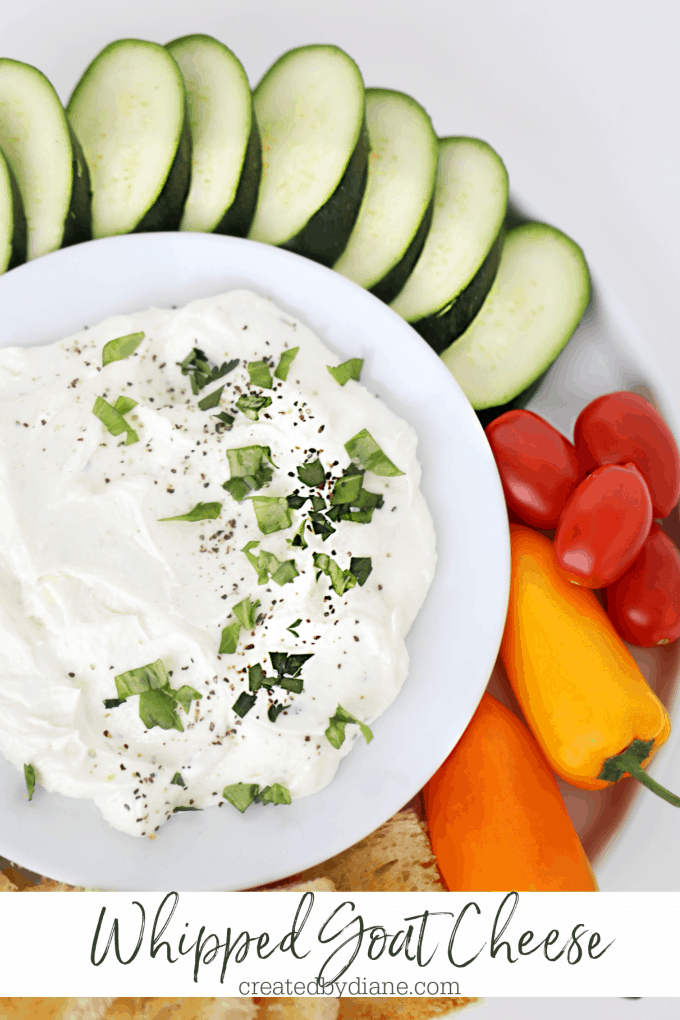 Inquiring Minds Would Like to Know:
I don't have a food processor, what can be used instead?
Immersion blender, hand mixer, or a stand mixer if you're making a larger batch will get the job done.

By hand. You'll warm up those arm muscles, but you can effectively whip this cheese into shape with a little elbow grease -after all people were making whipped butter and cheeses long before modern conveniences came around. A large bowl with a whisk will help the cheeses blend smooth if you use a small bowl you won't have enough "space" to smooth it, a larger bowl is better when whipping is involved. Be sure everything is at room temperature so it blends smoothly.
Can I make a 'lite' version of this?
Yes, today there are a wide variety of low-fat cheeses available, from goat to cream cheese and even sour cream.  Since I eat low carb, I don't buy "lite" or "low fat". But there are so many options out there, just check the cheese section.
You mentioned a sweet version of this, any suggestions?
It's so simple to make goat cheese sweet tooth capable. I have a recipe for goat cheese croissants, instead of the balsamic vinegar, you could use honey or even agave. Alternately, you could use the filling for these goat cheese wontons– super delicious and just sweet enough to hit the spot!

Kick up your sandwich game with this goat cheese spread I love the texture because it's easily spreadable, great on roast beef, a grilled veggie sandwich. This is one of my all-time favorite sandwiches and it just happens to have goat cheese… it's SO yummy!
Whipped Goat Cheese
Creamy and delicious whipped goat cheese goes well on sandwiches, served with crackers and vegetables, dip grilled chicken or beef into it for a delicious accompaniment to any meal.
Author:
Diane Schmidt Created by Diane
Recipe type:
Appetizer, Cheese
Ingredients
4 oz goat cheese
2 oz cream cheese
1 teaspoon garlic paste
1 tablespoon lemon juice
1/2 teaspoon coarse kosher salt
2 tablespoons oil (avocado or olive oil)
2 tablespoons sour cream (or plain yogurt)
Instructions
In a food processor mix the goat cheese, cream cheese, garlic, lemon juice, salt, oil, sour cream until everything is smooth and creamy.