Prosciutto Wrapped Asparagus with Goat Cheese Pizza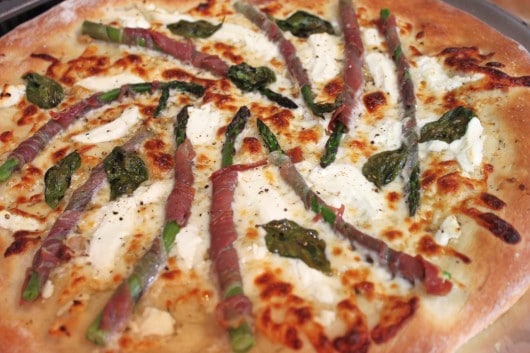 Why I make pizza? It's so delicious.
When do I make pizza? Weekly
How do I make pizza? Just look in the fridge for inspiration
It's so secret that I love pizza. I've made many pizza varieties, here, here and even pizza cupcakes . After making Prosciutto Wrapped Chicken in Lemon Sauce with Capers I had some Prosciutto left over and thought I'd wrap it around Asparagus and make myself a pizza.
I just about ate the whole pizza it was so delicious.
Fresh pizza dough is available at four local stores, I don't make the dough as much as I used to. It really is a huge time saver.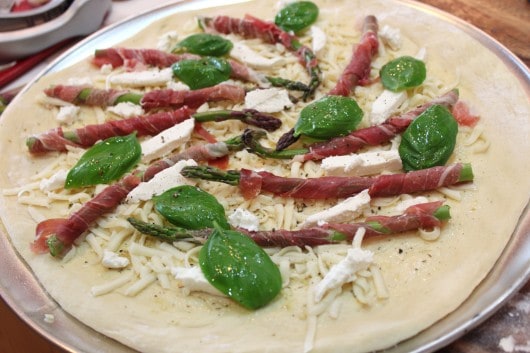 Prosciutto wrapped Asparagus Pizza with Goat Cheese
1 fresh pizza dough (18 oz)
9 pieces of Prosciutto
9 pieces of Asparagus
1 cup shredded Mozzarella Cheese
3 oz. Goat Cheese
3 Tablespoons olive oil
two cloves garlic crushed
9 fresh basil leaves
ground black pepper
cornmeal (for under pizza dough)
Stretch out the pizza dough with on a floured surface, then pick it up and stretch it in your hands working in a circular motion. Once it's at the size you need, place in on a cornmeal lined pan so it doesn't stick. Mix garlic and olive oil. Brush garlic oil on dough and basil leaves. Place shredded Mozzarella Cheese along with slices of goat cheese on dough and arrange Prosciutto wrapped asparagus Top with coarse ground black pepper and bake at 450 degrees for 15 minutes.