A delicious and simple lemon chicken marinade that will have your mouth watering.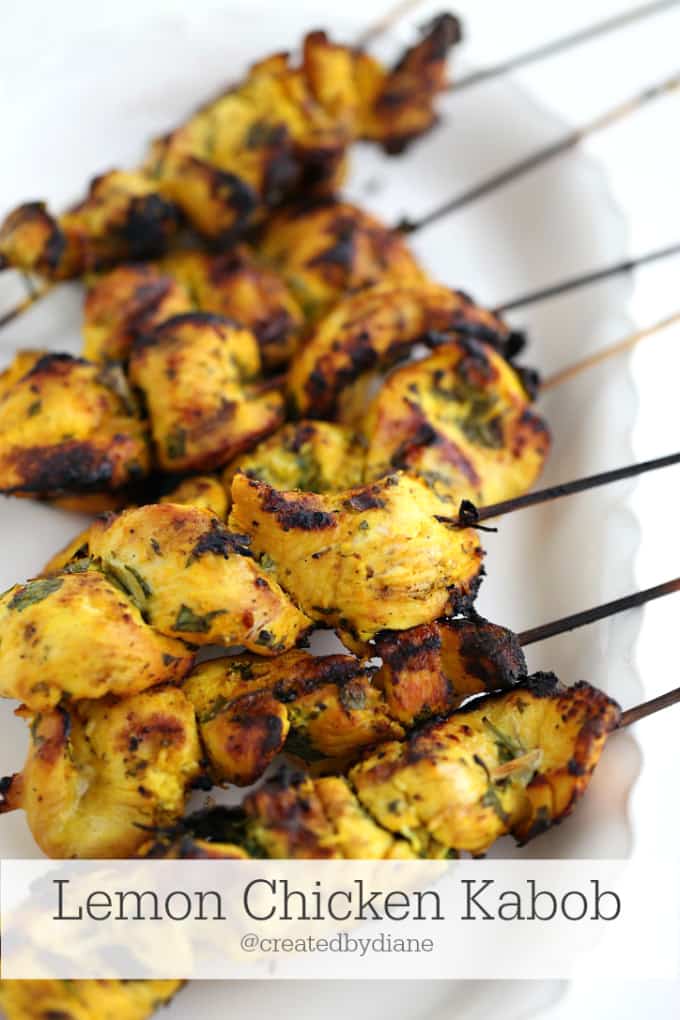 I wonder if you'd ever guess that chicken kabob is my favorite meal.
I order it every single time I see it on a menu.
I search out Persian/Iranian Food where ever we are.
My mom always made lamb shish-kabob when I great up and while I always enjoyed it, chicken is really much more to my liking.
I've tried many marinades over the years, both purchased and made from scratch.
I just love lemon and garlic and have marinaded chicken in that for years.
I have altered some ingredients over time and find that I really LOVE this recipe.
It's really simple and delicious.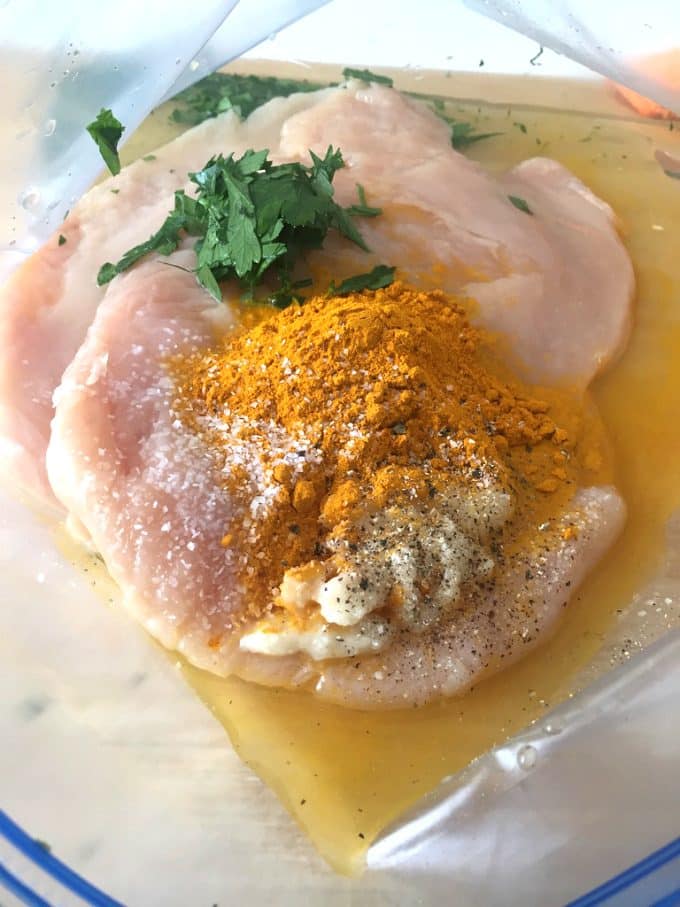 I use a plastic bag to place everything into to marinade the chicken. Pounding the chicken thin between plastic wrap will give the marinade more surface area wich means the chicken will absorb more marinade.
The acid part of the marinade, the lemon juice will make the chicken tender and provide lots of great flavor.
One ingredient in this marinade is fresh parsley, I love the flavor it adds. If you don't have fresh, don't use dry it has no flavor.
I marinade it for a minimum of an hour, sometimes I do it overnight and when I meal plan out to have items in the freezer ready to go, I put it in the freezer and oh it's so nice to see something in the freezer that takes the guess work out of dinner time. I just thaw it in the fridge and then skewer it and grill it, you can grill it outside, or on a cast iron pan. If you have a fresh green herb like basil or oregano, go ahead and use that or a teaspoon of dry oregano.
I usually serve this with grilled tomato and onion over rice. Basmati rice is great with this chicken.
If you have leftover chicken and want to make a sandwich mix the chicken with tzatziki sauce and put it on a bun with lettuce and tomato along with cucumber…. it's so yummy!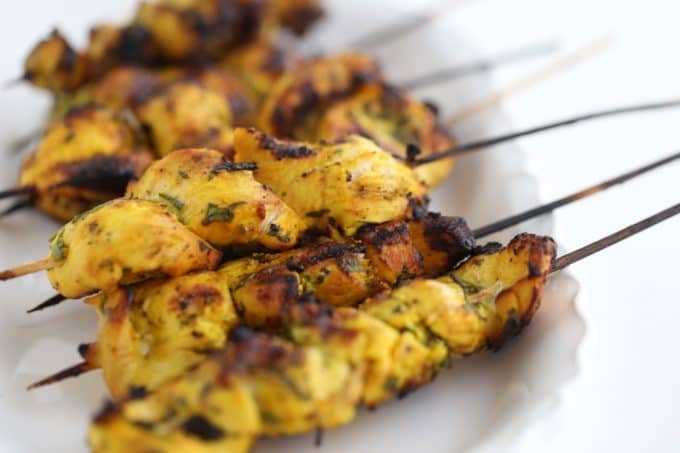 THIS is the skillet I use and love and I use it so much I have 3 of them and more in other sizes too, it's a kitchen must have.

Lemon Chicken Kabob
Ingredients
2 lbs boneless skinless chicken breasts - cut into 1-1/2 inch chunks
1 lemon juiced (or 1/2 cup fresh lemon juice) I use Meyer lemons.
1/4 cup olive oil
2 teaspoons ground turmeric
1 tablespoon minced fresh garlic
fresh parsley (only use fresh, if you don't have it don't bother using dry parsley it won't add any flavor)
1 teaspoon salt
1/8-1/4 teaspoon fresh cracked black pepper
Instructions
In a one-gallon plastic zipper bag, add in all ingredients.
Place bag in fridge to marinade for 1-hour minimum (you can marinade it overnight if you prefer)
Soak wood skewers in water for 10 minutes.
Skewer chicken and cook over a hot grill until the chicken's internal temperature is 165°.
Notes
I have made this with saffron also. If you love saffron, so ahead and soak some saffron threads in hot water then add it to the marinade.