Goat Cheese Meatballs, Beets and Spaghetti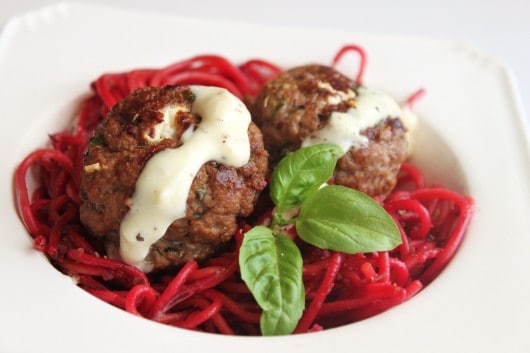 Goat Cheese Meatballs with Beet Spaghetti and a Garlic Goat Cheese Sauce
It's no secret I LOVE the color red. I Love my red kitchen, red fabric covered furniture, red camera strap cover….
I could go on and on.
So the thought of making food that isn't normally red, red. I just had to give it a try.
Goat Cheese Meatballs with Beet Spaghetti and a Garlic Goat Cheese Sauce Printable Recipes
Goat Cheese Meatballs
1 pound ground beef
2 oz goat cheese
1/4 teaspoon oregano
4 fresh basil leaves
salt and pepper
Mix all ingredients together and form into 3 tablespoon sized balls. Roll them until they are completely formed together.
Heat a skillet on high with a tablespoon oil, then turn to medium heat and cook meatballs thoroughly.
Beet Spaghetti
1lb spaghetti
two beets
2 cloves garlic minced
3 tablespoons olive oil
Cook spaghetti al dente. Reserve some pasta water when draining.
While the spaghetti is cooking peel and grate two beets. Add garlic to olive oil. Heat skillet and add garlic and olive oil, stir in beets. Pour cooked spaghetti on top and toss. Add some reserved pasta water if needed. I added 1/4-1/2 cup. Heat thoroughly.
Goat Cheese Pasta Sauce
1 Tablespoon olive oil
1 garlic clove minced
2 oz goat cheese
1/2 cup cream
Heat olive oil and garlic add goat cheese, then whisk in cream until it's smooth and creamy.
Add salt and pepper to taste.
Place spaghetti in bowl with meat balls and add sauce, season with salt and pepper and fresh basil.
About 2 years ago I saw red pasta on Greg's blog Sippity Sup. I thought the pasta was a special variety that made it red. Little did I know it was regular pasta, colored by beets after the pasta was cooked. I knew I would give it a try someday. That day has come and I couldn't wait to share it with you. Be sure to check out more of Greg's recipes they mouth watering and his photos are fabulous!