This is one of those times when chicken legs aren't just "chicken legs" these chicken legs are mind altering.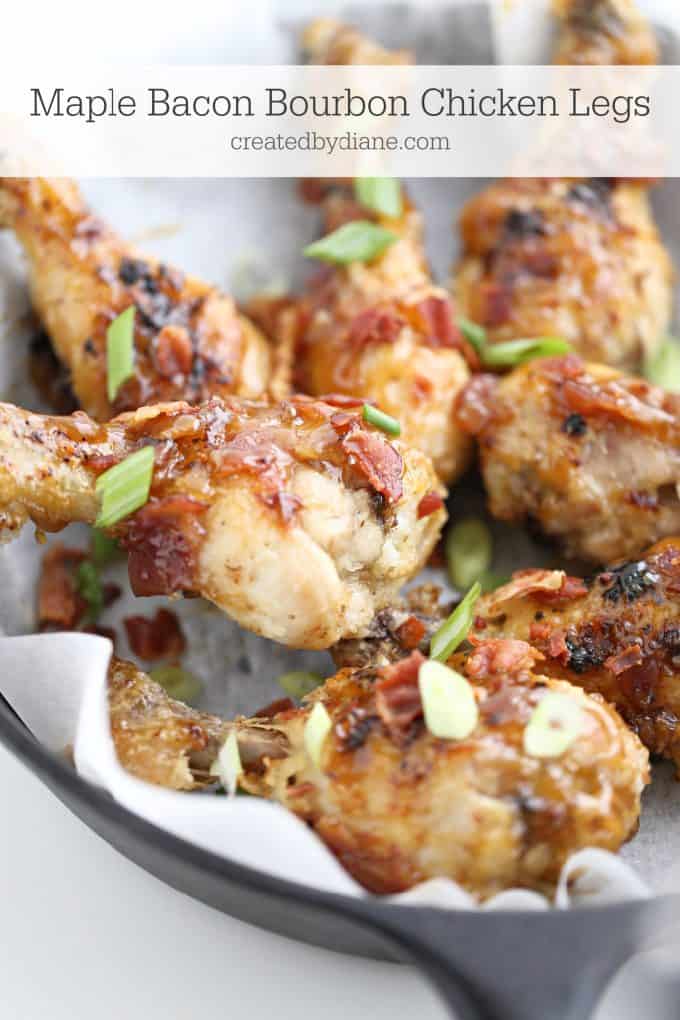 Everyone who had these absolutely had the same look on their face when they bit into them.
AMAZEMENT!
The smokey flavor from the bacon combined with the maple flavor,
oh and the BOURBON.
God, I love bourbon, here you'll find my favorite bourbon drink if you're a bourbon fan too.
Bourbon is delicious on its own and adds a fantastic flavor to this recipe.
These chicken legs are crispy… and baked, which means you can enjoy them anytime.
Perfect for a Sunday afternoon snack, weeknight dinner or a great item to serve on game day.
Other Chicken Leg Recipes: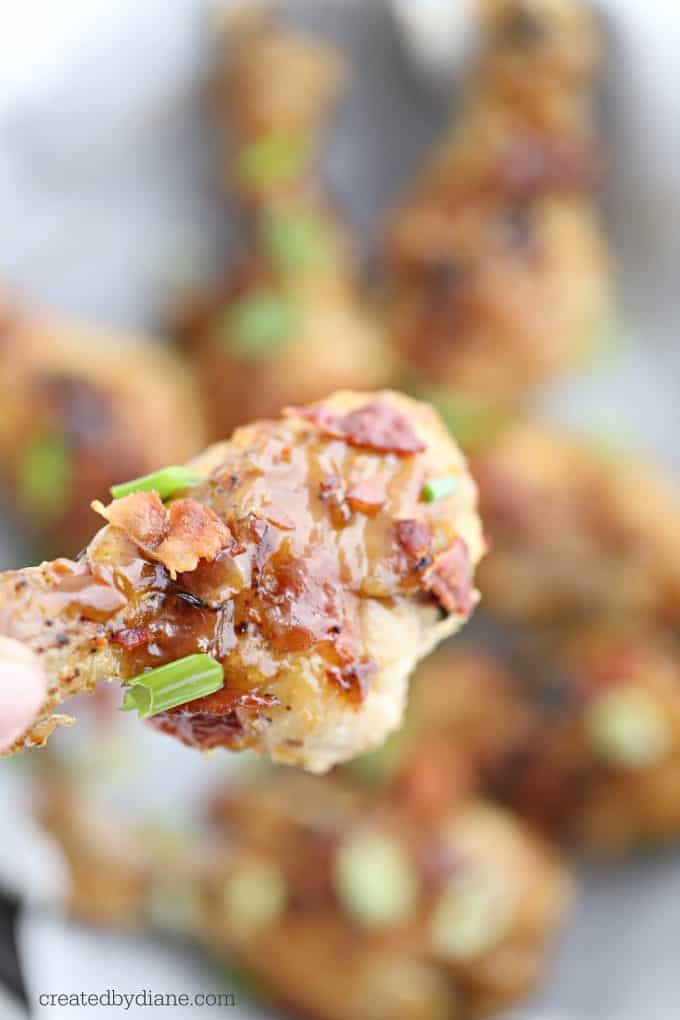 Recipes like this have me thinking I could survive on this item ALONE!
Yes, they are that good.
I like to cook the chicken until it's really fully cooked and just about ready to fall off the bone, one great thing about cooking chicken on the bone and with the skin on is it doesn't dry out so don't be afraid to cook the chicken until it reaches 185° and the skin is crispy!
You'll bake them on a rack over a baking sheet so they will get crispy, be sure to turn the chicken legs over halfway through baking, and if you have extra sauce, go ahead and slather some on before you continue baking them.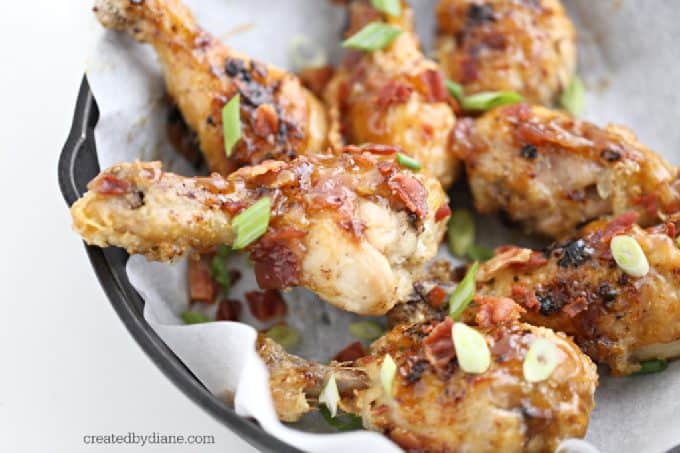 Top the chicken with some extra bacon pieces and some green onion.
And get ready to enjoy a great flavor explosion in your mouth!
Next time you see a big pack of chicken legs in the grocery store… pick it up, make these and enjoy! You could easily double or multiply the recipe as needed.
And if maple bacon is your thing… take a look at these:
Maple Bacon Bourbon Chicken Legs
Ingredients
2 1/2 lbs chicken legs (about 7 legs)
1/4 cup cornstarch
1/2 teaspoons salt
1/4 teaspoon black pepper
4 pieces of bacon (cooked and chopped into pieces) I buy previously cooked bacon if I don't already have any cooked bacon on hand.
Sauce
1 tablespoon butter melted
1 teaspoon sriracha
1/4 cup bourbon
1/4 cup real maple syrup
1 tablespoon cornstarch
1 tablespoon brown sugar
1 tablespoon rice vinegar
more bacon if you want to use as a garnish
green onion for garnish
Instructions
Preheat oven to 400°
Mix chicken legs with cornstarch, salt, and pepper (in a bag or a bowl)
Mix the sauce in a small bowl then coat the chicken generously with the sauce, you can use a silicone brush or spoon to coat the chicken.
Place the chicken legs on a baking sheet lined with a wire rack.
Bake at 400° for 30-35 minutes (turning the chicken over halfway through) or until the chicken is fully cooked and crispy.
Top with additional chopped bacon and sliced green onion.