How would you like to make some homemade ice cream no machine necessary, no ice cream maker, no rock salt, no churning, or cranking the handle until your arm is ready to fall off? Get all my tips on making no-churn ice cream.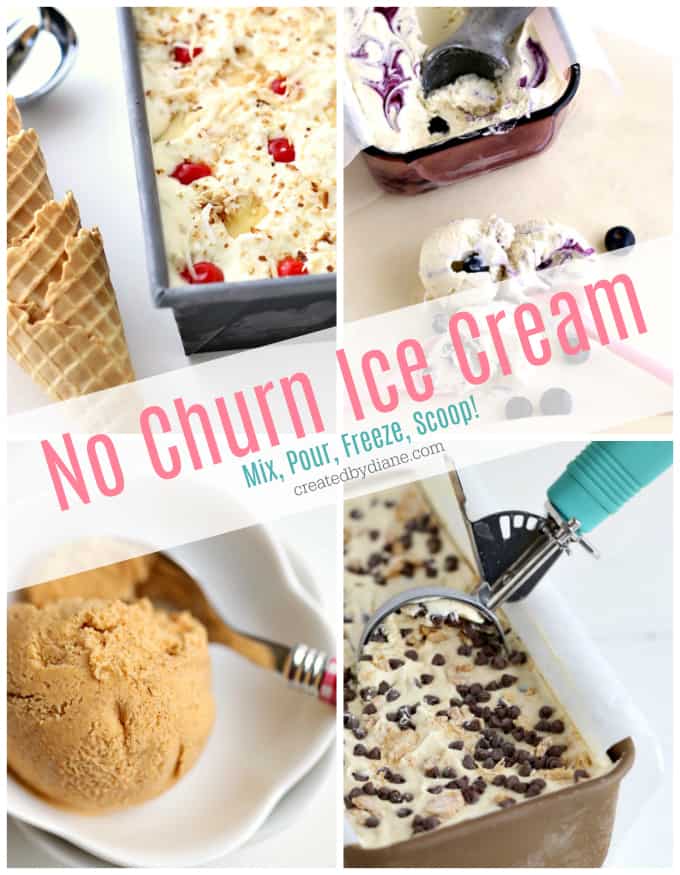 I'm a huge ice cream fan, I love so many flavors it's hard to pick just one. But between pumpkin and fruit flavors… there are many great recipes to choose from…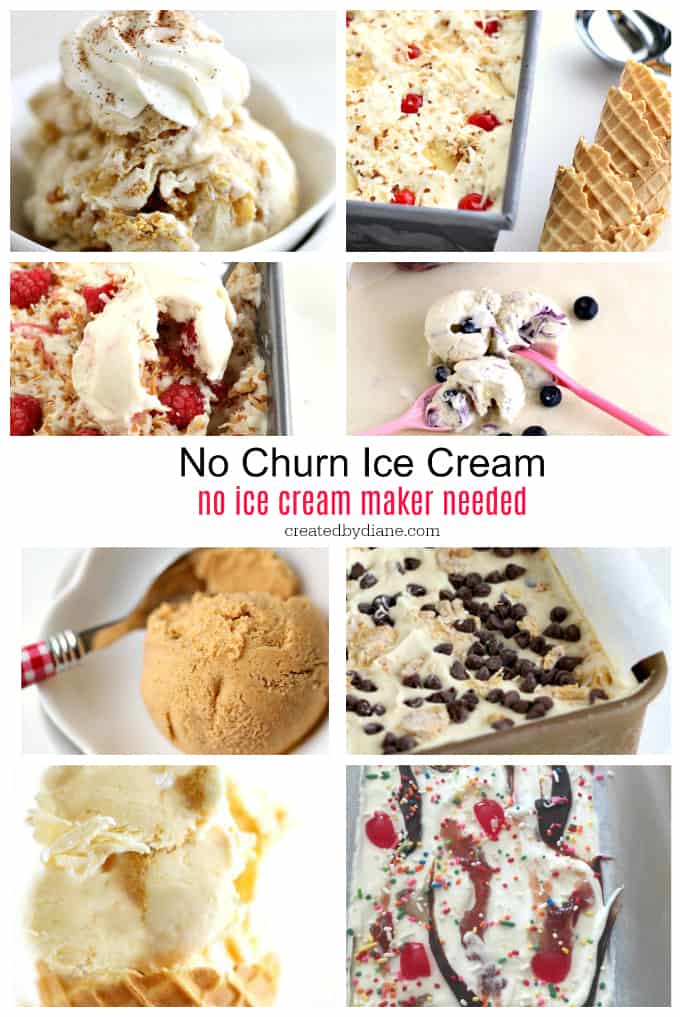 What you'll need
Most of these recipes are the type of homemade ice cream with whipped heavy cream and sweetened condensed milk, some sour cream. the items to flavor the ice cream you'd like, a loaf pan or similar to put the ice cream in, plastic wrap to cover it, and your freezer.
You will need to whip up the heavy cream, so a hand mixer, immersion blender with the whip attachment, or a stand mixer can be used or you can whip it by hand with a whisk. It may surprise you how quick it is to put together a batch of this no-churn ice cream. After your whip, the cream just drizzle in the sweetened condensed milk as your mixing and then add in your favorite flavors or click on one of my recipes below It takes minutes. Then you freeze it for about 4 hours, and then scoop it out and enjoy.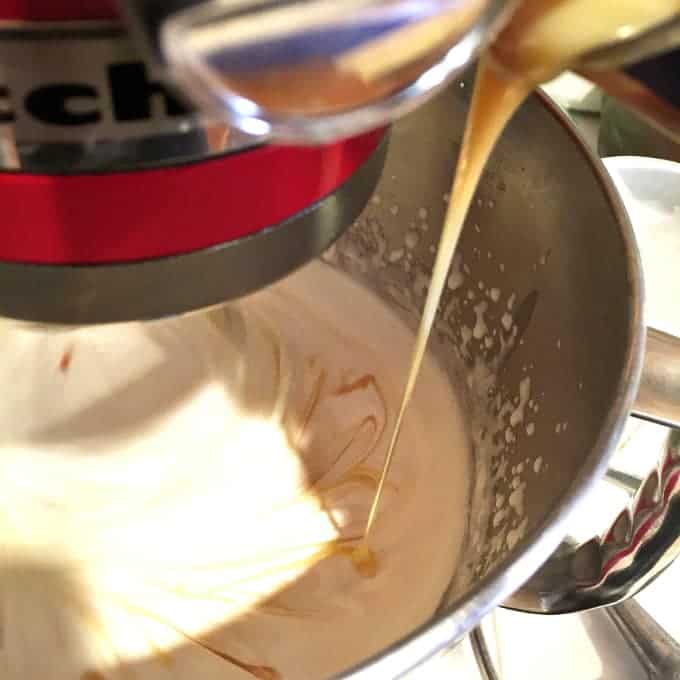 No churn means – no ice cream maker is needed to make this ice cream. No eggs, no heating the custard. This is way easier. Also, no clearing out your freezer to fit a large tub to use with electric ice cream makers. This method takes of minimal space in your freezer, and you can choose the size and shape of the pan you use.
Scooping out ice cream
I have found a few things to help keep your ice cream scoopable, be sure to cover the top of your pan with plastic wrap or a container with a lid. I store my ice cream in the top area of my freezer and I'm able to easily scoop it out easily. I have heard that adding a bit of alcohol to the mix will prevent the ice cream from freezing really hard, so you can give it a try, but it won't be for sharing with the kids. If your ice cream is a little more difficult to scoop, leave it out on the counter for 10 minutes, run your scoop under hot water dry it, then scoop is also a tip to scoop it more easily. Alternatively, you can place parchment or wax paper in your pan prior to adding the ice cream mixture, then you can lift out the "block of ice cream and slice it. It's a super fun way to serve ice cream!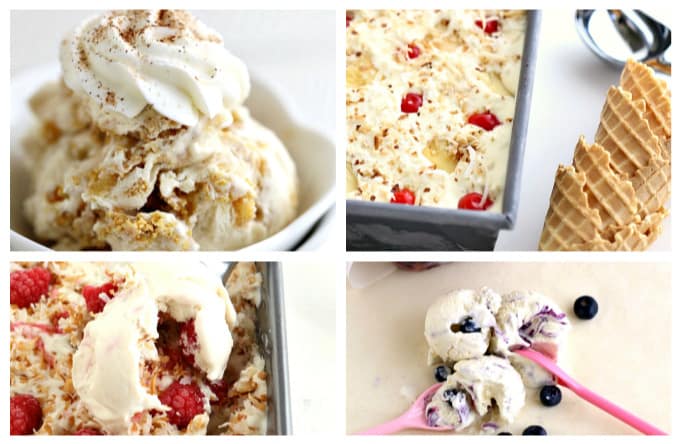 Apple Pie Ice Cream OMG it's' like biting into a slice of cold apple pie, apples cinnamon and graham cracker crumbs…so yummy.
Luau Ice Cream it's like your biting into a day in Hawaii!
Raspberry Coconut Ice Cream so fun, creamy coconut flavor with the great taste of fresh raspberries.
Blueberry Ice Cream Make this with ripe blueberries and one bite in and you'll think you're walking through a blueberry patch!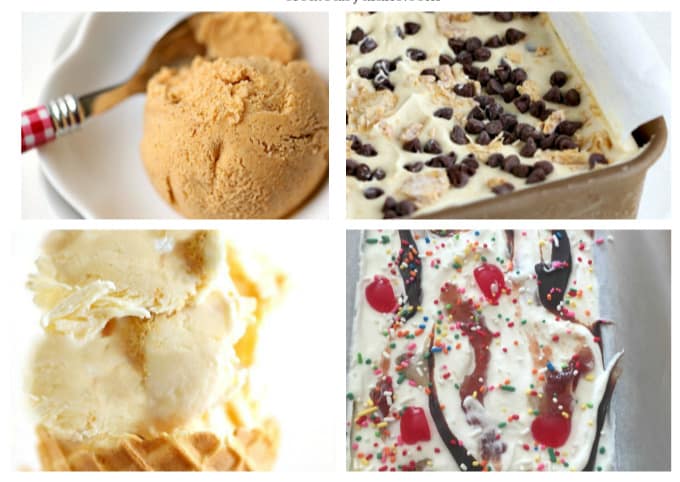 Pumpkin Ice Cream Don't wait until Fall to enjoy some pumpkin yumminess, this is great all year long!
Peanut Butter Chocolate Chip Ice Cream When chocolate and peanut butter combine to make a better taste than a Reeses.
Lemon Meringue Pie Ice Cream A really fun flavored ice cream it'll remind you of lemon meringue pie for sure!
Banana Split Ice Cream Who doesn't like a banana split! The same great flavor in this ice cream, topped with cherries and all.
No-Churn Ice Cream- the basics
Now you can make no-churn ice cream in just about any flavor imaginable. Whip up the heavy cream, drizzle in the sweetened condensed milk and add in your "mix-ins" cookies, candy, fruit, syrup, if you want to ice cream part to taste like vanilla be sure to add some vanilla extract or your favorite extract flavor.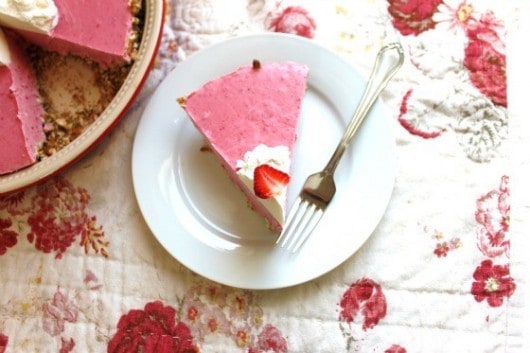 And if you like frozen desserts… try my Frozen Strawberry Margarita Pie, it's delicious with a pretzel crust.