Be sure to pick up some fresh blueberries because you'll want to make this PRONTO!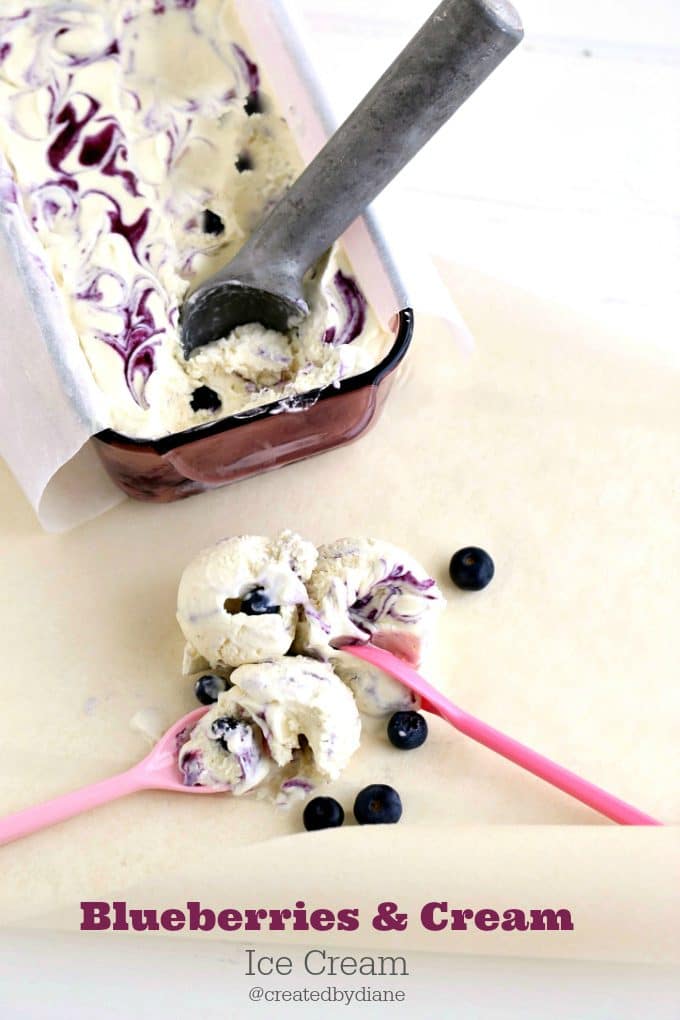 Blueberries and Cream Ice Cream
Don't miss one delicious recipe and get my FREE e-cookbook click here!
Blueberries have always been a true FAVORITE of mine
and adding them to freshly made ice cream,
well, it's just delicious!
Oh, my goodness just look at that pretty swirl…
I just love the prettiness of blueberries, just don't get them on a white shirt and everything will be fine.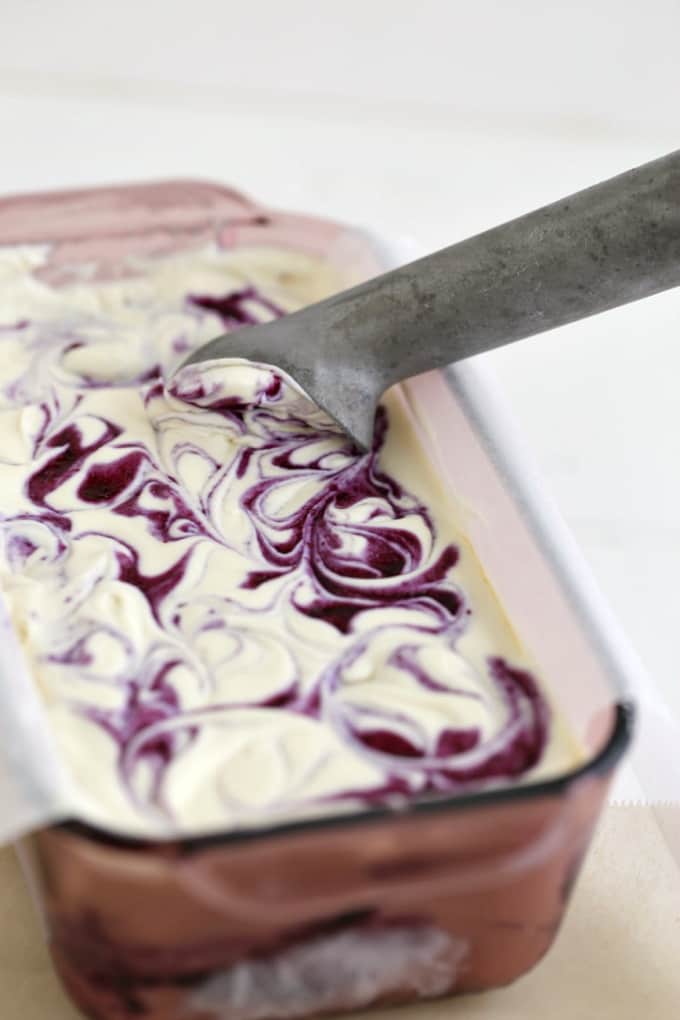 There are so many reasons why this ice cream is such a WINNER,
fresh fruit in desserts are always a winner,
this ice cream is made with NO ice cream maker… WINNER
It's easy to make just mix, pour and freeze… now that's a WINNE.
 See, this is a winner no matter how you scoop it!
You can heat an extra cup of blueberries with a tablespoon of sugar and press it through a strainer and the ice cream will have even more blueberry flavor and the ice cream will become a really pretty purple color.
If your blueberries aren't flavorful, that does happen depending on the season. You could add a teaspoon of blueberry extract, you can order it from baking supply stores or from Amazon.
Fun varieties on this will be to add-in 4 oz whipped cream cheese along with some graham cracker crumbs, it'll taste just like blueberry cheesecake! I added some in one time I made it but forgot to take photos!

Blueberries and Cream Ice Cream
Ingredients
1 1/4 cups blueberries
2 cups heavy cream
1-14oz can sweetened condensed milk
1/2 teaspoon vanilla extract
1/2 teaspoon blueberry extract (not necessary but if you have it adds delicious flavor)
Instructions
Heat 1 cup blueberries in microwave about 30 seconds or until heated and soft
Press through a strainer to remove skin
Heat remaining 1/4 cup blueberries for 8-10 seconds these will be put in the ice cream whole
In mixer bowl whip heavy cream on high until medium to stiff peaks
Slowly add in the sweetened condensed milk and vanilla to the heavy cream
In a loaf pan layer the ice cream mixture place dollops of pressed blueberries and swirl it with a toothpick or back of a spoon to gently mix in, then add a few heated blueberries and repeat.
If you'd like the ice cream to be all "purple" in color, go ahead and mix the pressed blueberries into the ice cream mixture completely.
Freeze for 4-6 hours or until firm.
Add more blueberries if you aren't using blueberry extract.
As with any fruit dessert, delicious tasting fruit will result in great tasting results. If the fruit is not very sweet or not full of flavor, add a tablespoon of powdered sugar at a time until the taste of the mixture is great. Adding lemon and sugar together will also result in great flavor, as well as lemon extract too.
Take a look at some of the other ice cream flavors I've made:
This super easy "faux" banana ice cream will have you eating dessert every night!
I know everyone seems to relate ice cream to summer, and I do too, but believe me that Apple Pie Ice Cream will bring you a warm fuzzy feeling all winter long!