No ice cream maker needed for this super fantastic ice cream, you won't believe how easy it is.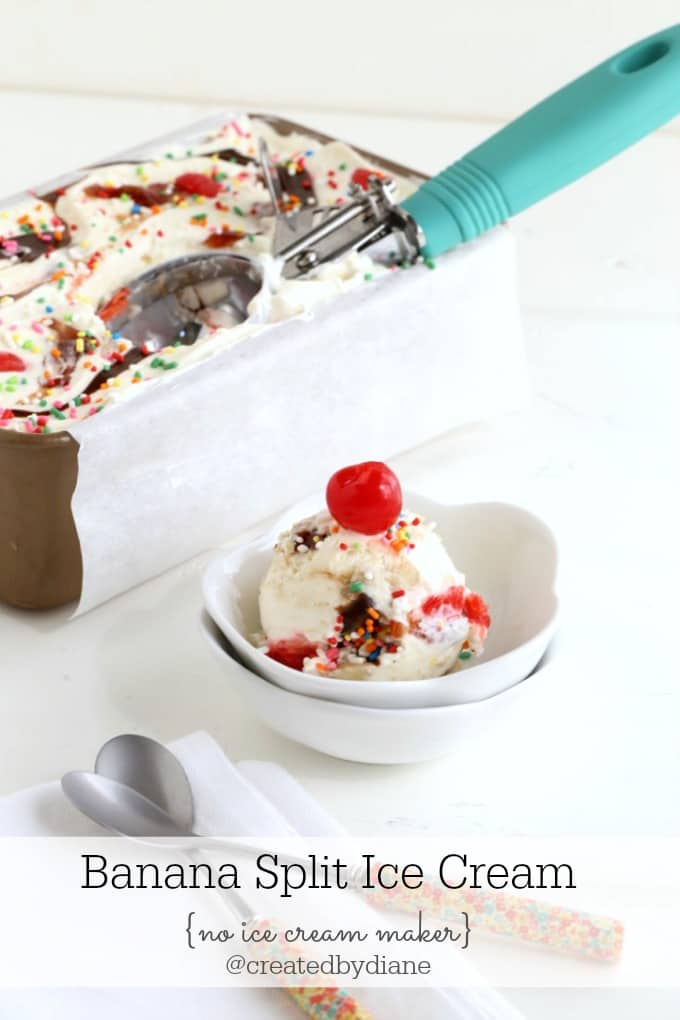 Banana Split Ice Cream
Don't miss one delicious recipe and get my FREE e-cookbook click here!
This Banana Split Ice Cream is SUPER-DELICIOUS!
It's like a party in every scoop.
Banana splits are always a popular choice when grabbing ice cream at you local ice cream parlour, now there is no need to slip your shoes on and head out the door. You can enjoy all the great flavors of the classic at home, with this no fuss, no ice cream maker needed ice cream.
I've added all my favorites so when you scoop the ice cream every bit has something wonderful swirled right in.
You'll find bananas, cherries, strawberry jam, hot fudge and sprinkles inside. You can customize it however you like, but these toppings were a HUGE hit with everyone so I must insist you try it this way first before altering it.
By layering the ice cream mixture with small dollops of toppings spread over each layer along with sprinkles and cherries means deliciousness in each bite!
Banana Split Ice Cream
Ingredients
2 bananas
2 cups heavy cream
1 -14 oz can sweetened condensed milk
1 teaspoon vanilla extract
1/4 cup strawberry jam
1/4 hot fudge sauce
12 maraschino cherries (sliced in half)
2 tablespoons sprinkles
Instructions
Slice one banana and heat it in the microwave for 20 seconds.
In mixer bowl, beat heavy cream and once it's whipped up,
drizzle in sweetened condensed milk slowly until mixed completely
add in heated banana and vanilla extract
In a loaf pan layer 1/3 ice cream mixture
top with small amounts of strawberry jam, hot fudge, a few cherries, and sprinkles,
repeat two more layers
freeze for 6 hours