Savory Pistachio Scones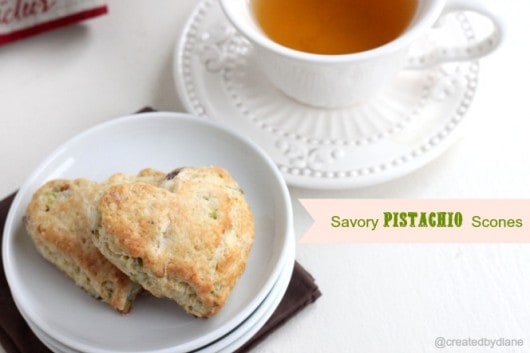 Savory Pistachio Scones
Before we talk scones I have a question for you…
Have you tried Gelato?
I have, I recall the first time I had it. It was years ago and I recall sampling a bunch of flavors before deciding on my favorite.
You guessed, right. It was Pistachio. I was so surprised, I thought for sure I would have picked some pretty colored fruity flavor. But Pistachio it was. I was not disappointed in the least. It was wonderful. I mentioned how much I like pistachios last week on my Pistachio Cupcake Post. I got thinking that I need to make more things with those yummy pistachios so here goes….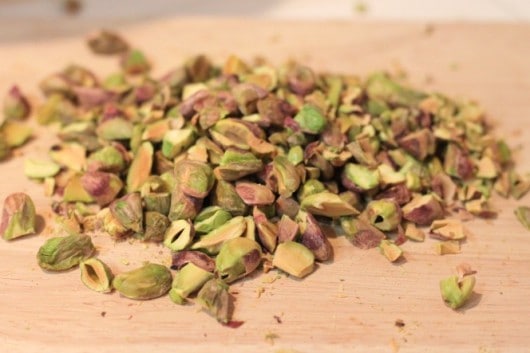 The flavor of roasted pistachios gave these scones a really delicious flavor.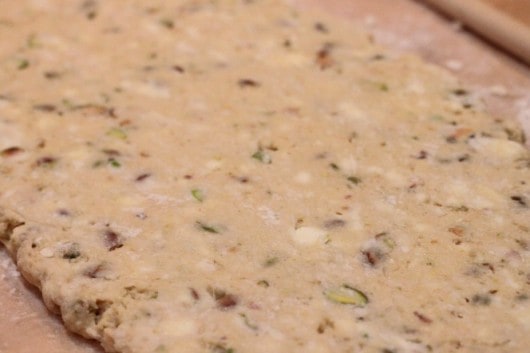 You can see the bits of butter in the scone dough and that is what makes them so light and flakey.
You can cut them into any shape, my favorite is hearts. I bet you already guessed that. Many of my scones are heart shaped. I've made over 20 varieties of scones. If you love scones as much as me take a look at my list of scones.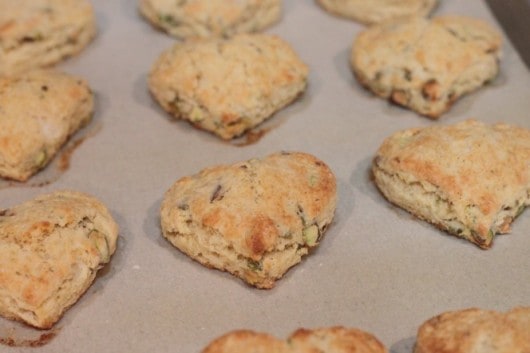 Bake them until they are lightly golden. Serve warm with butter, jelly or stuff them into your pockets and munch on them all day long or for the next 5 minutes which is about all the time, it would take to devour them if you were me.
I use THIS Pistachio Flavor!

Savory Pistachio Scones
Ingredients
2 cups flour
1/4 cup sugar
3 teaspoons baking powder
1 teaspoon salt
1/2 cup COLD salted butter
1/2 cup whole milk
1 teaspoon vanilla
6 drops Pistachio Flavor
2 eggs
1/2 cup chopped roasted pistachios
Instructions
Mix together flour, sugar, baking powder and salt.
Cut in butter until mixture resembles coarse crumbs.
Add milk, vanilla and pistachio flavor along with the eggs and pistachios.
Mix until blended.
Knead on a floured surface, or between wax paper.
Cut with biscuit cutter.
Bake at 400 degrees for 10-12 minutes or until lightly golden.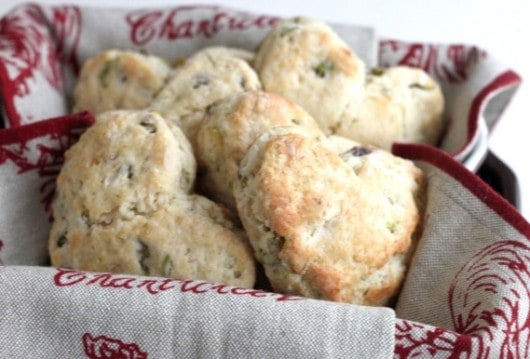 Or you could wrap some up and take them to a friend. Or invite a friend over to enjoy them, that is if you haven't eaten them all yet.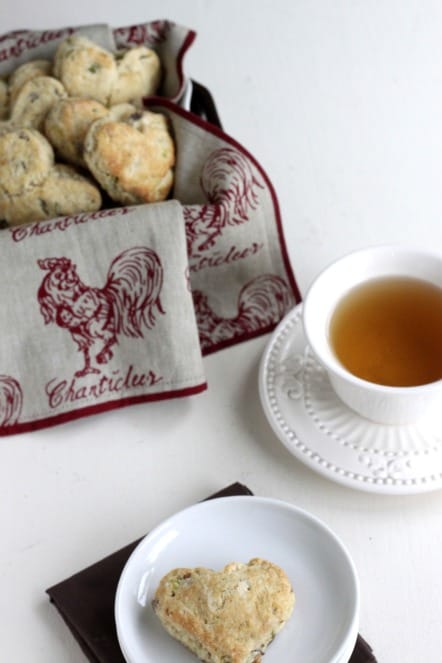 Me, well I poured myself a cup of tea and just sat back and enjoyed one….or two or three…but I know you're not counting.
I have another pistachio recipe planned, that's good news, right? You're not tired of pistachios, really how would that even be possible?
Ok, that is all, enjoy your day!