Banana bread with pancake mix… if you think it's crazy, then jump on board the crazy train and whip this up. It's a combination of banana bread and banana cake, with a simple glaze on top.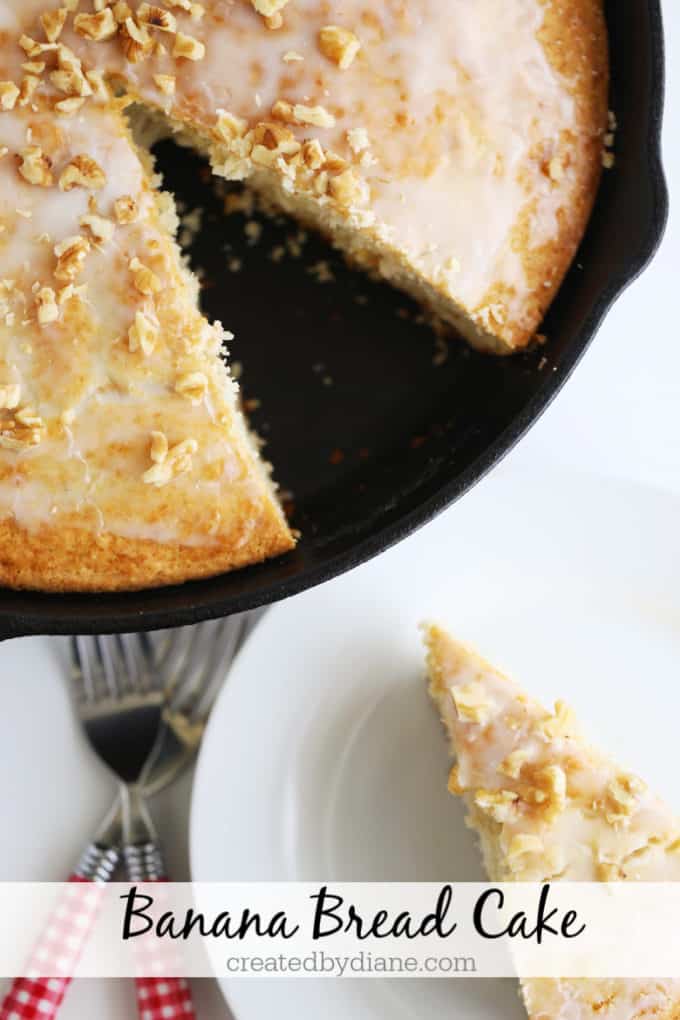 Pancake mix is not just for pancakes anymore!
Since there was some chatter about everyone being low on flour and sugar, I grabbed a  bag of pancake mix, and have some fun recipes to share with you using it.
This one will have you thinking how on earth is it made out of pancake mix, it doesn't taste like a pancake. That's the magic of this recipe.
I love that it's a large cake but easily baked in a 12″ cast iron skillet. As you may know, it's one of my favorite times in my kitchen.
If you like making sweets in your skillet like I do, give these Cream Scones a try as well as my No Pie Crust Apple Pie and if you like cherry pie…. this is a fun Cherry Cheesecake Skillet Cookie Pie.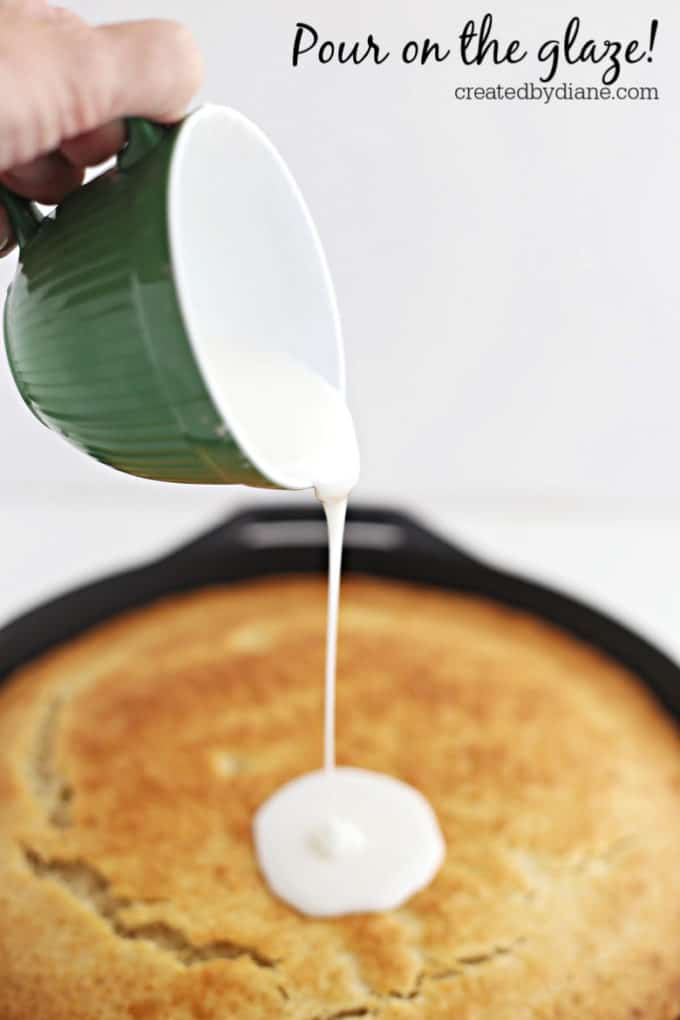 Give me all the glaze…
so simple to make and really puts this or any cake over the top! Just powdered sugar and warm water, then pour it over the top, spread it smooth with a spatula if you'd like, top with nuts like I did. 
What other items can be added to this recipe?
You can add chopped nuts to this recipe, up to 1 cup of nuts. Walnuts go great in banana bread, another option is to add some chocolate chips, add up to a cup of sweet chocolate yumminess to this banana bread. Any flavor chip would be good, cinnamon chips, butterscotch chips, peanut butter chips. They all go with banana very well.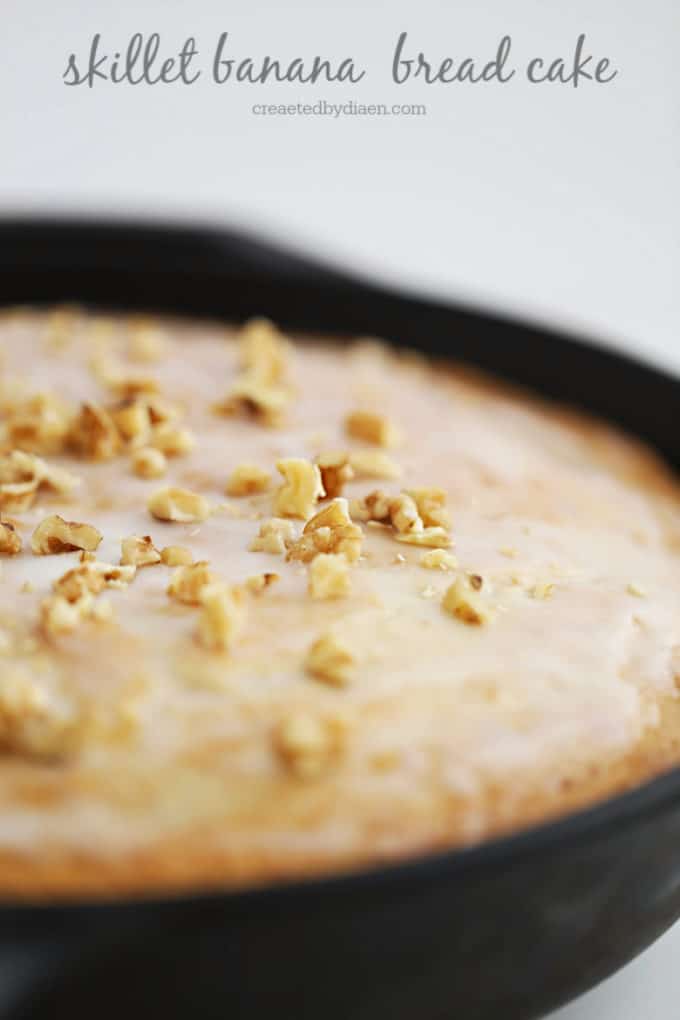 What can I use if I don't have a 12″ cast iron skillet for this banana bread?
You can bake this in 2- 8″ round cake pans, a 9×13 pan, about 24 cupcakes. Adjust the time accordingly.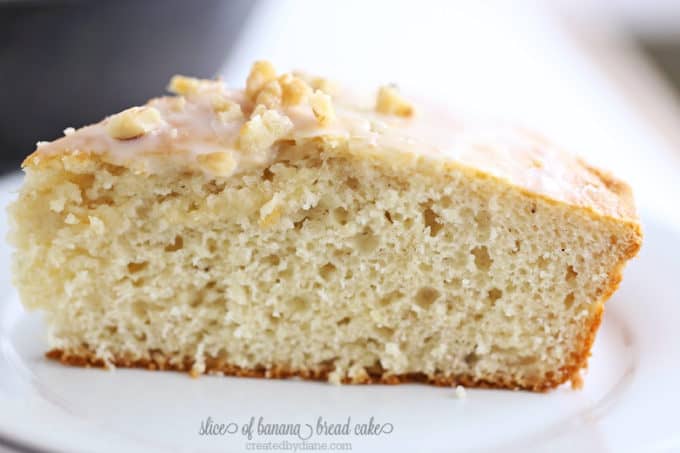 Oh yes, tender cake. Moist and delicious and I LOVE that the cake stays warm for a while in the skillet, making it irresistible and perfect for having a second piece!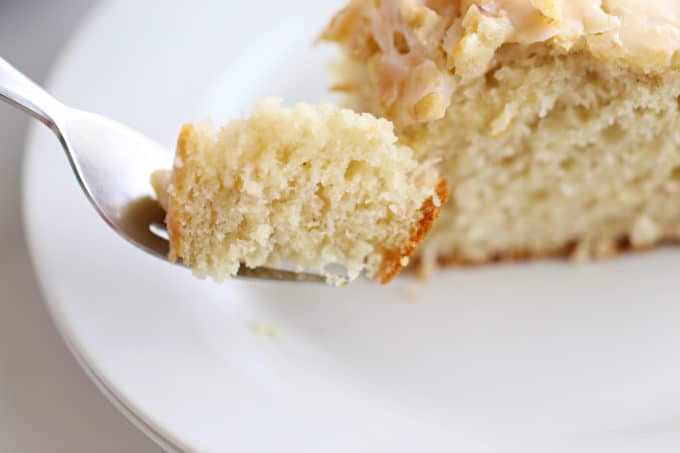 It wasn't hard to figure out why everyone wanted another slice!
If you're looking for a frosting recipe to top this cake with, how about my peanut butter frosting or chocolate malt frosting both great choices with this banana cake.

Banana Bread Cake
Easy banana bread cake is made from pancake mix full of flavor and you won't want to stop at just one slice. It's topped with a simple glaze icing and chopped walnuts
Author:
Diane Schmidt Created by Diane
Ingredients
3 medium bananas
2 large eggs
1/2 cup oil
1/3 cup sugar
1/4 cup milk
1 teaspoon vanilla extract
pinch cinnamon
3 cups pancake mix (I use Krusteaz brand)
Glaze
3/4 cup powdered sugar
2 tablespoons warm water
1/3 cup chopped walnuts
Instructions
Preheat the oven to 350°
Prepare a 12" cast iron skillet with a baking spray or shortening and a tablespoon of flour or pancake mix.
Place bananas in a mixing bowl, mash with a fork or potato masher until fairly smooth.
To that bowl add in eggs, oil, sugar, milk, vanilla, and cinnamon mix until all combined well.
Stir in flour, and make sure it well mixed.
Place the batter into the prepared skillet.
Bake for 28-30 minutes. Test with a toothpick, it's done when a toothpick comes out clean.
Allow the cake to cool for 5 minutes.
Mix glaze: Mix the powdered sugar with warm water.
Drizzle the glaze over the cake, spread the glaze over the cake with a spatula and top with chopped nuts.