Pancake CAKE,
ok… this may just be the fastest way to make a cake.
It's full of fun and fruity flavor. Bananas, strawberries, topped with icing and yes BACON!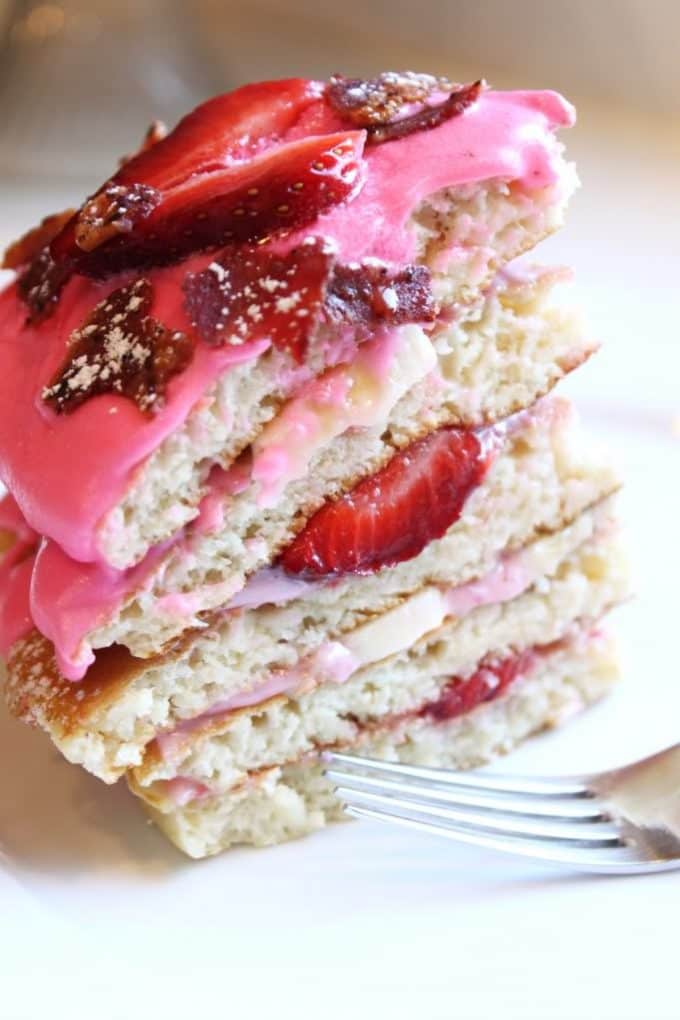 If you like pancakes…and fruit….you will really want a piece of this fruit-filled pancake cake.
It's most likely the fastest cake to make, EVER!
Really. I don't think it could get any quicker to make a cake.
Now, pancakes are a hit with EVERYONE, don't you think.
Change up the toppings to appeal to anyone for a fun celebration, thinly sliced apples, and walnuts spread Nutella in between the pancakes or use chocolate frosting.
Add blueberries with a lemon cream cheese frosting… for a fun fresh flavor cake.
The possibilities are endless. You heard right, I made a pancake cake and what a fun cake it was to make.
Lots of layers of fruit-filled goodness!
My family really enjoys pancakes and I make them often, I've posted my favorite pancake recipe. Use that recipe or use any pancake mix to make the pancakes. Either way, let the celebrating begin, or maybe it's just an ordinary Tuesday and you want cake!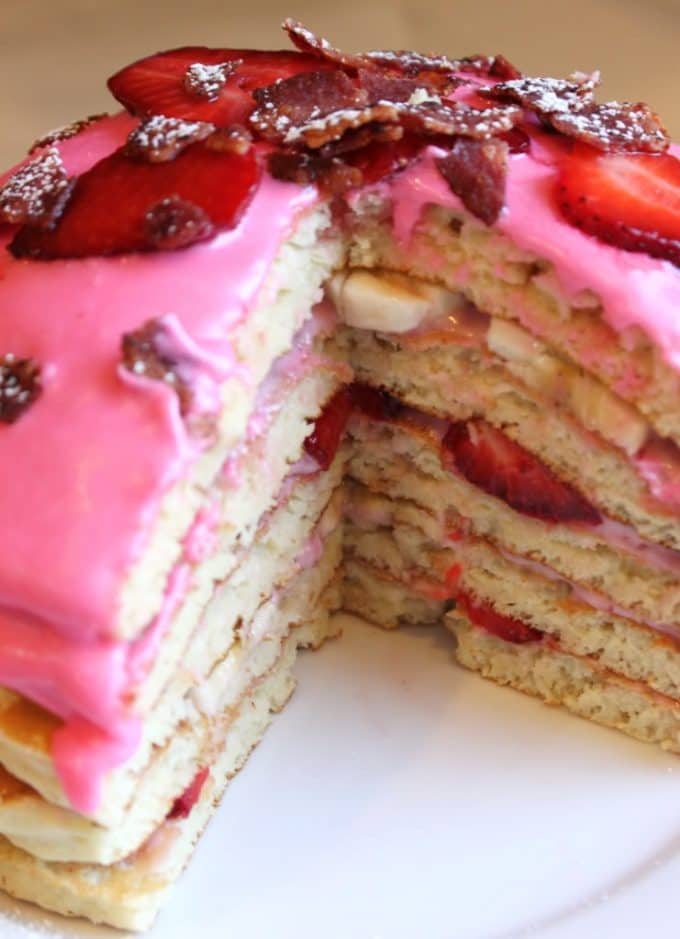 I thought since we enjoy pancakes for breakfast and sometimes for dinner, you know "Brinner" breakfast for dinner, that it would be fun to make a pancake cake dessert (but you can eat it anytime!)
To cook the pancakes I poured the batter using a 1/2 cup measuring cup for each pancake. My recipe made 6 pancakes this size, I used 5 to make the pancake cake…
and ate the other one 🙂 I was hungry and just couldn't wait!
In between the layer I used leftover strawberry cream cheese frosting that I used to make Strawberry-cupcakes, fresh sliced strawberries,
then a bit more frosting and sliced banana.
Alternating layers until I got to the top
Now for the top
I thought a pretty pink top would be just perfect.
I made the icing with 2 tablespoons butter, 2 cups powdered sugar 2 tablespoons milk, 1 teaspoon vanilla extract, pink food coloring.
And no pancake would be complete without being topped off with some crisp turkey bacon.
What a fun cake!
Pancake-Cake that is.
I can see it now pancake cakes will be served everywhere…..well okay maybe not everywhere, but they will be served in my kitchen again!