Bring on the blueberries, they are my favorite and I can't wait to go blueberry picking soon! In the meantime I'm stocking up every time I go to the store, blueberries have been super sweet, so there is no better time to grab some blueberries and give this 15-minute blueberry crisp a try.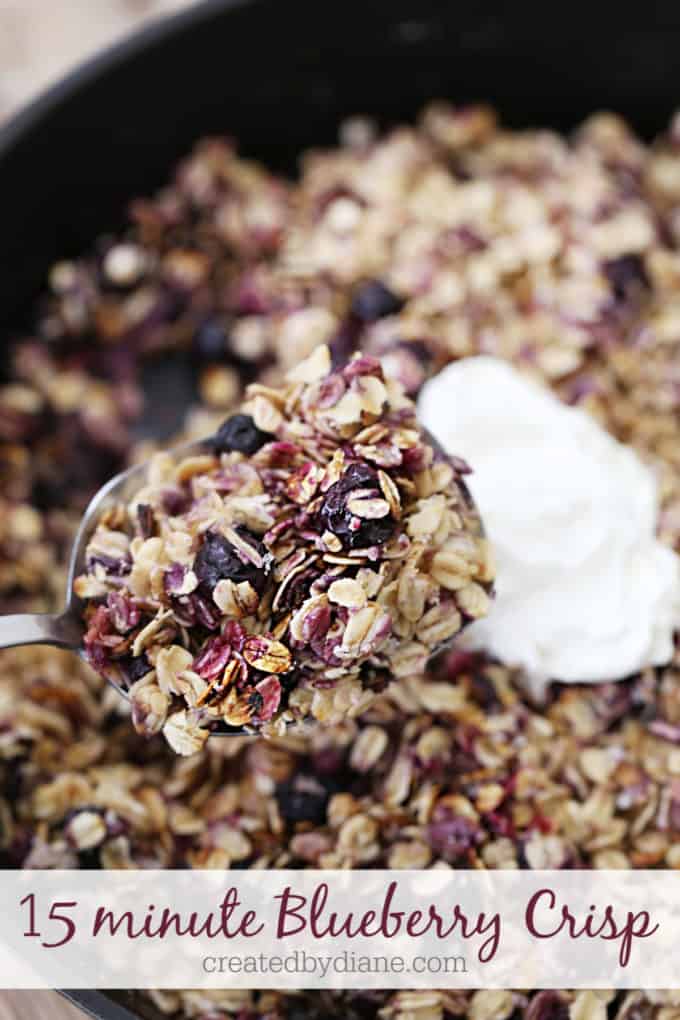 I just love fast desserts,
and this is not only quick,
it's super delicious
You can eat it on its own,
you can eat it with yogurt, ice cream, top it with whipped cream
add your favorite toppings
some of my favorites are coconut, mini chocolate chips more blueberries and sliced almonds… and oh yes, whipped cream… I like it over ice cream too!
I like it when I have some of it leftover and I get to enjoy it for breakfast!
This is proof dessert doesn't have to be complicated!
I bake mine in a cast-iron skillet, it can also be baked on a baking sheet, a casserole dish, baked into individual oven-safe dishes, or another type of baking pan can go in the oven.
This quick and easy crisp is cooked under a high broiler, turning it over with a spatula halfway through so it all gets crisp!
Alternatively, you can cook it on your grill in a cast-iron skillet as well, just get the grill nice and hot first.
Crumble, Cobbler, or Crips, what is the difference?
Crumbles and cobblers often have a flour-based batter on top of the fruit that is baked and puffs up like a thin biscuit. Crisps often have a heartier topping made from oatmeal, this crisp is not overly sweet, is gluten-free, takes minutes to make, and is truly satisfying to eat. YOu can serve it with whipped cream or ice cream or eat it alone. It's delicious for breakfast as well. This crisp can be baked or cooked on the stove, and it's also great when camping as you can cook it on top of an open fire, and you can cook it on a gas burner.
Can more fruit be added?
Yes, you can add more fruit. If you triple the amount it'll be more like a fruit pie with crumb topping, or a "crumble" you don't need to adjust any other ingredients if you don't want to.
If you want to make a really large serving more than 3 cups of berries…  then you may want to add more "crisp" topping. I would cook it at 375° for a little longer and you won't want to turn it over with a spatula/stirring it halfway through cooking as that many berries will create more liquid and turning it will create a messier result.
You may find it better to cook it at 375-400° for 20 minutes if you have it spread to 1″ on a baking sheet the broiler will work, but if the crisp is thicker you can cook it longer with a lower temperature to be sure it won't burn.
Can this be cooked on the stove?
Yes, place everything in a skillet and heat it over medium-high heat stir it to heat it evenly. Place a lid on for a couple of minutes at the end to be sure it's all hot, the berries are softened.
This can also be heated on the grill, which makes it a great summertime dessert.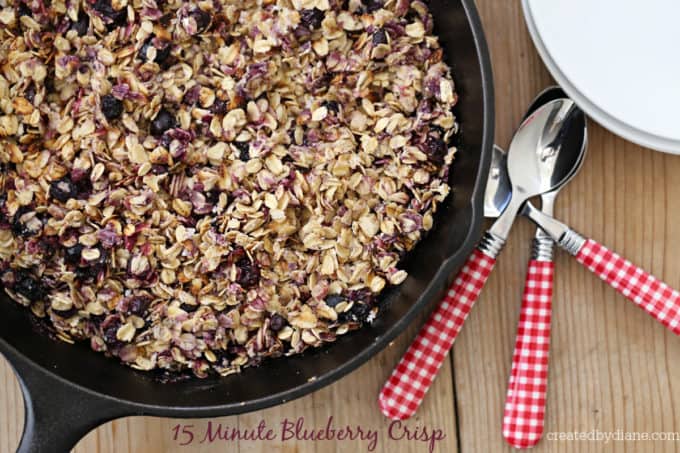 This answers the question, What to do with berries that are getting soft?
The fruit crisp recipe can be adapted to use any berry. And if you're like me you buy a lot of berries and inevitably have some that will get soft before you're ready to use them, so this is a great recipe to use them in…
Such as
Can a different fruit be used?
Yes, any berry will work well in this recipe. Strawberries, blackberries, raspberries or mix them for a berry crisp. If you use apples the crisp will need to be baked longer to soften the apples, or you can pre-cook diced apples on the stove, I've sautéed apples with butter for a couple of minutes to coat them, then added two tablespoon water, and place a lid on the pan to soften them.
How else can I enjoy this?
If you happen to have any leftover, it's great on ice cream, on yogurt for breakfast or just enjoying off the spoon for a quick snack!
15 Minute Blueberry Crisp
Super fast and super delicious this blueberry crisp is bound to become your go-to dessert. And it's great topped with whipped cream, or ice cream and equally delicious eaten cold if you have leftovers.
Author:
Diane Schmidt Created by Diane
Ingredients
3 cups old fashioned oats, oatmeal (not quick oats)
4 tablespoons butter
pinch of salt
2 tablespoons brown sugar (or white sugar can be used) more sugar may be necessary if your blueberries are not very sweet.
1/8-1/4 teaspoon cinnamon
2 cups fresh blueberries (yes you can add more fruit if desired)
optional items: mini chocolate chips, shredded coconut, sliced almonds, whipped cream, ice cream
Instructions
Preheat the broiler on high or the oven to 450°
In a 10-inch cast iron skillet add oats, butter, salt, cinnamon, and blueberries, sprinkle the sugar over the top.
Place the skillet under the broiler, not too close. I put mine on the second rack down from the top, at least 6 inches.
Place the skillet in the oven and bake for 5 minutes.
Then stir the ingredients, then spread them out again so they heat evenly.
Bake for the remaining 5 minutes.
Remove from the oven all allow to cool for 5 minutes.
This is a great time to get any toppings you'll want ready. wjipped cream, ice cream chocolate chips, coconut, more blueberries or another fruit.
Add your toppings and serve.
If you have leftovers they are great hot or cold and fun swirled into a breakfast smoothie, put over a bowl of ice cream or yogurt.