Nothing is better than chocolate chip cookies right out of the oven, the smell fills the house with such deliciousness!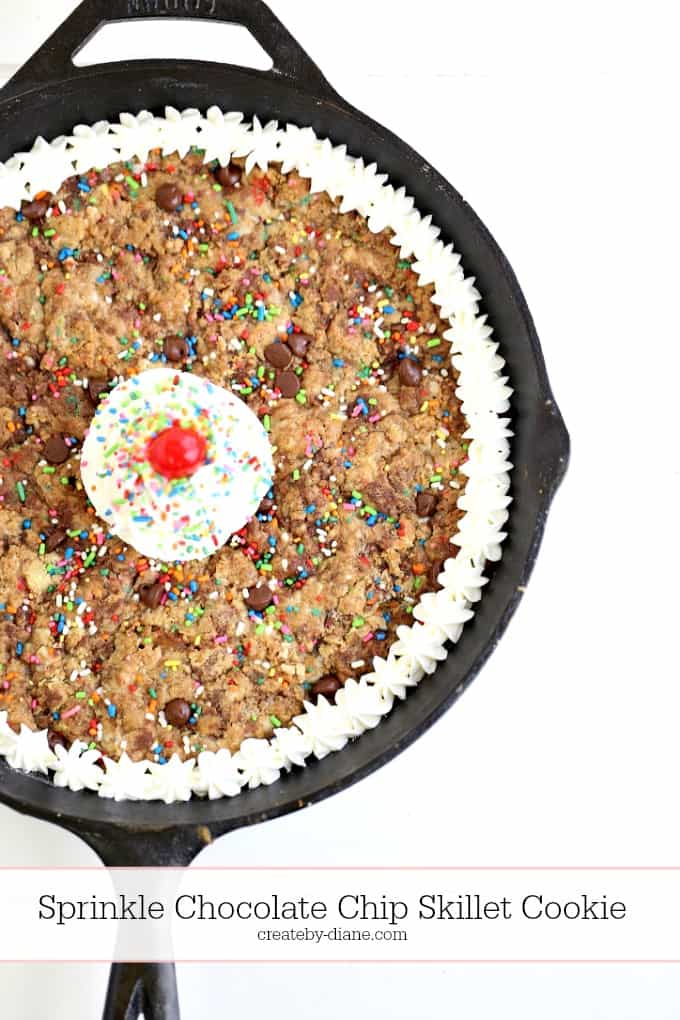 Sprinkle Chocolate Chip Skillet Cookie
Don't miss one delicious recipe and get my FREE e-cookbook click here!
You agree with me, right.
This is one of those go-to recipes,
It's perfect anytime and easy to adapt for all sorts of celebrating.
It's full of colorful sprinkles, which just SCREAM Celebrate, it's super easy and ready quick!
It's all made in a cast iron skillet you know how I love my cast iron skillets don't you?!? I love it for so many things, like this Cranberry Cornbread, cooking chicken for the week, Skillet Jalapeno Popper Dip with Bacon, Chicken Caprese, Shrimp Roll, Cherry Cheesecake Skillet Cookie, Carne Asada Fries and Skillet Apple Crisp.
This is a great dessert when you need a dessert without all the planning, like when everyone stops by after going out to dinner, there is a game on the tv and you're house is suddenly full of people, you kids come home with some great news… you can sit around the table with spoons and just dig in and enjoy!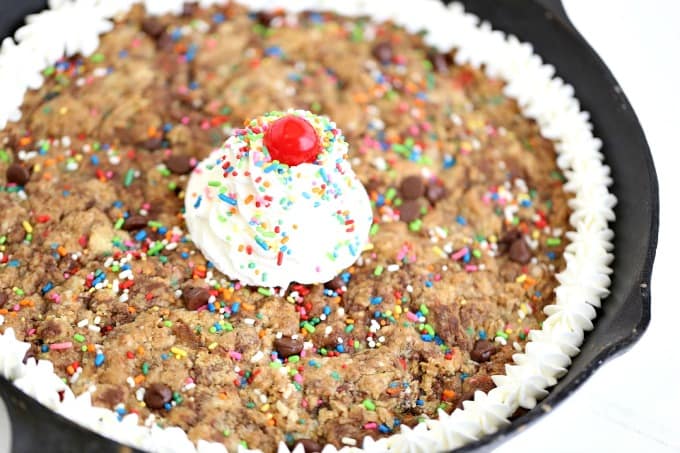 You can slice it into pieces after it's cooled, but I think it's best enjoyed warm scooped out any ol' way with whipped cream or ice cream.
Rainbow sprinkles remind me of confetti, maybe that's why I think this is perfect for celebrating, you can customize it to match anything you'd like just change out the color of sprinkles. Single colored sprinkles are readily available at baking supply stores.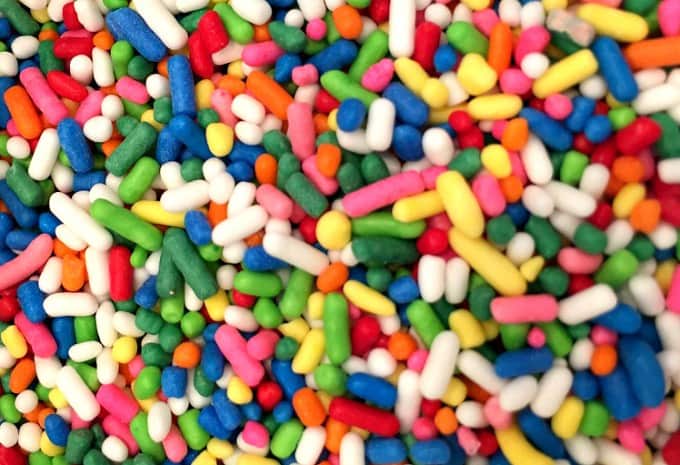 Rainbow sprinkles… of course go with EVERYTHING!!!
What's your favorite color?
THIS is the skillet I use and love and I use it so much I have 3 of them and more in other sizes too, it's a kitchen must have.

Sprinkle Chocolate Chip Skillet Cookie
Ingredients
1/2 cup butter
1/2 cup sugar
1/2 cup brown sugar
2 cups flour
1 teaspoon baking soda
1 egg
1 egg yolk
1/2 teaspoon salt
2 teaspoons vanilla or butter vanilla
1/2 cup chocolate chips
1/4 cup rainbow sprinkles
whipping cream
powdered sugar
sprinkles
cherry
Instructions
In a small bowl whisk eggs, salt and vanilla together.
In a 12 inch cast iron skillet, heat the skillet over medium-high heat.
Add butter, once it's melted stir in sugars.
Whisk in flour and baking soda.
Next add in the eggs, salt and vanilla.
Quickly stir in chocolate chips and sprinkles and smooth mixture. (If you over-mix the chips they will begin to melt)
(I reserved a tablespoon of sprinkles and put them on the top of the cookie before baking.
I used a 12-inch cast iron skillet.
If you want it higher use a 10-inch skillet and you may need to bake it a few more minutes.
Bake at 350° for 15-20 minutes. I've made two of these and they were both done at 18 minutes. The edges of the cookie were firmer than the center which is what you want in a soft hot cookie. Remember in a cast iron skillet the cookie will continue to cook in the pan as it cools, so don't overbake it.
Whip up some heavy cream with a tablespoon of powdered sugar and decorate you cookie cake and top it with some sprinkles and a cherry.