These mint chocolate chip cookies are not only full of delicious chocolate chips and minty flavor but they are pretty green and so perfect for many reasons. They are a. hit for St. Patrick's Day, fun at parties especially when rainbows are involved. These are coated with some icing and rainbow sprinkles perfect for anytime celebrating.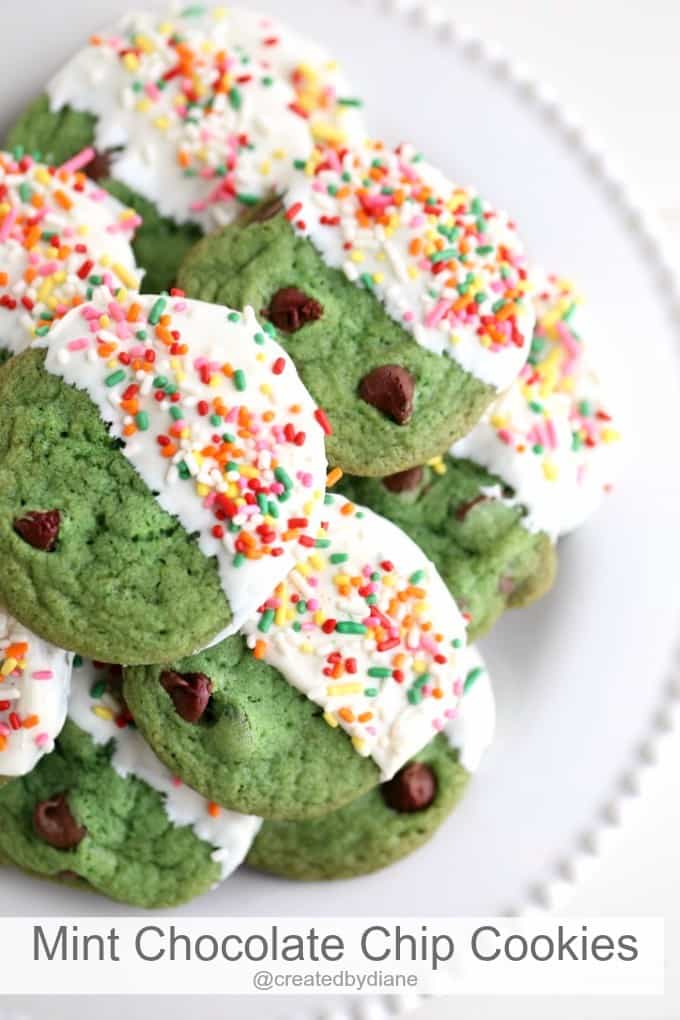 It's getting all MINTY here today!   
Mint Chocolate Chip Cookies
Don't miss one delicious recipe and get my FREE e-cookbook click here!
I've had mint on my mind for quite some time.
My mint plant in my back yard survived the winter and is so full of mint leaves, every time I walk outside I walk by just to get a whiff of it.
Add that to Girl Scout Cookie season and knowing what one of their most popular cookies are it's no surprise I had to make some more MINTY deliciousness.
This time, I added mint to everyone's favorite, chocolate chip cookies and then decked them out with white chocolate and rainbow sprinkles.
These are perfect for this time of year, they are great for St. Patricks Day as well as any time of year you'd like to enjoy a touch of that delicious mint and chocolate combination!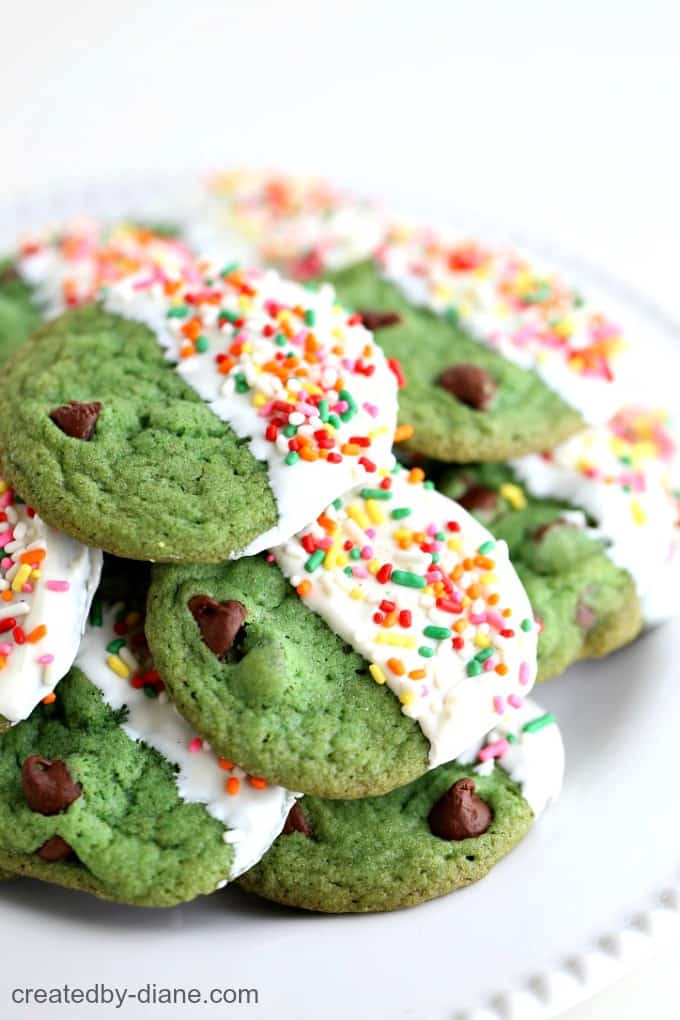 As soon as they come out of the oven, the kitchen will fill with that delicious minty aroma!
Mint Chocolate Chip Cookies
Ingredients
1 cup butter
3/4 cup sugar
3/4 cup brown sugar
2 eggs
2 1/2 cups flour
1 teaspoon salt
1 teaspoon vanilla
3/4 teaspoon mint (peppermint) extract
8 drops green color (I used Americolor leaf green coloring)
1 1/4 cup chocolate chips (divided into 3/4 and 1/2 cups)
1 cup white candy melts
1/4 teaspoon mint extract
1/3 cup rainbow sprinkles
Instructions
In a mixer bowl, cream butter with sugars add in egg vanilla, mint, and green coloring and mix on medium until blended completely.
Add in flour and salt blend on low.
Then stir in 3/4 cup chocolate chips.
Place 2 teaspoon size balls of dough on a parchment lined cookie sheets 2 inches apart.
Place remaining chips on top of cookies and press them in a bit.
Don't overcrowd cookie sheets and don't make the cookies larger or they will brown.
Chill the cookie sheets with dough balls for 10 minutes before baking.
Bake at 350 degrees for 9 minutes. Check the cookies to be sure you oven isn't baking too fast or browning them. I bake my cookies in the upper part of my oven and chilling the dough helped them hold a great shape while not allowing the green cookies to turn brown.
When cookies are completely cooled melt the white candy melts in the microwave for 30-second intervals on medium power until smooth. Then stir in mint extract.
Dip 1/2 of each cookie in white candy melts and sprinkle on rainbow sprinkles and allow the candy to harden and sprinkles to stick. about 10 minutes, (will depend on how hot your kitchen is at the time also) you can quick chill the cookies in the fridge for a few minutes to speed that up if you prefer.
Looking for more MINT recipes, take a look here at these
Mint Madeleines
,
Mint Cheesecake
,
Mint Cake
and
Mint Chocolate Chip Biscotti
, and
Mint Chocolate Chip Leprechaun Cookies.