Mint Madeleines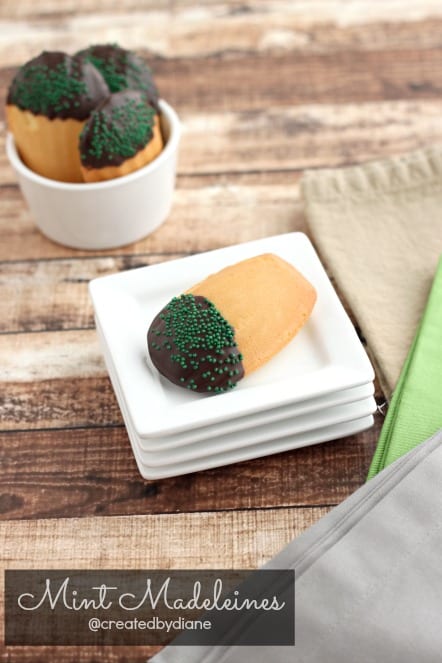 Oh how I love chocolate and mint together,
one of my favorite things is chocolate chip mint milkshakes.
This time of year, it is really hard to resist all the thin mints.
But the milkshake remains my favorite, until now.
I just love how Madeleines have a cake-like texture, and add mint and chocolate to them and it's a WINNER!
Be sure to check out my mint cake too, a St. Patrick's day must-see, it's tie-dye inside a super fun surprise.
Mint Madeleines
Ingredients
2 eggs
1/8 teaspoon salt
1/3 cup sugar
1/2 cup flour
1/4 cup melted unsalted butter
1/4 teaspoon vanilla extract
10 drops+3 drops Creme de Menthe Oil
dark chocolate melts and sprinkles for decorating
Instructions
Butter and flour Madeleine pan and preheat oven to 275 degrees
Place eggs, salt and sugar into mixer bowl and whip on high for 5 minutes until silky smooth.
Add vanilla and mint, then mix in flour alternating with butter in 3 stages and blend until incorporated. Place 2 tablespoon into each area of pan and bake for 7-8 minutes.
Allow Madeleines to cool in pan for a couple minutes then turn out onto cooling rack.
When they are completely cooled. Melt chocolate in microwave at 30 second intervals until smooth and completely melted. Add three drops of Creme de Menthe Oil to chocolate.
Dip the Madeleines into the chocolate and then add sprinkles and allow the chocolate to dry before serving or packaging.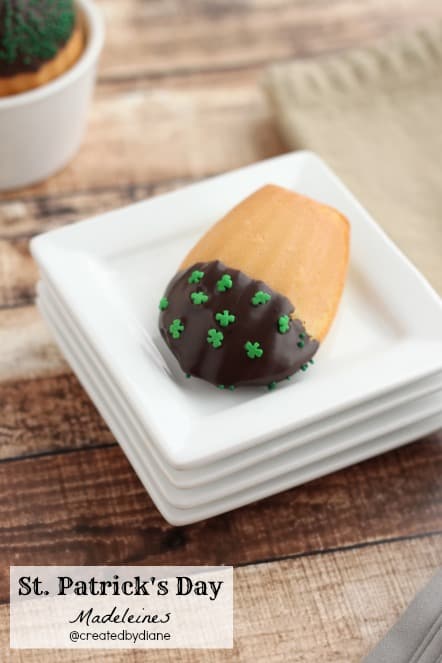 These can be decked out easily for St. Patrick's Day with shamrock or green sprinkles.