Mint Chocolate Chip Biscotti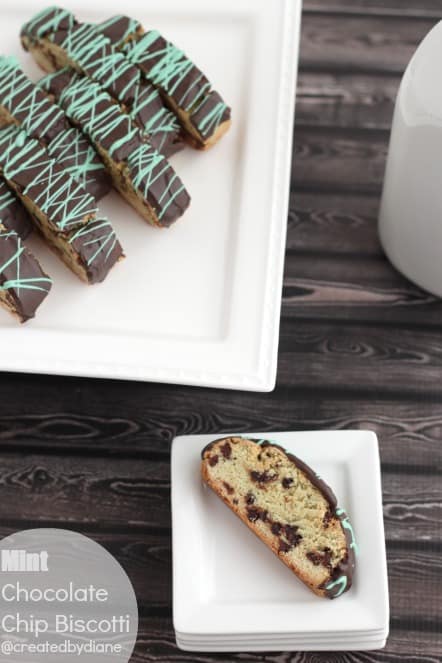 Biscotti gets a delicious MINTY makeover today
and not any time too soon, after all I think March is the month of MINT (unofficially, of course)
and mint and chocolate go SO well together,
wrapping it all up in biscotti HAD to be done.
You know how much I love mint don't you?
Let me show you….
I've made Mint Cheesecake, Mint Chocolate Cupcakes, Mint Cut Out Cookies with Dark Chocolate Icing, Mint Chocolate Chip Meringue Cookies, Mint Madeleines, Mint Chocolate Chip Cookies, St. Patrick's Day Mint Cake,  Mint Chocolate Chip Scones, Mint Chocolate Chip Donuts, even Mocha Mint Cupcakes.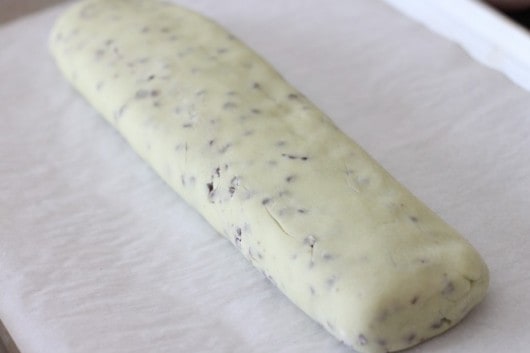 Gently roll the dough into a log shape for the first bake,
then you will slice it and bake it again, that is what allows the biscotti to dry out a bit and give it a wonderful crunch.
The creme de menthe gave the dough a pretty green color and I added a drop of avocado green food coloring, but the green color wasn't very noticeable after being baked, so if you want a real green treat, add more green coloring to the dough.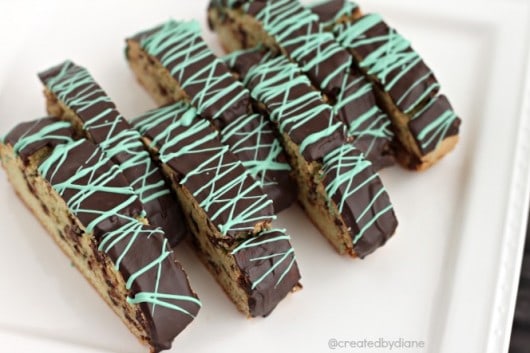 Oh it's a MINT wonderland over here!

Mint Chocolate Chip Biscotti
Ingredients
¼ cup butter
1 cup sugar
2 eggs
1 teaspoon vanilla extract
2 tablespoons creme de menthe (or use mint extract)
20 drops creme de menthe oil
2½ cups flour
1 teaspoon baking powder
¼ teaspoon salt
1/2 cup mini chocolate chips
green food coloring
Instructions
Beat butter with sugar, mix in eggs one at a time.
Blend in vanilla and mint.
In large bowl combine, flour, baking powder, salt.
Add in dry ingredients one cup at a time and mix in mini chocolate chips.
Knead dough and roll into a smooth log shape.
Bake at 350 preheated oven for 35 minutes.
Remove from oven and when cool to tough slice with a serrated knife and lay pieced on their sides on baking sheet.
Bake slices for 10 to 15 minutes.
Cool Biscotti on cooling rack
Notes
When completely cooled dip top edge of biscotti into 1 cup melted dark chocolate melts (I use Merken's) and drizzle with green and white colored candy melts(1/4 cup). I added 5 drops of Loranns creme de menthe oil to both chocolates to give it a delicious minty flavor.