I can't decide which part I like more the Avocado Cheesecake or the Pistachio Crust, I'm so glad I don't have to decide.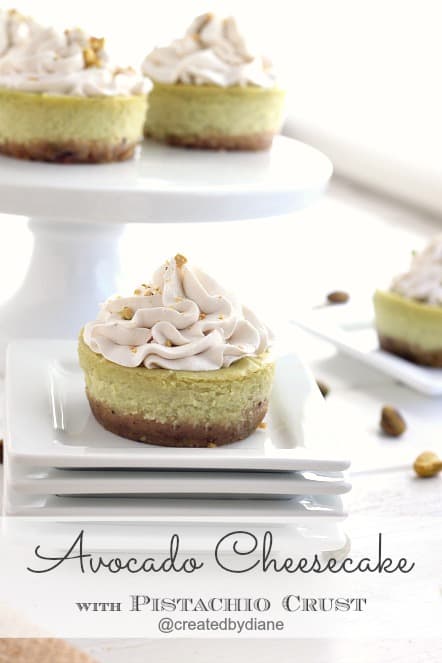 This combination is irresistible.
I just love when two flavors come together and create a great flavor sensation.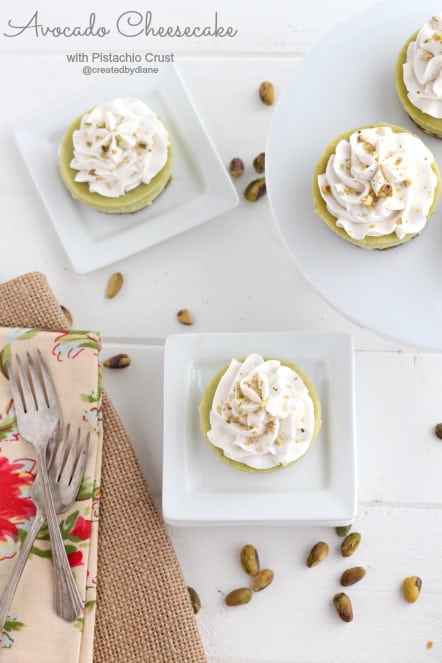 It's deliciously creamy and nutty and got rave reviews from the non-green eaters. Do you have one of those?….the first thing out of their mouths is Oh No, I don't eat GREEN things. Well that was not the case when I mentioned it was CHEESECAKE. Apparently just the mere mention of the word CHEESECAKE will have them running in from all rooms within a 20 yard radius…. it's that magical! It's just a bonus that avocados add nutrients in addition to pretty green color.
I topped these cheesecakes with pistachio buttercream frosting and chopped pistachios and as soon as people see pistachios they go NUTS, no pun intended! (well ok, pun intended)
I have to hide the pistachios if I buy then to make anything or they will disappear!
Adding avocado to these cheesecakes made them more creamy than regular cheesecake and I just love creamy cheesecake.
These mini cheesecake bake up nicely, test it with a toothpick and when the centers are set they are ready to take out of the oven and cool completely before putting them in the fridge. These cheesecakes aren't overly sweet so they tasted great with frosting. They were also delicious topped with fresh whipped cream.
But don't show anyone the pistachios you want to top them with or by the time they cool, you won't have any left 🙂
Avocado Cheesecake with Pistachio Crust
Serves:
12-15 cupcake size
Ingredients
Crust:
2 cups whole vanilla wafer cookies
1/3 cup pistachio nuts
3 tablespoons butter
Filling:
2 8oz. packages cream cheese (room temperature)
1 cup sour cream
1 cup sugar
2 avocados
3 eggs
1 teaspoon vanilla extract
*2 tablespoon chopped pistachios for topping
Instructions
In food processor pulse vanilla wafers until they break up smaller, then add in the pistachios and butter, pulse until it's finely ground and comes together in clumps.
prepare cupcake pan with baking spray or butter lightly.
Place 2 teaspoons of crust mixture into each compartment of the cupcake pan and press it smooth on the bottom with a tart pan tool or bottom of a small measuring cup.
Mix room temperature cream cheese in mixer with with sour cream and avocado along with the sugar (to be sure avocado will be smooth press it through a fine strainer.
Mix until completely combined.
Add in vanilla and eggs one at a time, mix just until each is incorporated. (do not over mix eggs as cheesecake tend to crack then)
pour three tablespoons of cheesecake mixture on top of crust
bake at 350 degrees for 20-25 minutes or until cheesecakes are set and firm in the middle.
remove from oven and allow the cheesecakes to cool
when cool, place tray in refrigerator until fully chilled
to remove cheesecakes from pan, slide a very thin plastic spatula or knife around edge so the cheesecakes release easily.
Top with buttercream frosting. I added 1 tablespoon vanilla extract and 1/2 teaspoon pistachio extract to the frosting and piped it on with a large star tip and topped the cheesecakes with chopped pistachios.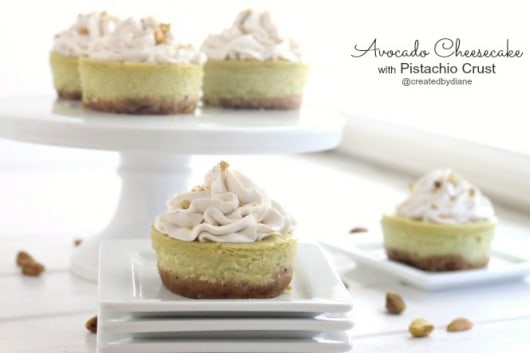 Grab some California Avocados while they are still in season and whip up these creamy cheesecakes, everyone will LOVE you for it!
I'm woking with California Avocados to bring you some delicious recipes, all opinions are my own. I happen to love California Avocados and am glad they are in season now!
More PISTACHIO RECIPES: