Pistachio Cupcakes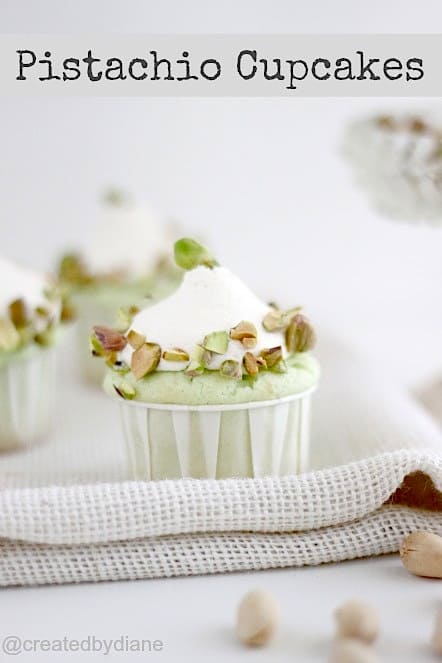 Pistachio Cupcakes with Pistachio Frosting
It's NUTTY!
I love Pistachio Nuts and can recall shelling them as a kid, especially the red pistachio nuts and getting the color all over my fingers.
Now I buy the uncolored pistachios, which makes shelling them WAY less messy.
I used to love when my fingers were all red, now…
well not so much. Some things have changed for the better since I was younger, I can't even believe next weekend we will be SPRINGING our clocks ahead for daylight savings time. YIPPEE, I'm looking forward to longer days and hopefully saying good bye to the colder nights.
Although I'm never a fan of loosing an hour sleep, I think the gain on this one is worth it. Do you? Besides we'll get the hour back in November. I like that daylight saving time is starting earlier and ending later, I just wish there were more daylight hours every day, although I may not be fond of the sun shining in the windows quite so early in the morning, I just love when it's light out until 8pm at night.
I've been thinking about pistachio cupcakes for weeks now, I used to love pistachio ice cream. I do love pistachio gelato, after trying many flavors I found that pistachio is one of my favorites. I love March and all the fun green items that seem to surround St. Patrick's Day. I often think green=mint, but these are a wonderful change. Don't worry I have some minty items coming up soon. Here are my top 3 minty items from last year. Mint Cut Out Cookies with Dark Chocolate Glaze Icing, Mint Chocolate Chip Scones, and St. Patrick's Day Mint Chocolate Cake.

Pistachio Cupcakes
Ingredients
1 box white cake mix (and ingredients to prepare)
1 3.4 oz. box pistachio pudding mix
1 drop avocado green Americolor Coloring
Pistachio Frosting
1 cup butter
3 1/2 cups powdered sugar
3 drops Lorann's Pistachio Flavor
3 tablespoon heavy cream
1 1/2 cups shelled pistachios (not dry roasted)
Instructions
Prepare cake mix according to package directions add in the dry pistachio pudding mix.
Bake according to package directions.
Check with toothpick to come out almost clean, don't over bake.
Beat butter with sugar, flavor and cream until smooth.
Pipe on cupcakes with a #809 tip.
Rim edge of cupcakes with chopped pistachios.