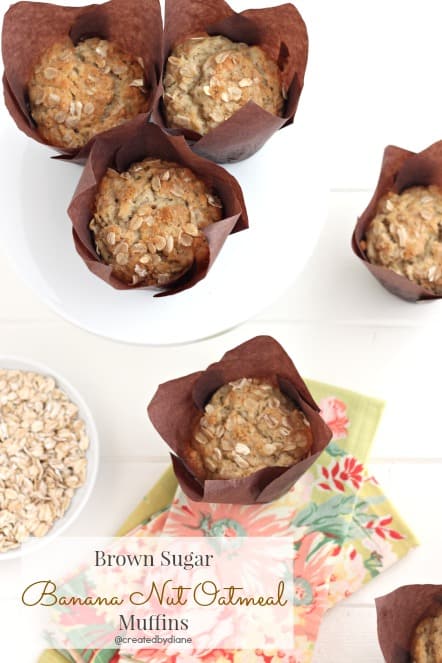 Oh there is something so wonderful about brown sugar,
it's so delicious and one sniff and you can small the warmth and goodness that is to come with what ever it's put on.
As usual I had some bananas getting pretty dark on the counter, so MUFFINS they are a Makin'
To mix it up a bit, I added brown sugar and walnuts and then I got thinking how oatmeal would be great in these,
really I was thinking how cut hey would look with some oatmeal sprinkled on top, but inside is good too.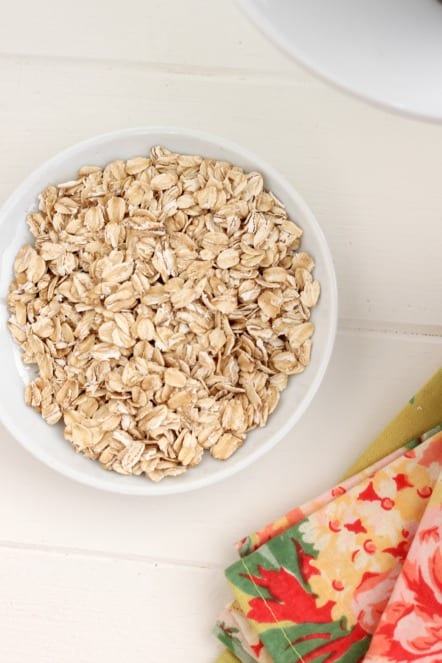 I just love oatmeal,
well I actually oatmeal cookies and oatmeal cupcakes and oatmeal loaded with fruit on top, but I'm not the one who grabs a big bowl of it. Are you?
Here are a few more of my recipes using oatmeal, Salted Caramel Cheesecake Oatmeal Cups, Cinnamon Apple Oatmeal Breakfast Bars, Oatmeal Chocolate Chip Cookies, Banana Oatmeal Bites, and Oatmeal Cinnamon Banana Cake.
Brown Sugar Banana Nut Oatmeal Muffins
Ingredients
½ cup butter
1 cup brown sugar plus 3 tablespoons for tops of muffins
1 egg
3 very rips bananas
2 teaspoons vanilla bean paste
3 tablespoons heavy cream (or milk)
2 cups cake flour
1 teaspoon baking powder
½ teaspoon baking soda
½ teaspoon salt
1 cup oatmeal (not instant) plus 3 tablespoon for the tops of the muffins
1 cup chopped walnuts
Instructions
Place muffin liners into muffin pan
Preheat oven to 350 degrees
In mixer bowl cream butter with brown sugar
Mix in egg, banana and heavy cream until combined
Add in flour, baking powder, baking soda and salt and mix on low until all incorporated
On medium low add in oatmeal and nuts
Place 3 tablespoons of batter into each muffin liner
sprinkle each muffin with brown sugar and oatmeal
Bake for 30 minutes or until toothpick comes out almost just tacky. If you bake them until the toothpick is dry the muffins will be dry. (I set a timer for 25 minutes and test every minute, just in case the oven is hot)