If you like icing, this strawberry icing is not only delicious it's so pretty too! I'm trying to think up more recipes to put it on. Strawberry Chocolate Chip Biscotti.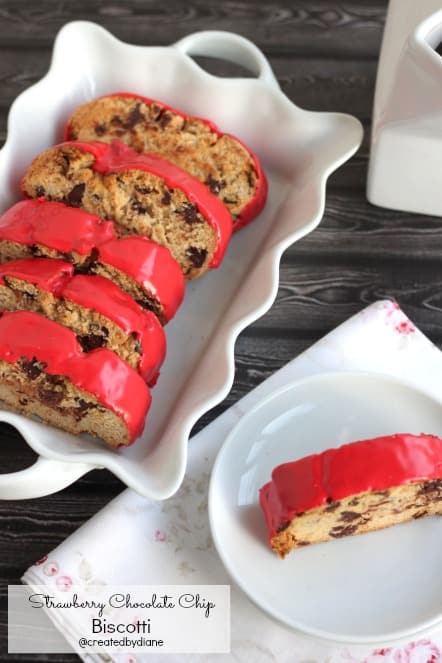 I love all things pretty, pink and red this time of year and well..
to tell the truth I LOVE strawberries all year long.
I can never seem to buy enough of them, plump red, juicy and delicious!
Chocolate and strawberries, they are so delicious together
putting them into biscotti is a no brainer,
the only difference here is the type of strawberries.
You see fresh strawberries would be a little too moist for biscotti. You can just snack on those while you make the biscotti.
I wanted that REAL strawberry taste so I used freeze-dried strawberries.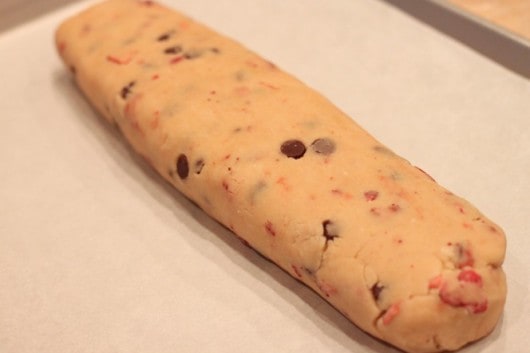 Mix up the biscotti dough and oh these strawberries look so pretty, sadly they won't be pretty pinkish-red when they are baked but they taste good.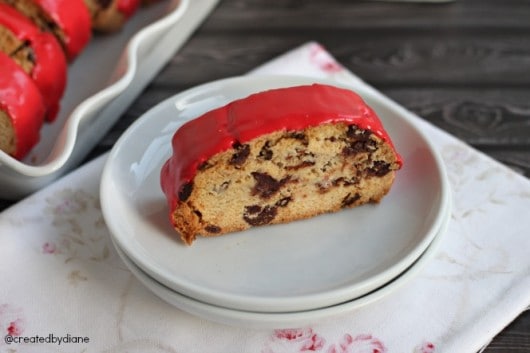 I just LOVE the color of the pretty red icing on top of these, it's smooth and shiny and irresistible. Allow the icing to dry completely before stacking or packaging.

Strawberry Chocolate Chip Biscotti
Ingredients
¼ cup butter
1 cup sugar
2 eggs
2 teaspoon strawberry extract
1 teaspoons vanilla extract
2½ cups flour
1 teaspoon baking powder
¼ teaspoon salt
1 cup freeze dried strawberries
¾ cup chocolate chips
Instructions
Beat butter with sugar until fluffy.
Mix in one egg at a time along with extracts.
In large bowl combine, flour, baking powder, salt.
Add in dry ingredients one cup at a time until all incorporated.
Stir in freeze dried strawberries and chocolate chips.
Knead dough and separate into two logs, or one large log if desired.
Bake at 350 preheated oven for 35 minutes or until bottoms are firm and lightly golden.
Remove from oven and when cool to touch, slice with a serrated knife and lay pieces on their sides on baking sheet.
Bake slices for 10 to 15 minutes.
Cool Biscotti on cooling rack
Strawberry Icing
Ingredients
1-1 1/2 cup powdered sugar
2 tablespoons water
1 tablespoon corn syrup
red food coloring (I used Americolor red red)
2 teaspoons strawberry extract
Instructions
Mix all ingredients until smooth and adjust consistency with powdered sugar and water until you can drag a spatula across the icing in a bowl and it takes 10 seconds to completely go back smooth.
To ice biscotti:
Make sure biscotti is completely cooled and dip top edge into biscotti and place on cooling rack until the icing dries completely.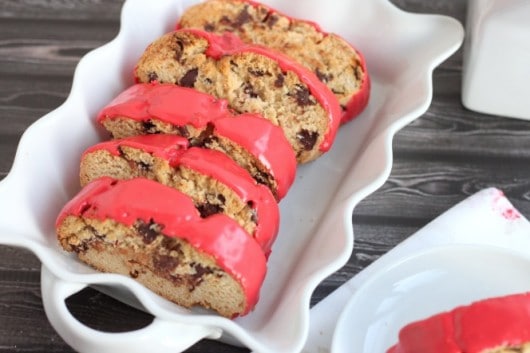 If biscotti is your thing you may also like Red Velvet Biscotti or Gingerbread Biscotti.
If you like strawberries here is a whole bunch of strawberry posts full of yumminess!
Frozen Strawberry Margarita Pie
Mocha Strawberry Yogurt Smoothie
Strawberry Orange Pancake Syrup
Strawberry Chocolate Chip Scones