Fresh Picked Strawberry Scones
they smell and taste like they were picked right in the strawberry fields.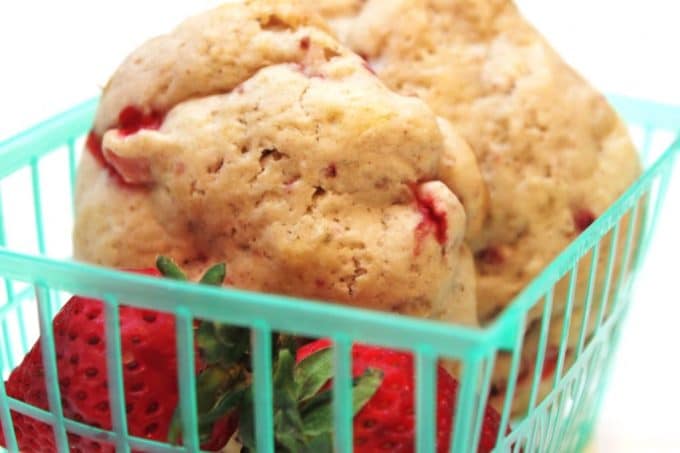 Well, the strawberries were.
As soon as I see the little stand near my house that sells their fresh picked strawberries, my brain goes in circles thinking of all the delicious recipes to put them in, as well as eat a bunch all the way home. It is a whole mile! The smell of these sitting on the kitchen counter gets everyone's nose going even my cat. He was wiggling his nose like crazy.
Although some of the strawberries still have some white on them, these taste nothing like the strawberries in the grocery store. These are picked fresh every morning.
I knew I wanted to make some scones like these,
Ultimate Chocolate Strawberry Scones
I didn't use the same recipe though, I altered the recipe I used to make
these Cranberry Almond Scones
I used 1 1/2 cups cut up strawberries.
but really wanted more strawberry flavor so I pureed 1/2 cup cut strawberries
looks like jam!
once that was added to the batter I knew then it was enough strawberries
This batter was extremely moist and sticky due to pureeing the strawberries, so I didn't roll and cut these scones, I scooped them out with a 3 Tablespoons scoop and put them onto a parchment lined baking sheet.
Once I was finished with the first sheet, that had one dozen on it, I decided I would really like to have some with chocolate chips.
I added 3/4 cup mini chocolate chips to the remainder of the batter to make the other dozen scones
After brushing the tops of the scones with an egg wash (1 egg mixed with 2 tablespoon water)I topped the scones off with more mini chocolate chips.
Both scones came out beautiful
I wrapped them up in wax paper sheets and tied them with the red and white twine I ordered from The Twinery. I just LOVE their twine.
They made cute little packages, don't you think?
Strawberry Scone Recipe
3 cups flour
1/2 cup sugar
1 Tablespoon baking powder
1.2 teaspoon salt
1/2 cup butter cold and cut up into pieces
Place in a food processor and pulse until coarse crumbles are formed.
Place in a large mixing bowl, add
2 eggs (one for egg wash)
2 teaspoons vanilla extract
1 cup milk
1 1/2 cups cut up strawberries
and puree 1/2 cup strawberries
1 cup mini chocolate chips
In a food processor add flour, sugar, baking powder, salt, and butter. Pulse until Caresse crumbles then transfer to large bowl. Beat egg with milk, add vanilla to flour mixture and stir then add strawberries and puree. Scoop out with 3 Tablespoon scoop and bake on parchment lined baking sheets at 400 degrees for 15 minutes.
These were very quick to make, easy to scoop. Moist and delicious. I do not cover the scones in a plastic container as they get stickier, so I place them in wax paper or under a cake dome on the counter until they disappear, which doesn't take long.