Strawberry Orange Pancake Syrup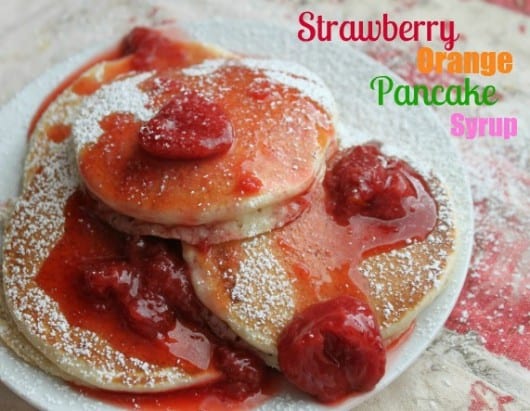 I just love when I have TONS of strawberries.
Especially when they are all ripe and sweet.
I recently had an enormous amount of VERY ripe strawberries and although we were eating them as fast as we could there was the chance that we wouldn't get to them all.
I decided to slice them up and make a strawberry syrup, it's seemed perfect because I was really was making my favorite pancake recipe too.
I sliced 4 cups of whole strawberries in half, which gave me a bit over 2 cups once they were cut. Easily this recipe can be halved or doubled depending on how many strawberries you have, or blueberries,  oh yes blueberry syrup sounds delicious.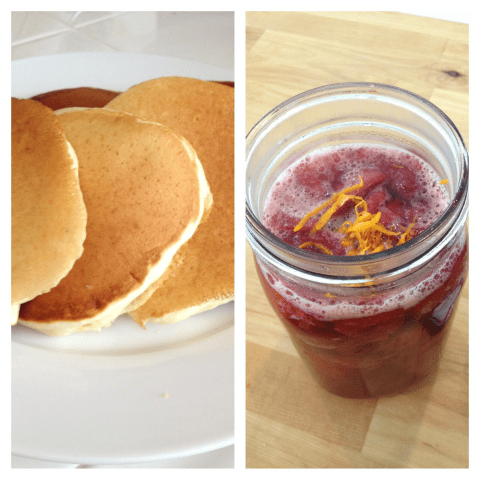 Strawberry Orange Pancake Syrup
Ingredients
1 quart strawberries (4 cups whole strawberries)
2 cups water
2 cups sugar
1 orange juiced and zested
1 teaspoon orange emulsion/extract
 
Instructions
Cut strawberries in half and remove stems.
Bring water and sugar to boil.
Add strawberries, cook on medium for 5 minutes.
Add in juice of the orange and extract and zest.
If you prefer the syrup thicker reduce the liquid by 1/2 and it will be very thick.
I store the sauce in a glass jar in the refrigerator.