Frozen Strawberry Margarita Pie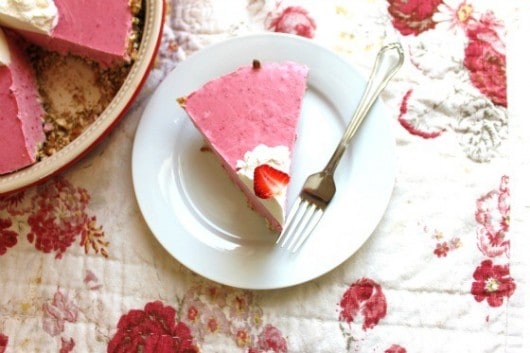 Strawberry Margaritas are my moms favorite and I just knew I had to make a pie for her to enjoy on Mother's Day. Combining the flavor of a frozen strawberry Margarita into a pie only left me with one dilemma….what type of crust to make for it. I like my margaritas with a salted rim and so does she, even if it's a fruit Margarita, so something salty was in order. I've seen other desserts with a pretzel crust and I made pretzel toffee recently and thought it would be a great compliment to this pie.
It has been 98 degrees already, the heat kicked up about a week ago. A frozen dessert is really perfect timing.  This pie is so refreshing and delicious. The pretzel crust is just the perfect compliment to the tangy sweet margarita filling. I'm going to make sure I have these ingredients on had as I know this will be my go-to recipe for summer gatherings.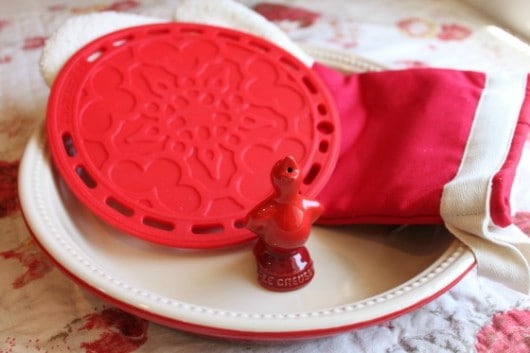 I made the pie in this beautiful Le Creuset Pie dish and I just love that is is deep. Lots of filling makes for a wonderful pie! If you'd like this bakers set keep reading…..I'm giving one away to one lucky Created by Diane reader! The baking set includes a 10 1/2 inch Le Creuset pie plate, French trivet, pie bird and oven mitt.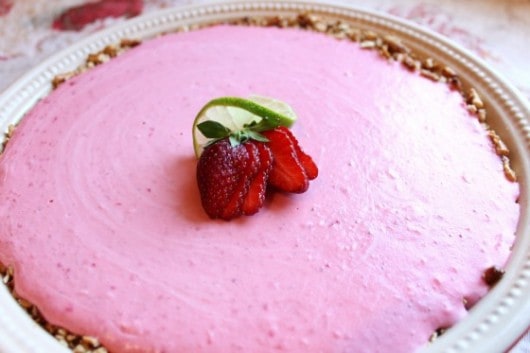 I sliced a strawberry and lime for the top of the pie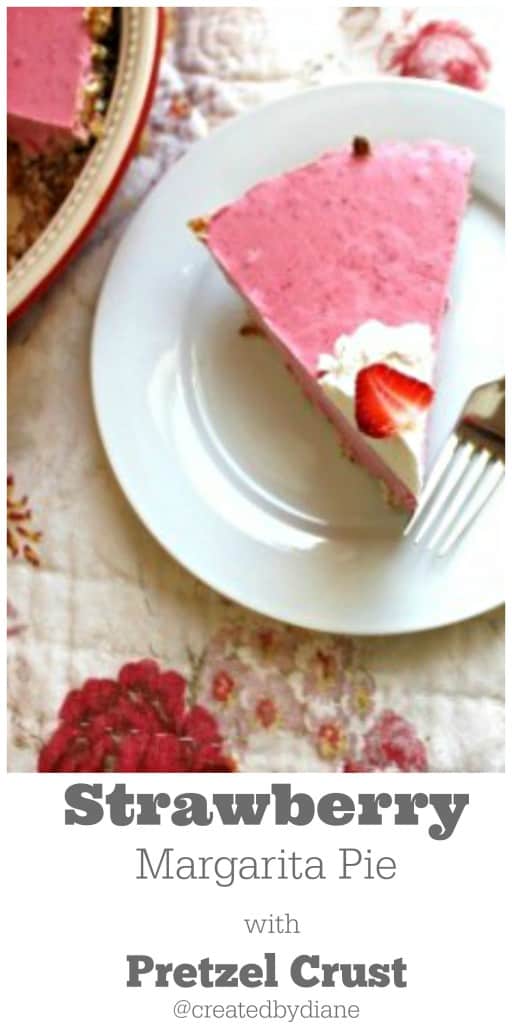 Frozen Strawberry Margarita Pie with Pretzel Crust
Plan to make this at least 6 hours before serving
Ingredients
2 cups crushed pretzels
6 tablespoons butter, melted
2-8oz. packages cream cheese
1-14oz can sweetened condensed milk
24 strawberries (about 1 quart)
2 limes, juiced
1/4 cup tequila
Instructions
Place crushed pretzels and butter in bowl together and mix well, press into pie dish and bake at 350 degrees for 10 minutes.
Cool pie crust completely.
Puree strawberries in food processor with lime juice. Add to it the tequila.
Beat room temperature cream cheese until smooth. Add sweetened. condensed milk, mix thoroughly. Mix in the strawberry mixture, blend thoroughly. Pour into pie crust and freeze for at least 6 hours.
*you can chill the baked crust in freezer to speed up this process.
*if you like it really sweet, you can add sugar to the cream cheese, about 1/2 cup or you can add 1/2 cup strawberry margarita mix in place of the lime juice, or in addition to it. I think the proportions will be fine.
* if you prefer a sweeter crust, add 1/4 cup sugar to the pretzel crust mixture. Brown sugar would be nice too.
*If the pretzel crust is too crumbly and won't hold together add a little more butter.
but then decided maybe it needed some…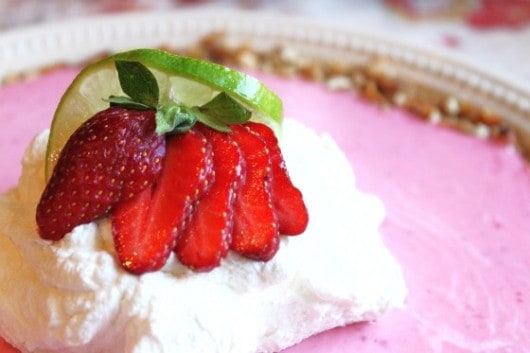 whipped cream!
I beat a cup of COLD heavy cream with 4 tablespoons powdered sugar and a teaspoon vanilla until stiff peaks formed.
A dollop of fresh whipped cream on top of this pie topped it off so nicely. I did refreeze the pie after I put the whipped cream on so that it would stay neat when I sliced it, but you can top the pie with the soft whipped cream and serve it immediately.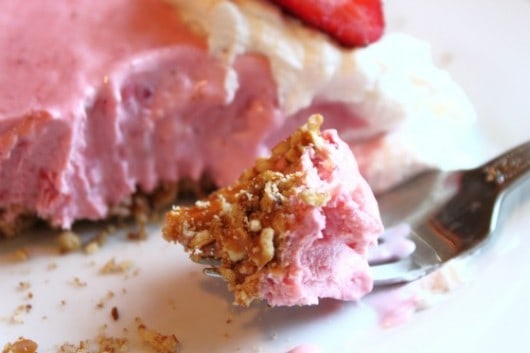 The salty pretzel crust is just as wonderful as a salted rim on a margarita.
Note: this was baked in a Le Creuset Pie Plate which is a large 9″ pie plate
If you like the idea of a Margarita Pie, you may like these too.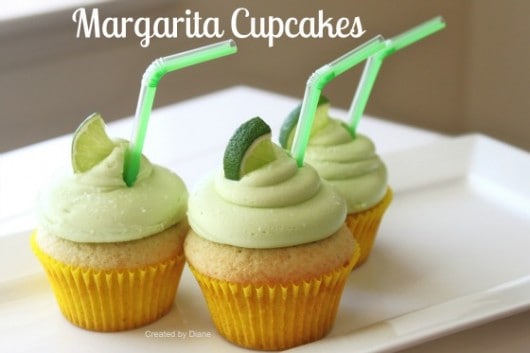 Margarita Cupcakes with Margarita Frosting
For more fun desserts check out this great post from Tidymom.