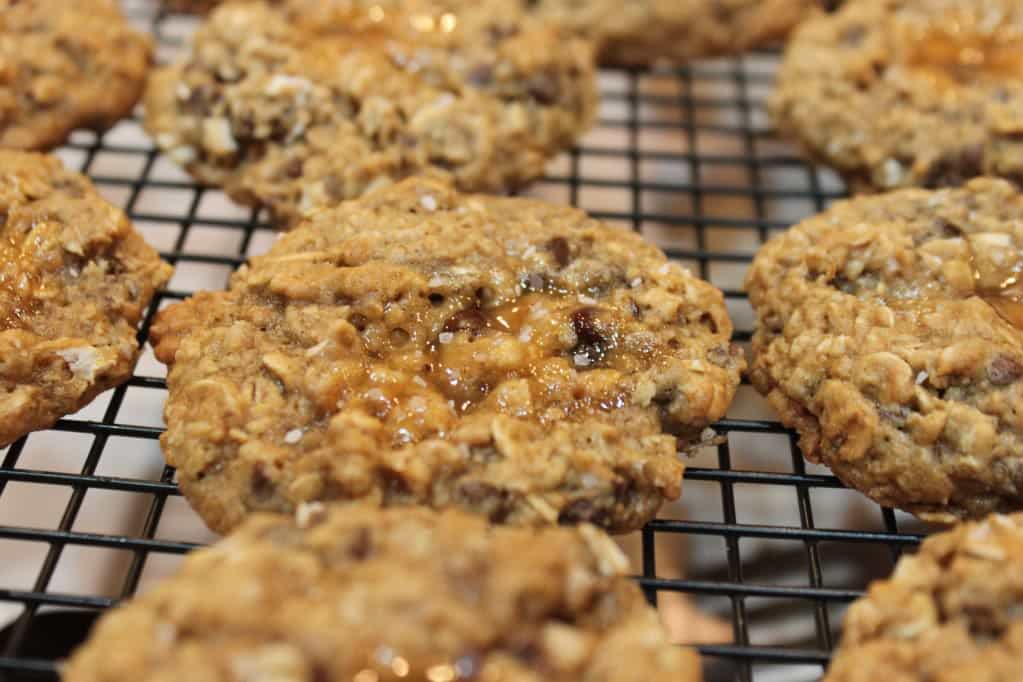 You read it right,
salted caramel, oh yeah!!!
Oatmeal, yummy…
Chocolate chips…mmm….
all in a cookie…
These are so DELICIOUS!

Salted Caramel-Oatmeal Chocolate Chip Cookies
1/2 cup softened butter
3/4 cup brown sugar
1/2 cup sugar
2 eggs
2 tsp. vanilla
1 1/2 cups flour
1 tsp. baking soda
1 tsp cinnamon
1 tsp course Kosher salt
3 cups old fashioned oats
1 cup mini chocolate chips
1/4 cup Caramel sauce (Smuckers caramel sundae syrup) plus more for topping- updated to add if you make homemade caramel that works too, and I really like Ghirardelli brand caramel syrup)
Preheat oven 350 (325 for dark pans)
Beat butter and sugars on medium speed, add eggs vanilla, beat well. Add flour, baking soda, cinnamon, salt, mix.Mix in oats, chocolate chips, and caramel sauce.
Drop by 2 Tablespoon size scoop onto a prepared cookie sheet (I use parchment paper)
more caramel, of course
Push a dent into the center of each cookie, add a small amount of caramel sauce. Bake for 10 minutes, dust with coarse kosher salt when you remove them from the ven. Makes 3 dozen.
I love salty sweet treats, don't you?