I just love Fall, the change of season, the crisp air, the gorgeous leaves falling from the trees, the pumpkins and all things warm and cozy!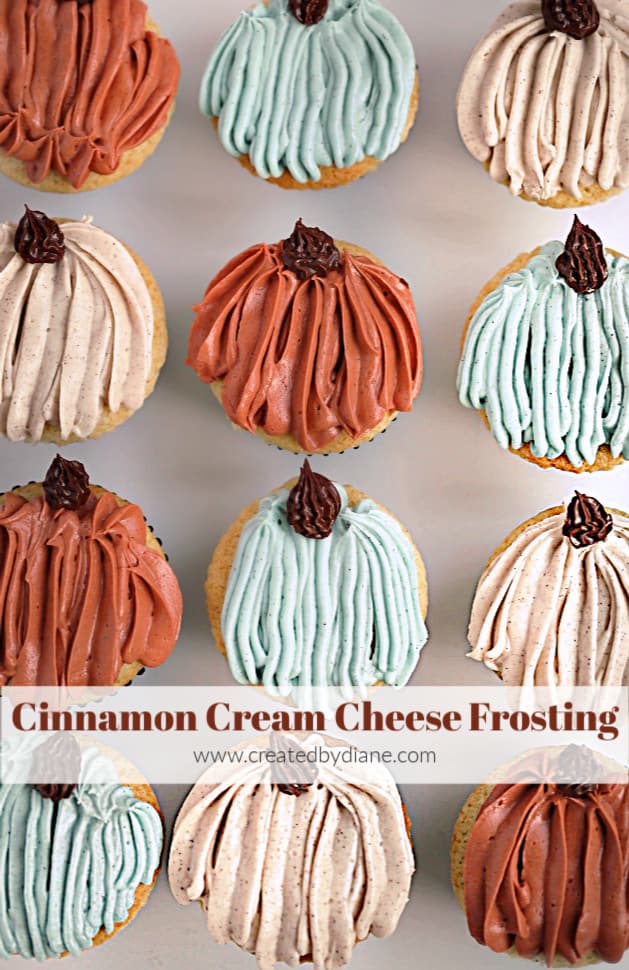 These cupcakes are not only SO CUTE…
they taste lovely! The delicious cream cheese frosting has cinnamon mixed in and it not only gives these cupcakes great flavor…
the cinnamon specks look nice and rustic in the frosting and I think add to the beauty of the piped on pumpkins. You could use pumpkin pie spice if you prefer, either way…
they'll be irresistible.
The recipes for the cupcakes and frosting provides 12 frosted cupcakes, you can double it if you'd like more! 
The colors of these cupcakes are just perfect for fall, they were inspired by
I love going to pumpkin patches, walking through corn mazes, handing out things to trick or treaters as they have fun being dressed up in all sorts of fun costumes. I'm not into the scary-gory stuff. Look HERE for my post on NON-CANDY Halloween hand-outs ONE I've been giving out for years now and all the trick or treaters LOVE IT and…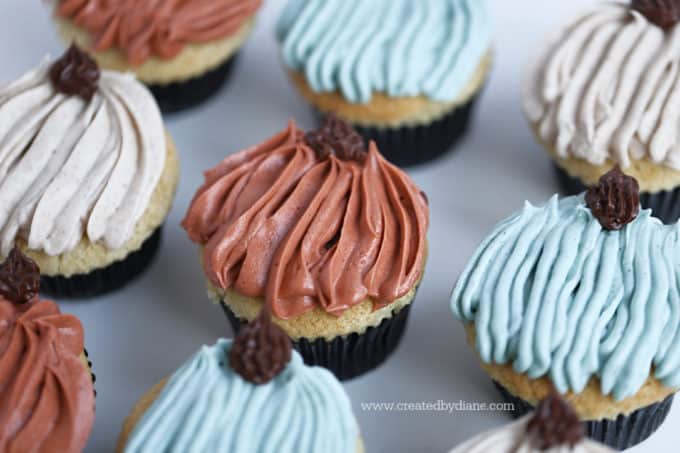 For the colors of the frosting: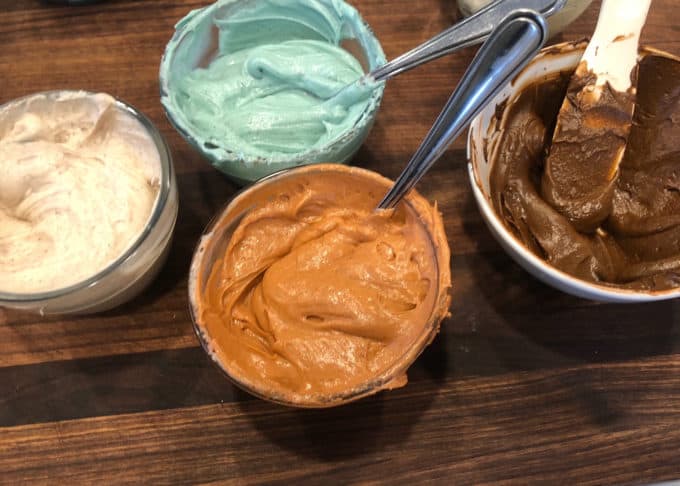 I used chefmaster liqua-gel food colors in sky blue, buckeye, and fleshtone. 
I separated the frosting into 4 bowls, the white one just had the cinnamon added. (3 had about 3/4 cup of frosting and one had just about 1/4 cup for the brown stems)
The blue frosting is sky blue mixed with some fleshtone.
The rust color frosting is fleshtone and buckeye. 
The smaller portion of frosting for the stem is buckeye.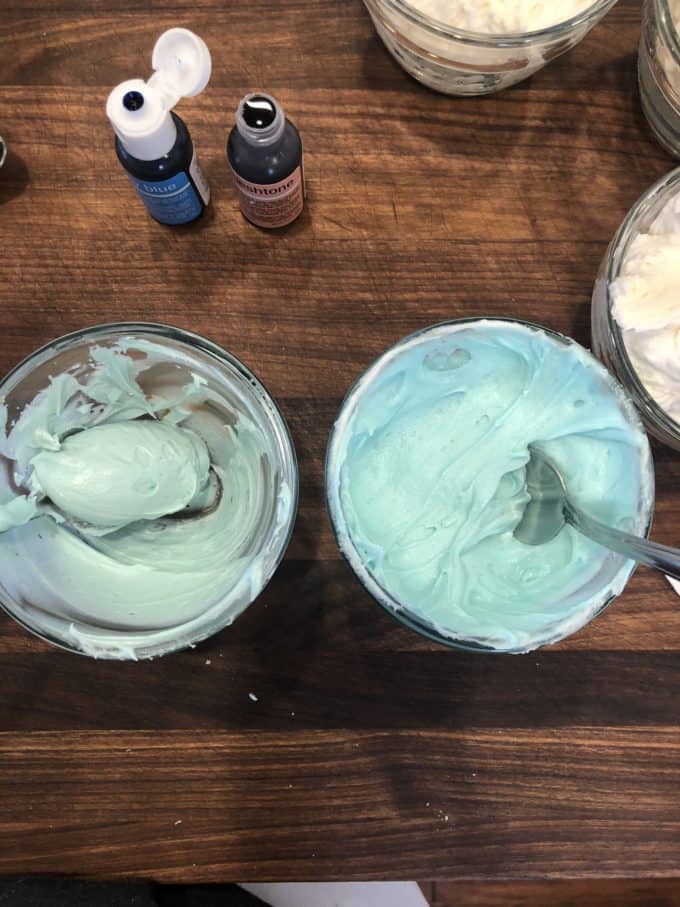 On the left is the color with fleshtone added, it makes it softer and not as bright, so it resembles a real blue pumpkin color, the cinnamon adds some flecks of brown which is a great addition to the frosting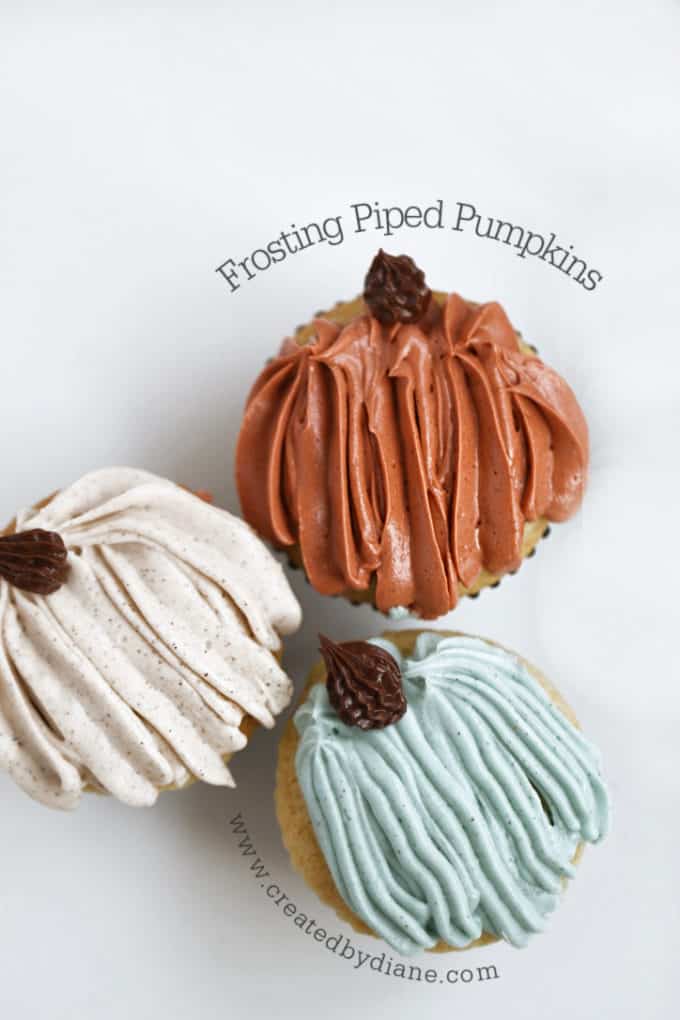 When mixing the colors, I add a very small drop onto some frosting on a spoon or use a but I do not squeeze the colors into the bowl, as some colors are thinner than others and too much can easily come out.
Mixing it on a spoon first allows me to access the color in a small portion before mixing it in the bowl. You can also test the color in some frosting on a piece of wax paper before adding it to the bowl.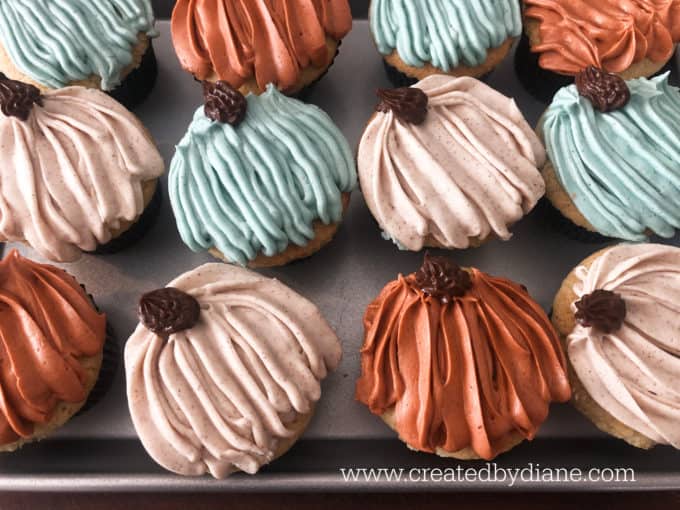 The stems were piped with a small star tip.
The pumpkins were piped on with a 2D piping tip.
AND be sure to check out my post on this frosting piped on COOKIES!
12 Vanilla Cupcakes
Ingredients
1 cup granulated sugar
2 eggs
1 1/2 cups flour
1/2 cup milk
1/4 cup melted butter (heat in microwave until just melted about 20 seconds)
2 tablespoons oil (I use avocado oil)
2 teaspoons baking powder
1 teaspoon vanilla extract (be sure to use good quality great, tasting vanilla. I use Madagascar vanilla bean paste)
*add in 1/2 teaspoon of cinnamon if desired.
Instructions
Preheat oven to 375°
Place 12 cupcakes liners into a 12 portion cupcakes pan.
You can mix this cake by hand or with a mixer.
In a medium bowl, whisk the sugar and eggs until fluffy.
Stir in flour and baking powder.
Add in milk, butter, oil, and vanilla and mix to combine. (add in cinnamon now if adding cinnamon)
Place 3 tablespoons of batter into each portion of the cupcake pan.
Bake for 18-20 minutes or until a toothpick comes out clean.
Allow cupcakes to cool in the pan for 5 minutes, then remove cupcakes and all them to cool completely on a cooling rack.
Cinnamon Cream Cheese Frosting
Ingredients
4 oz cream cheese (room temperature)
1/2 cup butter (I use salted butter)
4 cups powdered sugar
2 tablespoons heavy cream (milk can be substituted but I prefer heavy cream)
1/4-1/2 teaspoon ground cinnamon (depending on how much you want and the color of your cinnamon)
food coloring- I used "chefmaster liqua-gel colors, sky blue, buckeye, fleshtone
Instructions
In the bowl of a mixer whip cream cheese with butter and whip it until it's silky smooth.
Add in the powdered sugar along with the heavy cream and cinnamon.
Separate the frosting into 4 bowls 1/4 cup or so for the dark brown is all that is needed for the stems, evenly split the frosting with the other three bowls.
Place the frosting into piping bags, the stems were piped with a small star tip, and the cupcakes were piped with a 2D tip. I place each in a piping bag and then fit a separate piping bag with the tip then simply slip the frosting bag with the tip cut off into the bag with the tip (two bags, one tip) then easily change the frosting color after I've piped each color.
Pipe 4 striped from top to bottom on the cupcakes then add the stem.
Another batch of cupcakes I've made that look like pumpkins: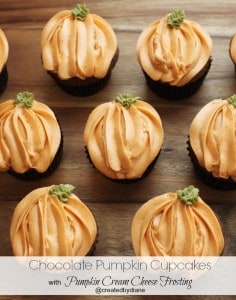 These Chocolate Pumpkin Cupcakes with Pumpkin Cream Cheese Frosting, so delicious and super-cute!