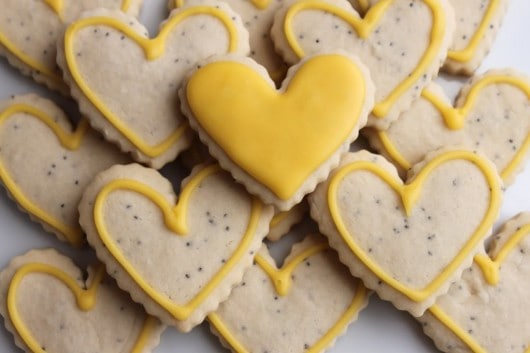 I'm still on my lemon kick!
Callye from Sweet Sugar Belle makes amazing cookies.
As soon as I saw her Lemon Poppy Seed Cut Out Cookies, I knew there was only one thing to do.
Buy Poppyseeds… and I did, that very same day.
They have patiently waiting to be used.

After discussing our mutual LOVE for lemon, and scones! I had to make them.
I had some left over lemon glaze from the Lemon Scones I made and hoped it would be enough to ice these and save me some time…..as luck would have it, I had just enough. I didn't flood them all in. I flooded some and just put an outline of icing on the others. I really liked that you could see the poppy seeds, they didn't need to be all covered up!
The recipe is very easy and oh so delicious!!!
I linked to Callye's Recipe and Here is the printable Lemon Poppy Seed Cookie recipe.