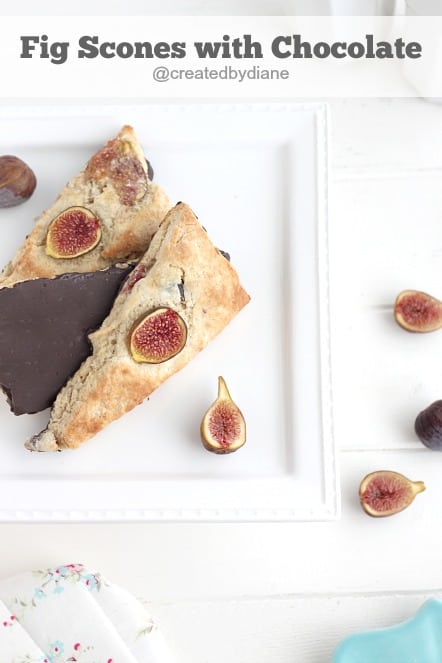 I want a fig tree!
Really, I had no idea until now,
that I LOVE figs so much.
I am so lucky to have such a sweet friend who gave me a whole bunch of super-delicious figs.
She has a Celeste Fig Tree and oh her figs are fabulous.
I knew I wanted to bake with some, right after I stopped shoveling them in my mouth!
Since I love scones so much, it was an easy decision to make some fig scones.
The chocolate bottoms….they were a BRILLIANT idea!
I covered some whole figs in chocolate and knew these scones were going to have to have a yummy coating of chocolate on them for that over the top deliciousness I was after.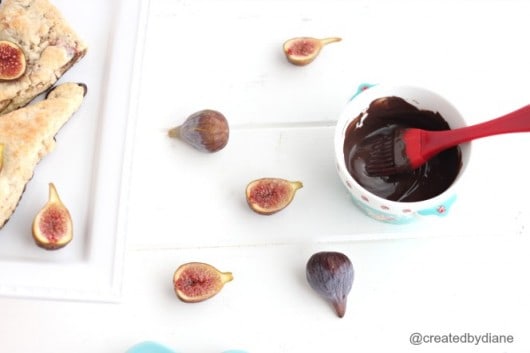 Having easy to melt chocolate on hand is critical to me.
I've used many types of chocolate for melting and coating treats and Merckens dark chocolate candy melts are one of my favorites.  They melt quickly and the chocolate tastes delicious and it doesn't get thick as I work with it, which is great when you want a thin coating.
If I'm making a large amount of items I want to cover with chocolate I use a double boiler, but if I only need a cup or under, I use the microwave, I use a microwave proof glass bowl and heat and stir it in increments until it's completely melted and smooth, mixing it often allows the heat to distribute more evenly and less heating is needed as I mix and mix, the candy melts don't always look as soft as they are, so be sure to mix it thoroughly.
Fig Scones with Chocolate
Ingredients
2 cups flour
¼ cup brown sugar
3 tsp baking powder
1 tsp salt
½ cup unsalted butter (Cold)
½ cup heavy cream
1 tsp vanilla extract
2 eggs
1 cup figs cut in quarters about a dozen small figs (extra figs for tops of scones if desired)
Instructions
IN medium bowl mix flour, sugar, baking powder and salt.
Cut in cold butter until mixture resembles coarse crumbs with a pastry cutter
Add in cream and eggs with vanilla
then add in figs, and gently blend together (I refrigerated my figs and they didn't get too soft while stirring them in)
Knead on a floured surface or in between wax paper 1 inch thick cut into triangles
bake at 400 degrees for 15 minutes or until a toothpick comes out clean.
Chocolate for Baked Goods
Ingredients
¾ cup chocolate candy melts (I use Merckens Dark Chocolate)
silicone brush
wax paper
baking sheet
Instructions
Melt the chocolate in a microwave safe dish for 20 seconds, stir it, then add another 10 seconds as needed until the chocolate is silky smooth
Line a baking sheet with wax paper
coat the bottom of the scone (or baked good) with a silicone brush dipped in the melted chocolate
place the chocolate side down on the wax paper and refrigerate it for a few minutes till the chocolate sets up and is firm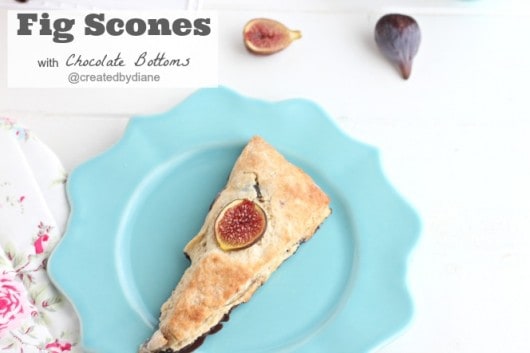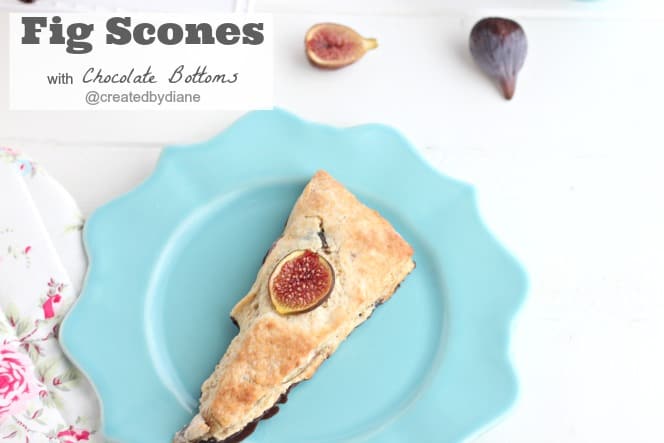 So, I'm off to the nursery to find me a fig tree!