Sweet, delicious, and nicely tangy, Lemon Curd is a great addition to any sweet treat, or just lick it off a spoon.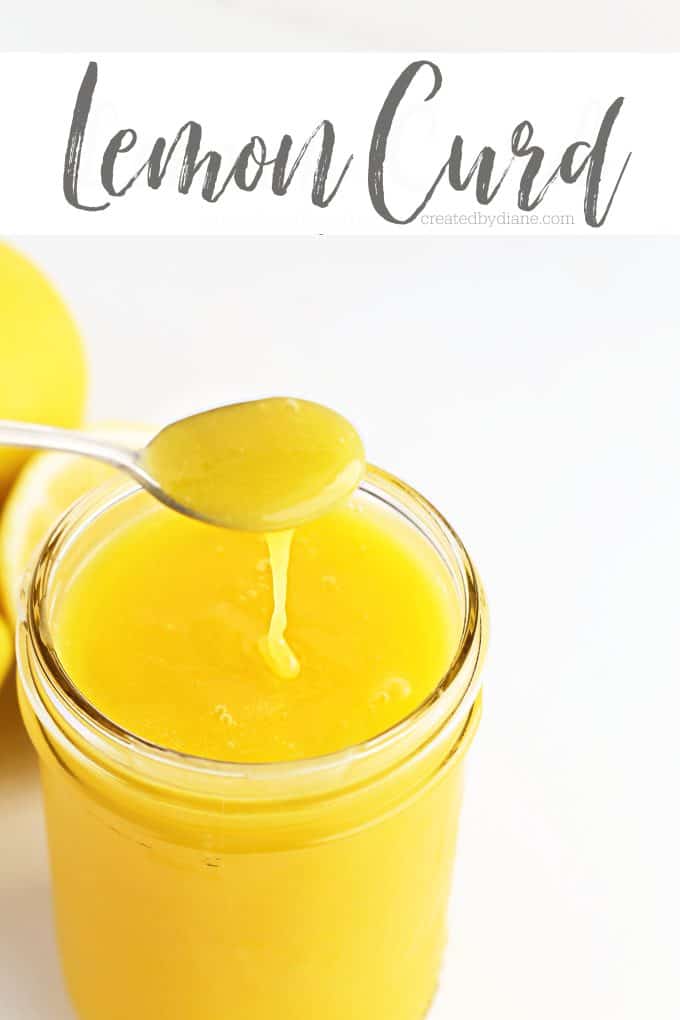 This is one of my favorite recipes. It goes beautifully served with your favorite muffin, scone, or toast. It also blends in seamlessly as a filling for layered cakes or cupcakes. It is so versatile, which makes it a great partner in crime for your next sweet adventure.
And it's not difficult to make. Once you've done it once and see how simple it is, you'll never buy store bought lemon curd again! 
And if you've ever shied away from making this simple, yet delectable, treat due to your fear of tempering eggs – don't worry! My instructions will walk you safely through it.
Lemon curd dates back to the early 1800's. But lemon curd then, and lemon curd now are very different. Today's lemon curd is smooth and more like jam or butter. The lemon curd 200 years ago was quite literally curds – meaning it was milk which had been curdled with lemon, and then the whey separated out. Not quite as appetizing sounding! Thankfully we have evolved, and today's product is much better.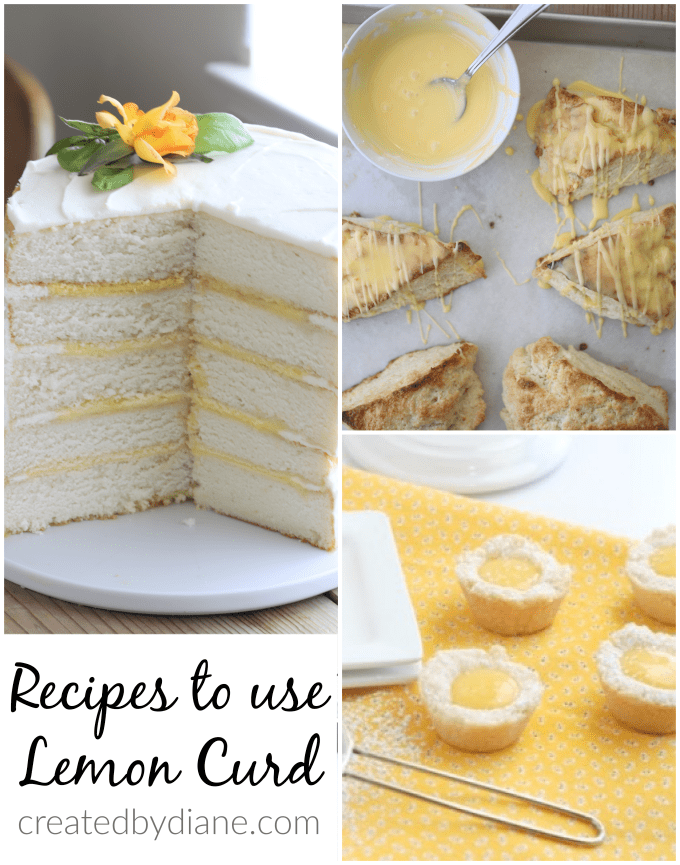 Some of my favorite recipes to enjoy with lemon curd are:
Buttermilk Scones

– I have loads of recipes for scones, from chocolate chip to blueberry. But sometimes my favorites are these simple ones, and they are delicious with lemon curd.

Blueberry Muffins

– I love the combination of blueberry and lemon, they really do complement each other, and this is no different.

Irish Soda Bread

– Another basic recipe that is super delicious with jams and curds of all types and especially lemon curd. You can choose to keep the currents in the soda bread or remove them to allow your lemon curd a stage all to its own.

Lemon filled cookies-these shortbread cookies are a real crowd pleaser.

Almond Sour Cream Cupcakes(coming soon)

– Even if you're not a fan of almonds, I think you'll love these. Adding in lemon curd as a filling really balances all the flavors here – you get the slight sweetness of the almond mixed with the sweet tang of the lemon curd, brought together with the creaminess of the sour cream. It's such a great anytime treat!
Another great way to enjoy it is on top of pancakes! Oh and if lemon isn't your thing, check out this strawberry curd recipe, it can be used just like the lemon curd.
Okay, let's take a look at the very few simple steps that will bring you to your very own homemade lemon curd!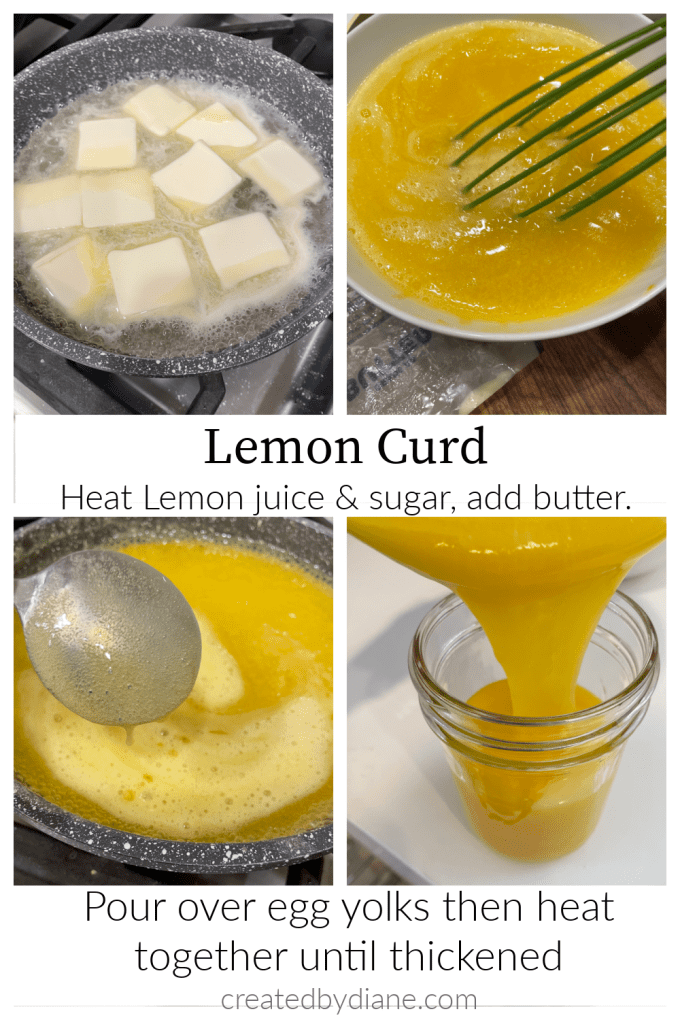 Get your lemons prepped and squeezed to equal a cup.
In a separate bowl, whip your egg yolks.
In a medium saucepan, heat lemon juice and sugar until it simmers.
Stir butter and heat until it melts completely into the mixture. Remove from heat.
Next, you're going to effectively cook your egg yolks, but slowly. Take your saucepan and slowly pour it over your egg yolks, whisking the entire time.
Pour your mixture back into the saucepan and heat until it thickens. A trick to see if it's thick enough is to dip your spoon into the mixture. If it coats the back of the spoon, you're done!
Remove from heat and chill.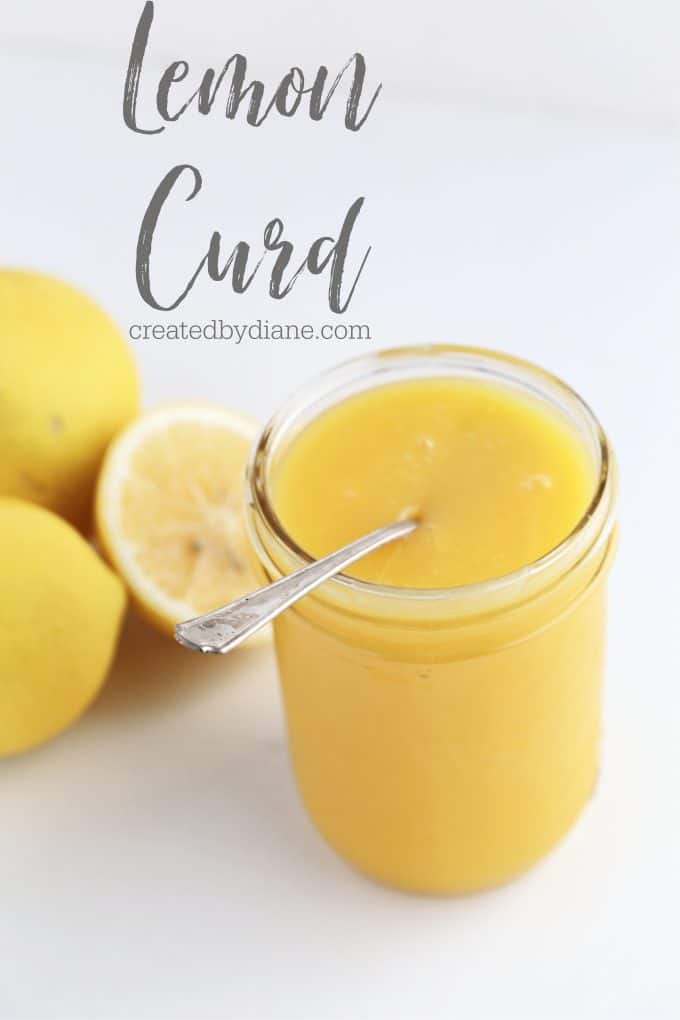 How long will this last in the fridge?
The lemon curd will last 4 weeks in the fridge.
What's the best way to store this?
A glass jar with a tight-fitting lid is best.
Could this be used in Cookies?
Absolutely! I have so many cookie recipes that this would be great with. Take a look at these Shortbread Cookies. You can whip some curd into buttercream to fill sandwich cookies like these pineapple cookies.
The color of the lemon curd will depend on the ingredients used, such as the color of the lemon juice, egg yolk, and butter color. 
Lemon curd is great on pancakes, toast, waffles, or scones. You can eat it off a spoon, place it in mini pie crusts for a fun dessert, top it with meringue and you have mini lemon meringue pies, don't prefer meringue, add my stabilized whipped cream for a fun treat.
Lemon Curd
Author:
Diane Schmidt, Created by Diane
Ingredients
1 cup lemon juice (fresh squeezed)
1 cup sugar
6 egg yolks (whisked in a bowl)
8tablespoons butter (cut into small pieces)
Instructions
In medium saucepan heat lemon juice and sugar until it simmers.
Stir butter and heat until it melts completely into the mixture
Slowly pour mixture over egg yolks while whisking constantly.
Pour mixture into saucepan and heat until it thickens to coat the back of a spoon.
Remove from heat and chill.
When the cookies are baked and cooled, and the curd is cold, then you can fill the cookies.