Pumpkin season is in full swing and this 6″ 3 layer pumpkin cake is not only super cute, it's super delicious too!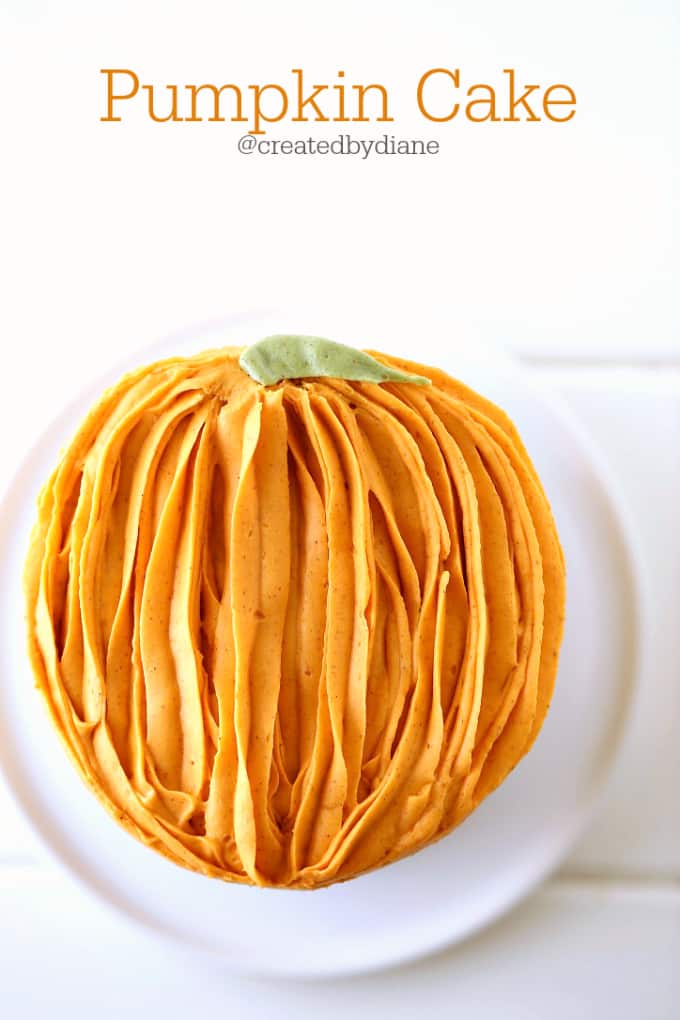 Aren't pumpkins just the CUTEST!
I just love them.
I love them almost as much as I love my cell phone.
How can that be that just over 10 short years ago I didn't have one and now EVERYONE seems to have one and we all don't know what we would do without them.
In fall I have no idea what we would do without pumpkins… and pumpkin scones, pumpkin pie, pumpkin seeds, and if you want some more pumpkin recipes, check out my Pumpkin Ebook.
I couldn't resist making a cake that looks like a pumpkin.
The flavor of this cake is so delicious without being overly spiced, the cake portion is a pumpkin spice cake, the frosting is pumpkin cream cheese frosting.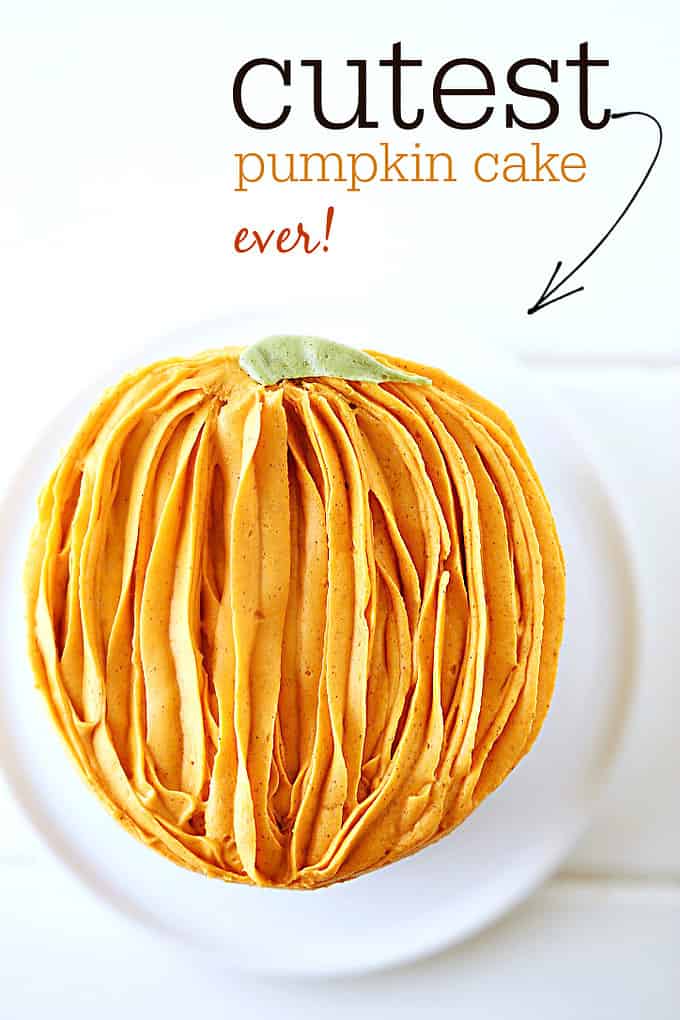 I think pumpkin cream cheese frosting should be THE thing for pumpkin season, it's so fantastic, you can dunk cookies into it for a quick treat. If you have extra I'm sure you'll come up with plenty of uses for it. I know I do every time I make it.
The cake is easily decorated to look like a pumpkin, with a few lines of piping the frosting with a piping bag it's almost done, then you just need a stem.
What do cell phones and this cake have to do with one another? Well maybe nothing.
But I'm sitting here eating a huge piece of this cake as I try to figure out what to do now that my daughter's iPhone was misplaced for a moment and then taken by someone and turned off immediately. We were hoping an adult picked it up and would turn it in at the mall where she was, but that does not seem to be the case at all.
While we try to figure it all out, we're eating cake!
It sure is the perfect time to have a cake like this in the fridge.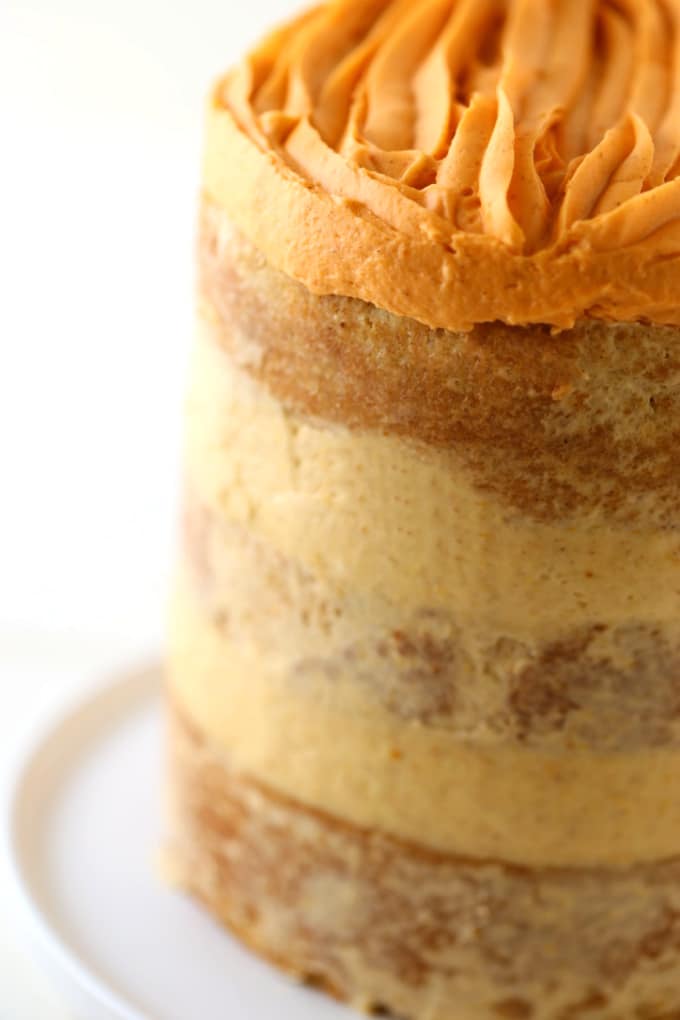 I do like the simplicity of a naked cake and combined with the pumpkin on top it really didn't need anything else. (Well a cell phone dropping out of the sky would be nice)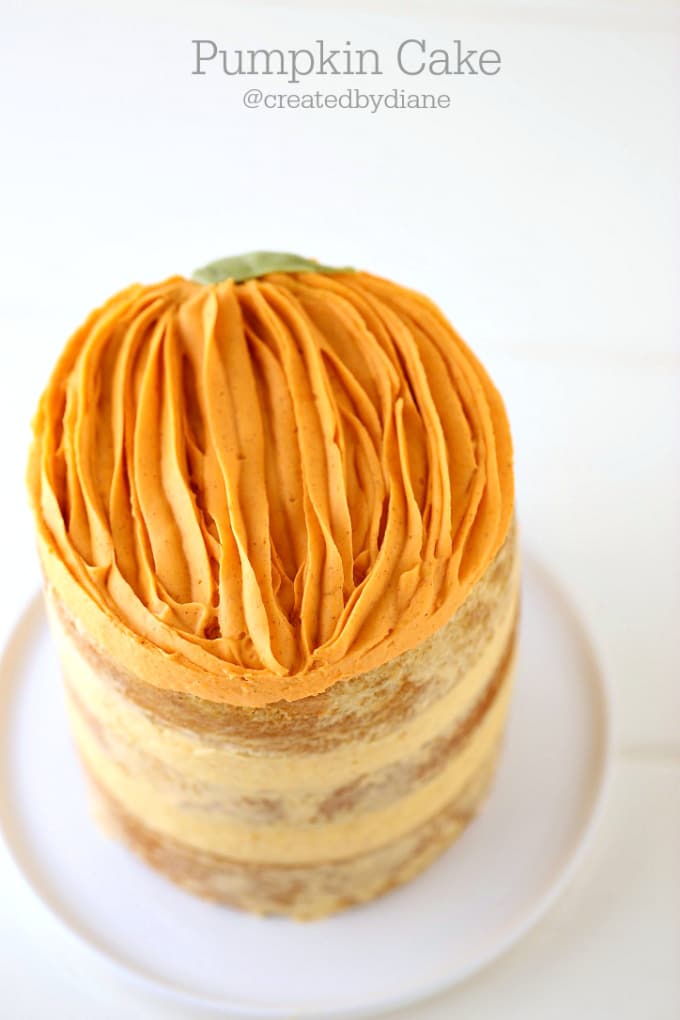 Another fun option for this cake would be to roll the outside edge in graham cracker crumbs after a thin coat of frosting is applied.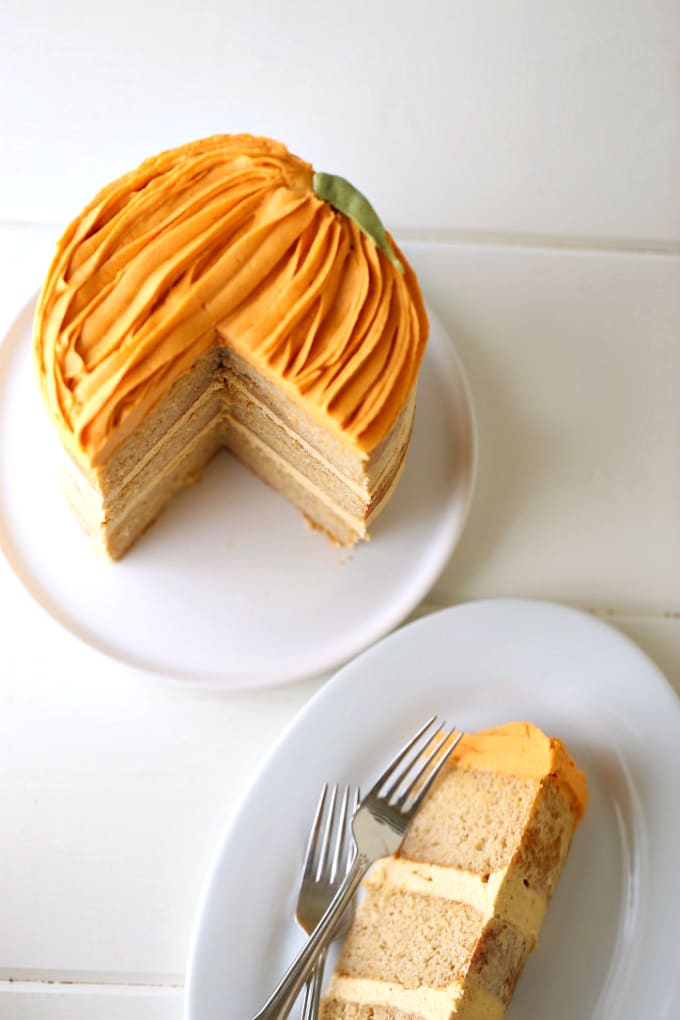 I used 3 6-inch cake pans for this cake alternatively, you can use 2 8-inch pans.
So make this cake and enjoy every single bite. Well share, of course… being nice is important.
Maybe the people who took the cell phone will have a change of heart and return it. We have our fingers crossed. And if someone you know has a cell phone case that has a card slot in the back of it, and puts their drivers licence in it. May I suggest another location, going to the DMV and not having a cell phone, may just turn you into someone who will EAT all the cake and not want to share with anyone. Yes, it's been a tough day!
But we're keeping positive it will all work out well. As my daughter says "Adulting" is tough, she's finding this one out the hard way. She's so responsible and pays for so many things, she's in school full time 38 hours a week, works, has always paid her own car insurance along with so many other things. This is just one more thing she'll be learning from. It is hard I told her, but if this is the worst…. she'll be just fine!

Pumpkin Cake
Ingredients
2 cups sugar
4 eggs
2 1/2 cups flour
1 cup whole milk
1/2 cup butter (melted and cooled)
1/4 cup oil
2 1/2 teaspoons baking powder
2 teaspoons vanilla bean paste
2 teaspoons pumpkin pie spice
Instructions
Line the cake pans with parchment paper and spray well with a baking spray.
In large mixer bowl beat eggs with sugar and mix well.
On low mix in flour, milk, butter, oil, baking powder, pumpkin pie spice and vanilla and mix until smooth.
Divide the batter evenly into each cake pan.
Bake at 350 degrees for 20 minutes or until a toothpick comes out clean.
Pumpkin Cream Cheese Frosting
Ingredients
4 oz cream cheese at room temperature
1/2 cup butter at room temperature
5 cups powdered sugar
2 tablespoons heavy cream
1/4 cup pumpkin
1 teaspoon pumpkin pie spice
1 teaspoon vanilla bean paste
Instructions
In mixer bowl beat cream cheese with butter until whipped smooth.
Add in powdered sugar, heavy cream along with pumpkin, pumpkin pie spice and vanilla bean paste and mix until smooth and creamy.
Split frosting in half.
use the first half for the layers of the cake.
Add the frosting to the layers of the cake and very thinly spread the frosting on the outside of the cake layers. This will give the look of a naked cake and also keep the cake from going stale, you don't need much frosting just fill in any gaps from the layers and use an offset spatula or pastry scraper to smooth the outer edge of the cake.
Tint the second half with two drops of orange gel coloring for piping the pumpkin.
Place the orange frosting in a piping bag with a 2D tip.
Frost from one end of the pumpkin to the other layering the frosting to cover the top of the cake
Reserve 2 tablespoons frosting to tint green for a stem.
Fill a pastry bag with green frosting and a petal tip and create a sweeping stem with the green frosting.
Notes
after decorating this cake, I did have some extra frosting. I dunked cookies into it. It's so yummy you may just eat it off a spoon!