Peanut butter and chocolate combined together in this great sheet cake will have everyone drooling.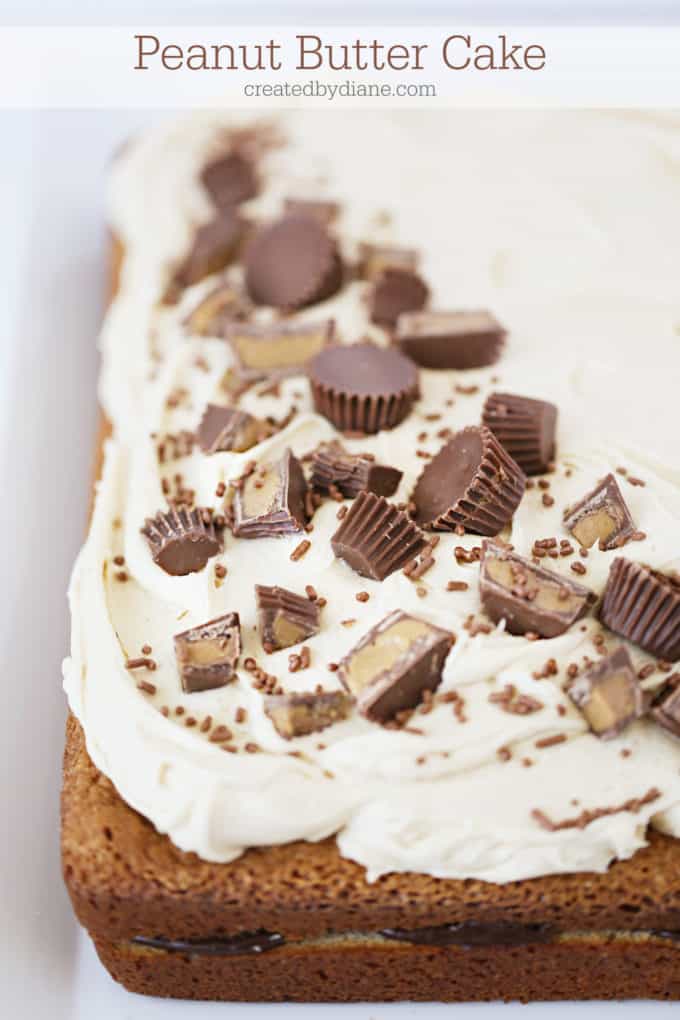 Peanut Butter Cake is always a favorite…
and perfect for any occasion!
Filled with my homemade fudge filling and topped with peanut butter frosting, it's total dessert comfort food.
Break out your stretchy pants! This rich and comforting Peanut Butter Cake isn't meant to be eaten while wearing tight jeans. There is no telling how many pieces you'll have!
A tall glass of cold milk, your favorite sweats, and a piece of this Peanut Butter Cake is the trifecta we all deserve at the end of a long day. 
Since chocolate and peanut butter are power couple status, I decided to fill this cake with my favorite fudge filling (and incidentally, the same recipe I use for chocolate gravy).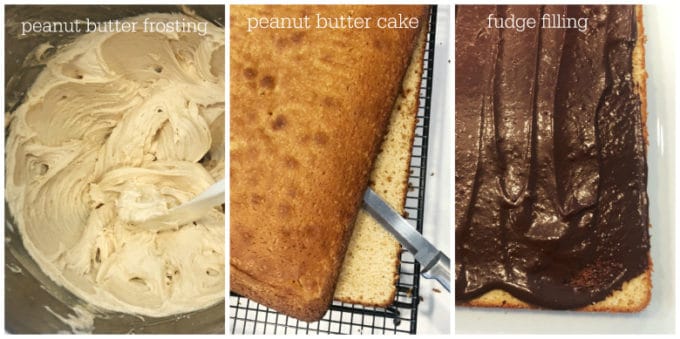 There are three recipes in this post, the peanut butter frosting, the peanut butter cake, and the chocolate filling… when they are put together… WOW, what a great combo!
The smooth, chocolatey filling isn't too sweet, which perfectly offsets the Peanut Butter Buttercream Frosting. If you've never had chocolate gravy, prepare to have your life changed!
While I love it in this cake, there's nothing like warm chocolate gravy poured over homemade biscuits for breakfast. It's one of our favorites!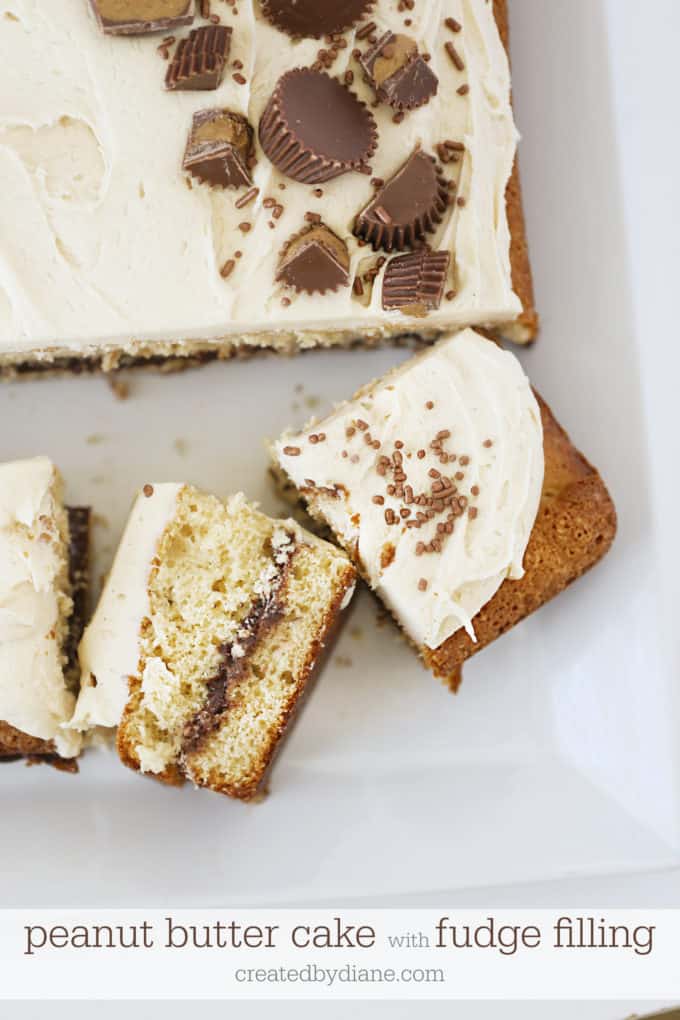 What Kind of Peanut Butter Should I use for Peanut Butter Cake?
I recommend using any decent quality creamy peanut butter for this Peanut Butter Cake Recipe. While chunky peanut butter would work, you would not get the smooth, creamy frosting you see here. All-natural peanut butter (the kind that requires stirring) is definitely not recommended – the gritty texture is not ideal for this dessert.
Can I Bake a 9×13 Peanut Butter Cake in Round Pans?
For a stunning peanut butter layer cake, this cake batter can be evenly divided into two 8-inch round pans. For best results, be sure to completely coat the inside of the pans with shortening and flour. This will ensure that the cakes release from the pans without sticking. Fill with the fudge filling – if it oozes out a bit, that just adds to the appeal! Top with peanut butter frosting and chopped peanut butter cups.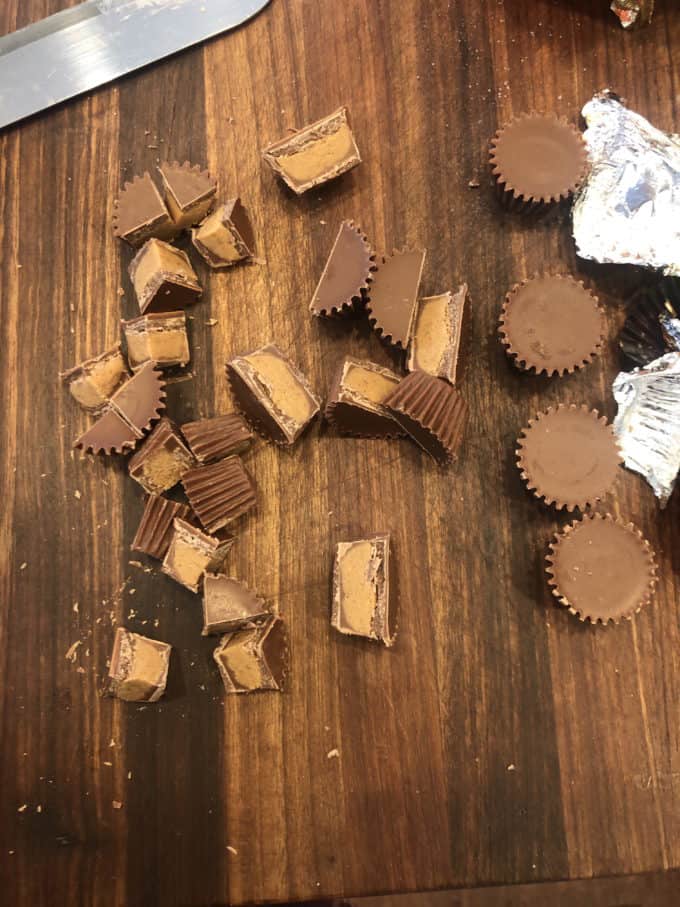 Use any size peanut butter cups for topping the cake with, I used the small peanut butter cups, I left some whole, cut some in half and some into quarters, which looked really nice on top of the peanut butter frosting.
How to Make Perfectly Smooth Fudge Filling
The key to a smooth fudge filling is a lot of whisking! Add flour to the melted butter slowly, whisking until smooth and thick. Don't add the milk all at once – slowly add a just little at a time, whisking constantly after each addition until smooth. Once you've got all the milk added, whisk in the sugar and cocoa, and then the chocolate chips. On low heat, whisk until chips are melted, then remove from heat. If you were using this for biscuits, you'd serve immediately. Since we are filling a cake, set aside to cool and thicken so it doesn't run off the cake.
How to Store Peanut Butter Cake
This Peanut Butter Cake Recipe has frosting that contains dairy, so be sure to store it in the fridge, where it will stay fresh for about 3 days. Unfrosted Peanut Butter Cake can be stored covered at room temperature for 2 days.
Can I make the frosting chocolate peanut butter?
Yes, add in a ¼ cup melted chocolate and a 2 tablespoon of cocoa to the frosting, that will give the frosting a delicious chocolate flavor and you'll still be able to taste the peanut butter flavor too.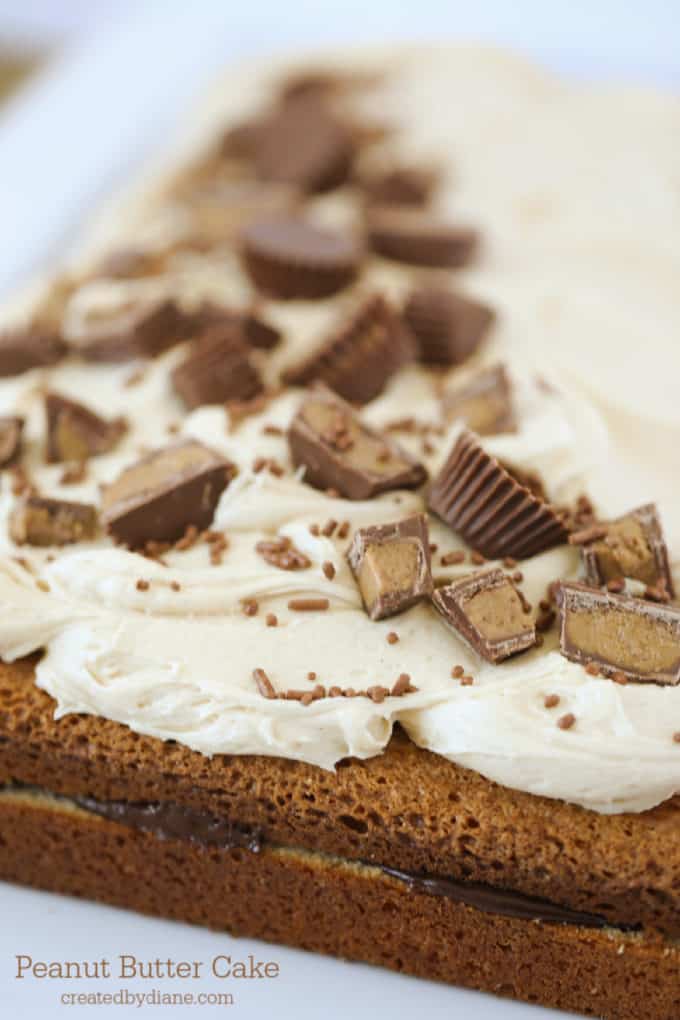 I just know that you're going to love this cake! Here are a few of my other favorite cake recipes for you to try:
Peanut Butter Cake
peanut butter sheet cake with fudge filling topped with small peanut butter cups
Author:
Diane Schmidt Created by Diane
Ingredients
2 cups granulated sugar
4 eggs
2 1/2 cups all-purpose flour
2 1/2 teaspoons baking powder
1 cup milk
1/2 cup butter, melted and cooled
1 tablespoon oil
1/2 cup peanut butter, melted slightly (about 20 seconds in the microwave)
2 teaspoon vanilla extract
fudge filling (I made a chocolate gravy more info on that in my Chocolate Gravy Post)
2 tablespoons butter
1/4 cup flour
2 cups milk
1/2 cup sugar
1/4 cup cocoa (I use dutch process cocoa)
pinch of salt
1 cup chocolate chips (I use 60% cacao chips for a delicious dark chocolate flavor)
peanut butter frosting
1/2 cup butter
1/4 cup peanut butter
4 -5 cups powdered sugar
3 tablespoons heavy cream
1 teaspoon vanilla extract
30 small peanut butter cup candies (10 whole, 10 cut in half, 10 cut in quarters)
1 tablespoon chocolate sprinkles
Instructions
Preheat oven to 350°
In the bowl of a mixer combine sugar and eggs and mix on medium speed to combine completely.
Add in flour, baking powder and mix just until folded in.
Then add in milk, butter, oil, peanut butter, and vanilla mix on low until it won't splatter, then increase speed to medium until everything is mixed well about one minute.
Prepare a 13x9 baking pan with a baking spray like Baklene or use shortening and flour. (this will ensure the cake will release easily).
Pour the batter into the pan and bake for 30-40 minutes or until a toothpick comes out clean.
Cool the cake for 15 minutes, then turn out the cake onto a cooling rack to cool completely.
Once the cake is cooled completely, slice the cake in half lengthwise so you'll have two even layers.
*While the cake is baking prepare the fudge filling and frosting.
Fudge filling
In a skillet heat the butter until melted then whisk in flour.
Over medium heat slowly add in milk to create a sauce, then add in the sugar, cocoa, and salt.
Next, mix in the chocolate chips and whisk them smooth.
Allow this to cool before you spread it over the cake. If it's too warm it will run off the cake.
Slather the fudge over the cake (use as much or as little as you'd like) Alternatively you can fill the cake with peanut butter frosting or chocolate frosting. (all are delicious for a filling on this cake).
peanut butter frosting
In the bowl of a mixer whip room temperature butter, add peanut butter and mix.
Then add powdered sugar, heavy cream and vanilla and beat until smooth and creamy.
Spread frosting over cake.
Place candy and sprinkles onto the cake.