I love chocolate cake, I'm not alone… I'm aware it's quite popular. This chocolate 2 layer cake starts with a cake mix, but it is way better than the typical instructions and ingredients from the box recipe. This cake is rich and delicious with a great texture, not fluffy and light the way a cake mix usually turns out. Lots of people think this cake is from scratch, give it a try and see what you think.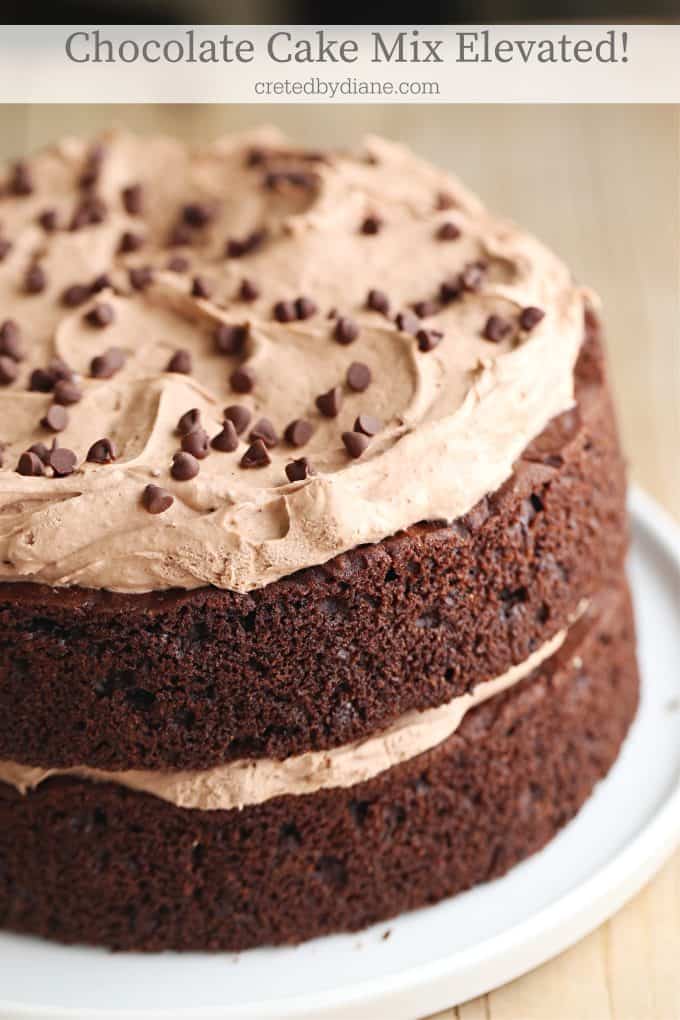 Don't let a 2 layer cake intimidate you, if you prefer you can make this cake in a 13×9 pan, or a 2.5-liter casserole dish, it'll just need to bake a bit longer. Use a toothpick to test the cake for doneness, when it comes out without any wet cake on it, it's done. Since it starts with a cake mix, it's pretty foolproof, great for making a cake in a hurry, and you won't need hours to make it.
This chocolate double layer cake will make its way onto your list of go-to dessert recipes!
There are lots of mini chocolate chips in the cake as well. It's a win-win! Tell me I'm not the only one who loves mini chocolate chips! You can add regular chips if you prefer, no real rule that says only mini chips. Years ago I even made it with raspberry chocolate chips, but I haven't seen those in the stores in years.
If you are a chocolate raspberry fan, add in some raspberry extract for a totally different flavor, and you could add fresh raspberries to the top, or even fill the center of the cake with raspberry jam. And another great option is to add a 1/2 cup of shredded coconut(which can be chopped fine) and a teaspoon of coconut extract for a coconut flavor explosion!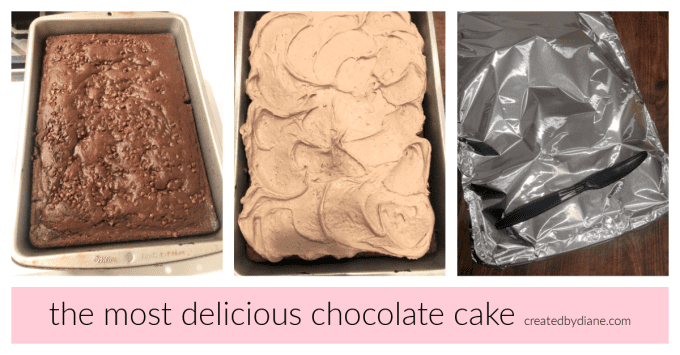 My mom always bakes this in a casserole dish and it turns out great, nice, and high. So the options are plenty, you can bake it in a 13×9 aluminum pan to bring to a party without needing to bring a pan home, without worrying if the cake will topple over, or bring it in a 13×9 pan and take a plastic knife to foil so no one cuts into your pan, like I do.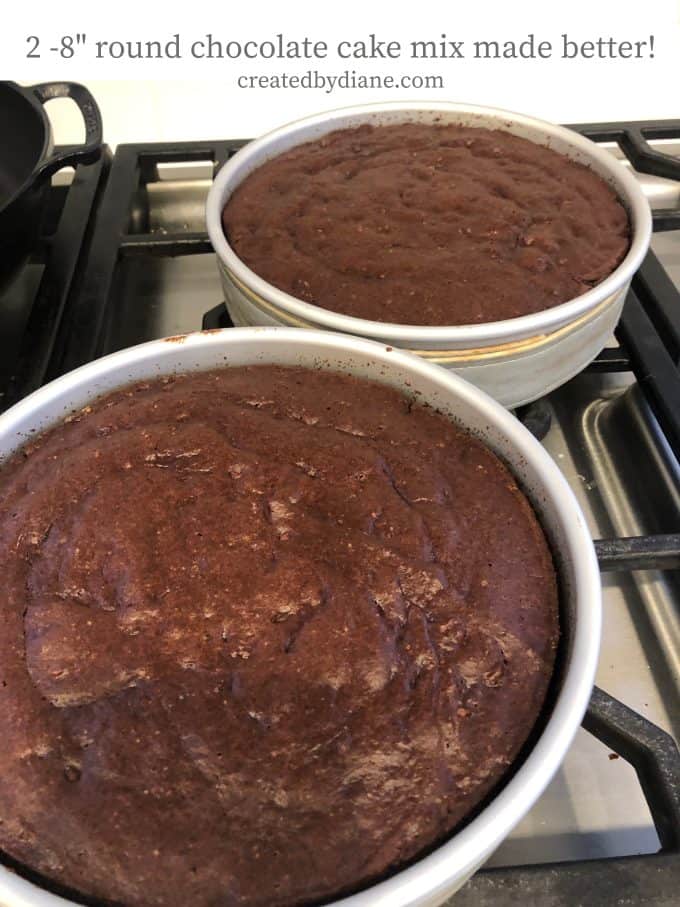 To ensure a level cake I use baking strips around the outside of the 8″ round baking pan, they work great and produce level cakes every time. You can also use strips of towels you wet and secure with safety pins if you don't have baking strips. If you bake cakes often, baking strips are easy to use with great results!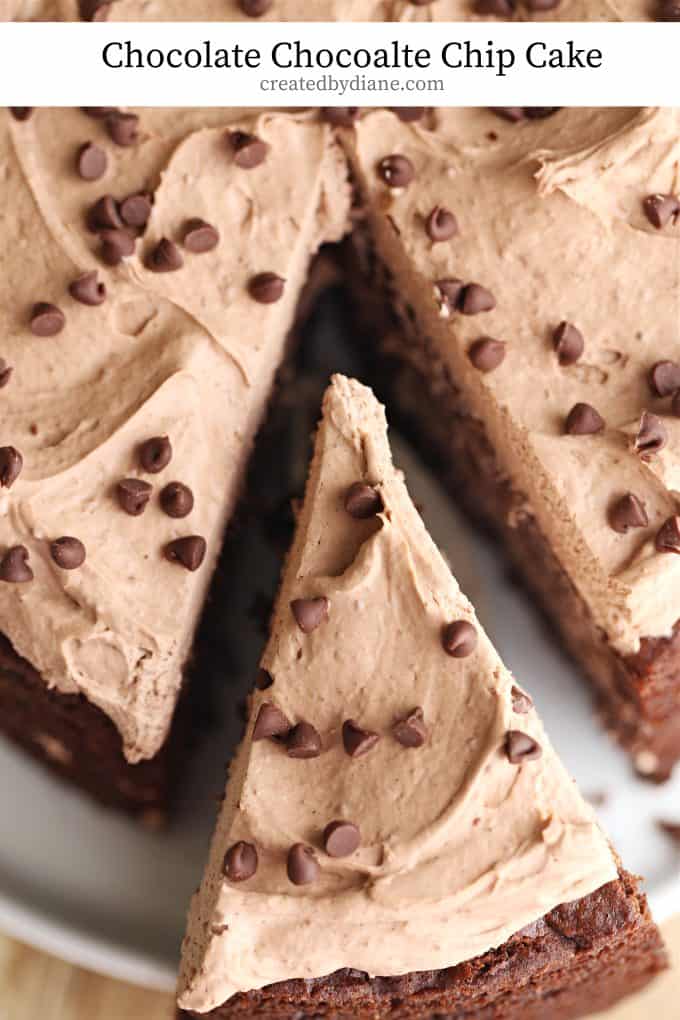 Now, about the frosting…
this frosting is light and fluffy and it's made with a mix of heavy cream and chocolate instant pudding mix and some milk. The frosting can be made without pudding mix if you prefer, try my homemade chocolate whipped cream frosting recipe. I add some mini chocolate chips on top before the frosting sets. Place the cake in the fridge to chill, and remove from the fridge 10 minutes before serving.
If you bake it in a 13xp pan, a dusting of powdered sugar is a no-fuss way to top off the cake.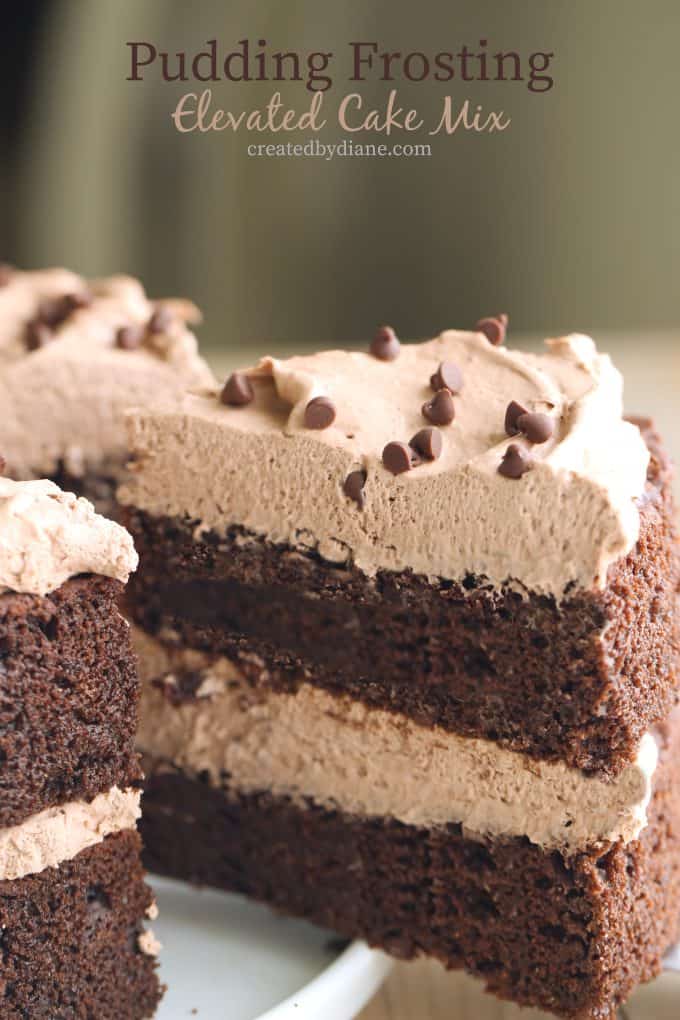 Chocolate Cake Mix- 2 layer cake
deliciously moist chocolate cake full of mini chocolate chips, 2 layers, or 13x9. The perfect cake recipe for every day!
Author:
Diane Schmidt, Created by Diane
Recipe type:
Dessert, Cake
Ingredients
1 chocolate devils food cake mix (about 15.25 oz)
1 3.4 oz package instant chocolate pudding mix
1/4 cup oil (canola, vegetable, or avocado oil) I use avocado oil
1 1/4 cups water
2 large eggs
6 oz mini chocolate chips
Whipped Pudding Frosting
1 cup heavy whipping cream
1/4 cup chocolate instant pudding mix ( or 1/4 cup melted cooled chocolate)
1/4 cup milk (no need to add if using melted chocolate)
1-2 tablespoons mini chocolate chips
Instructions
Preheat oven to 350°
Prepare 2-8" round cake pans with baking spray or a 13x9 pan or 2,5liter casserole dish, so the cake removes easily. Wrap the round layer cake pans with wet baking strips for even non-domed layers.
Pour the cake mix, oil, eggs, water, and pudding mix into a bowl and mix with a fork or whisk, until silky smooth and well blended.
Add the chocolate chips and stir., you can sprinkle some on top of a 13x9 so you can see them after it bakes.
Bake the cake in a well-heated oven for 25-30 minutes or until a toothpick comes out clean.
Allow the cake to cool for 10 minutes then turn it out on a cooling rack, or allow it to completely cool in the pan if not making a layer cake. Chill the 8-inch round cake layers for an hour, so they are set up and won't slide when you add the frosting.
Frosting
Make the frosting by whipping the heavy cream until its thick and soft peaks form, add in the pudding mix, and whip until fluffy, add milk or use melted cooled chocolate.
Allow the cake to cool.
Spread the frosting in between the cake layers and on top, add mini chocolate chips (or spread over the 13x9 pan and swirl with the back of a spoon.
Place the cake in the fridge to chill, and remove from the fridge 10 minutes before serving.
Store any remaining cake in the refrigerator.