I have always been a carb lover, pasta, bread, rice, you get the idea but sadly my waistline suffers when I indulge.   
This is my favorite meal when I  decide to make changes to the way I eat and my waistline is WAY happier!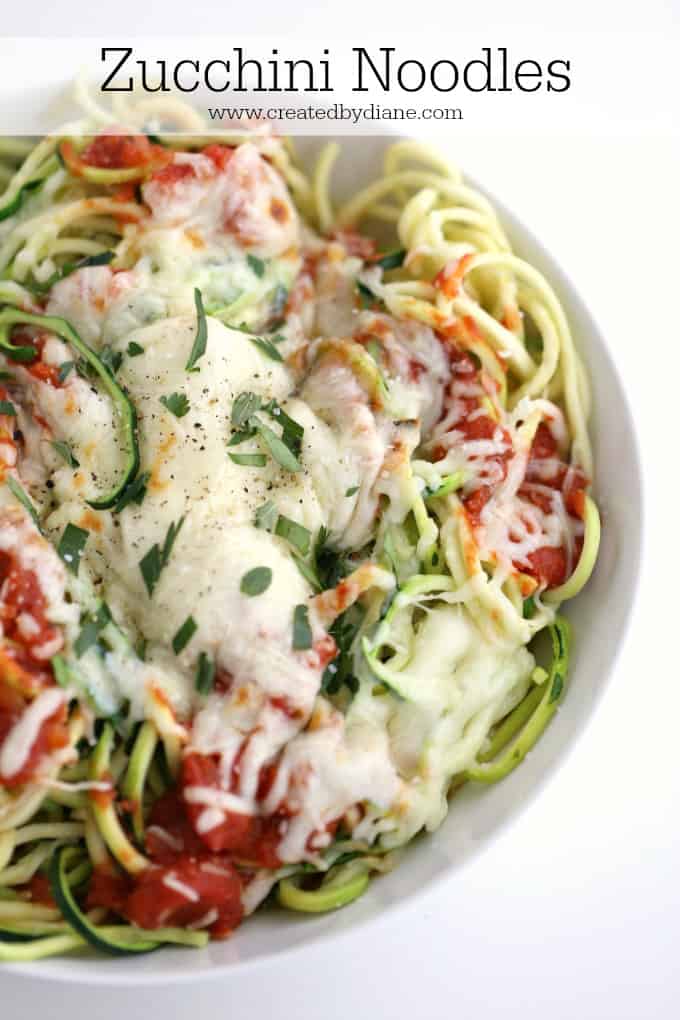 I just love Italian food, spaghetti, and sauce, regular or meat sauce, pizza… yep and I'd eat it all the time I could without my pants shrinking!
So the next best thing is for me to eat low carb, zucchini is a great option cut into "noodles" or "zoodles" as some refer to them.
I bought a spiral cutter for vegetables over 5 years ago and have gone through phases of using it, but I never regret buying it!
Now that I'm consistently eating low carb this is my #1 go-to meal!
Whether you're watching your waistline or not you'll LOVE this! It tastes great.
It's real food fast, ready in under 10 minutes.
the flavors are the same as in pizza and traditional spaghetti with sauce and cheese.
It's a great alternative when you're wanting pizza too!
You can add sausage, ground beef or chicken.
You can enjoy this with tomato sauce or fresh tomatoes, garlic and olive oil.
You can add any veggies you like to this as well, peppers, mushrooms, onions they are all yummy in this.
Most often I eat it just the way it's photographed, nice and simple.
I use a tomato sauce with no sugar added if I'm eating low carb, so read the labels if you don't make the sauce yourself.
Keep reading for how to make this dish if you don't have a spiral slicer.
Here are more zucchini recipes to take a look at: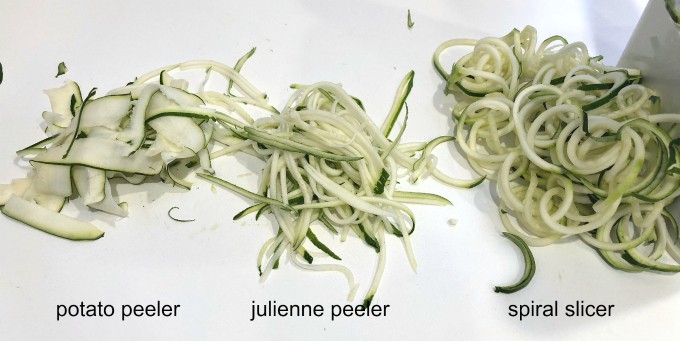 Most people have a potato/vegetable peeler in their kitchen, some may have a julienne peeler and some a spiral slicer.
I link to all three I used below, and I also tell you which is my favorite method.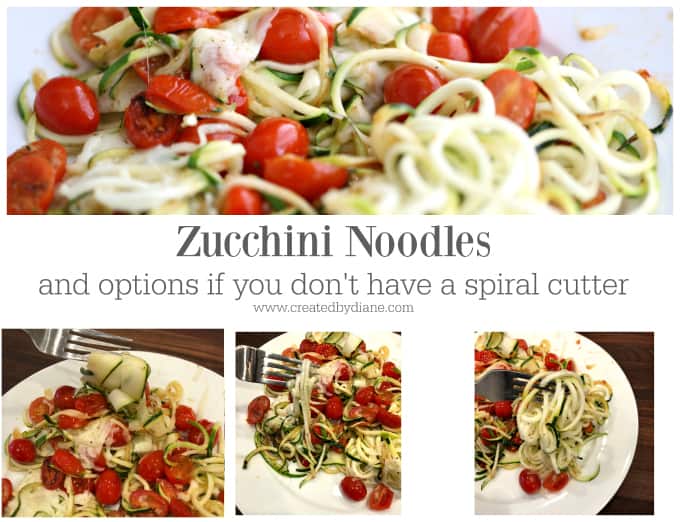 Potato Peeler-(in lower photo on left) this will create ribbons of zucchini noodles and the texture when heated is good, stays firm and it's my number 2 choice. I used this type of potato peeler.

Julienne Peeler-(in the lower photo in middle) A julienne peeler create thin threads, it looks great, and perfect if eating raw, but when cooking it, it's doesn't hold up as well and gets slightly mushy, this is my 3rd choice. (they may sell julienne peelers that make thicker threads, I only have experience with the one I have) This Julienne Peeler looks similar.
Spiral Slicer– (in lower photo on right) This is my top choice for making zucchini noodles, it works easily created a great texture, holds up to being heated and doesn't get mushy easily. I have THIS Spiral Slicer, I've had it for about 5 years and it works well, is easy to clean (with a toothbrush) and I use it for more than just zucchini, I use it for eggplant, sweet potato, butternut squash, yellow squash, carrots, cucumbers, beets, potatoes, onions, cabbage and more.
I have used this Electric Spiral Cutter, it works well I just don't like that you have to cut the vegetables to a certain size but if you have trouble with the pushing and turning simultaneously on the other type this may be for you. It's also easy to clean.
If you are into spiral cutting you may want to check out my spiral cut hot dogs here. No special equipment needed, take a look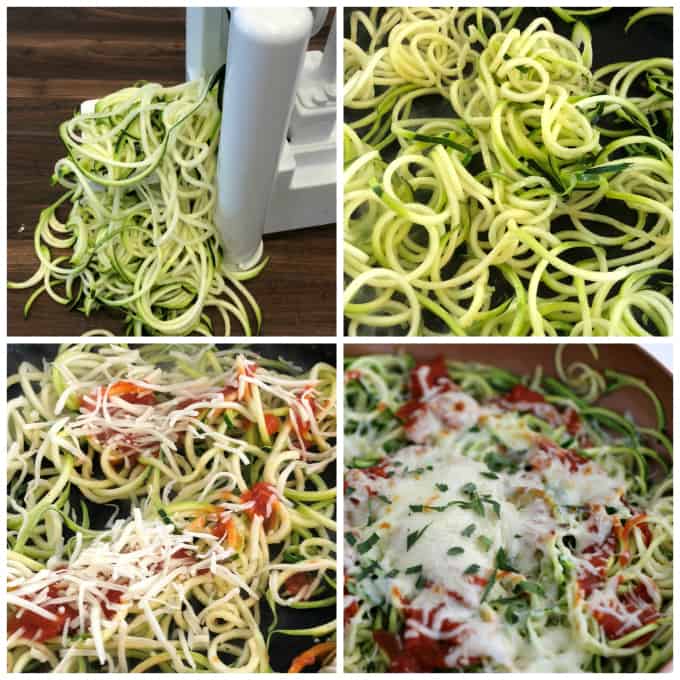 I like my vegetables cooked al dente, and I find if you don't overcook zucchini, it won't be so watery when it's in your dish. Some people like their vegetables cooked more, just drain the extra liquid off of them after cooking them.
For the zucchini, I really just heat the noodles as I prefer them less watery. You can heat the sauce, then add in the zucchini just to heat it, then top with cheese and take it off the fire and put a lid on for a minute to melt the cheese.
Since zucchini is a waterlogged vegetable, the longer you cook it the more water will come out of it.
Give it try not trying to "COOK" but just heat them and you'll end up with a better result.
Zucchini Noodles with Sauce and Cheese
Ingredients
2 medium zucchini
1/2 cup tomato sauce
1/4 cup shredded mozzarella cheese
Instructions
Spiral slice the zucchini.
Heat a skillet and heat the zucchini noodles for 2 minutes
top with sauce and cheese and place lid on top to melt cheese or place under a broiler until sauce is hot and cheese is melted.
Alternatively, you can heat the sauce and mix in the zucchini noodles then add the cheese if you like it all blended together.