This flavor combo is so yummy, and oh how I love garlic… you too?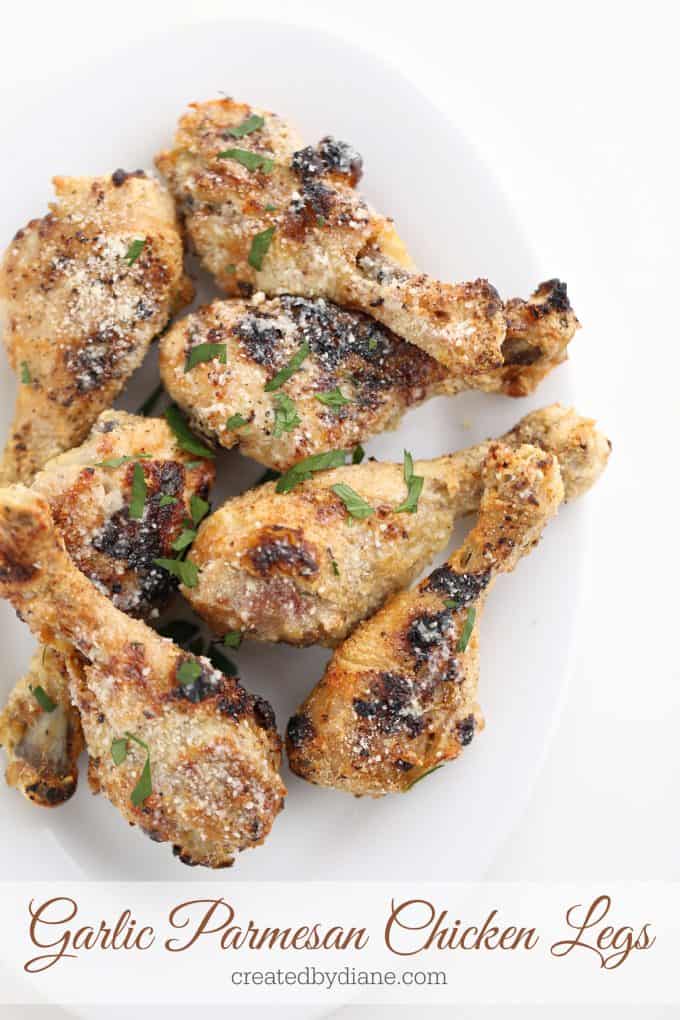 These Garlic Parmesan Chicken Legs are crispy and delicious.
I bake these on a rack over a baking sheet in the oven, and OMG they are so flavorful.
I have been on a huge chicken leg craze, they are perfect for a main course, appetizer especially on game day, and make just about the most perfect mid-day snack!
more chicken leg recipes to try: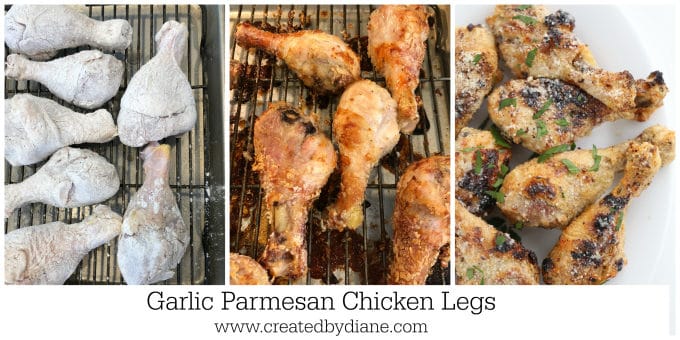 Coating the chicken legs with cornstarch and some seasonings allows the chicken to bake up really crispy!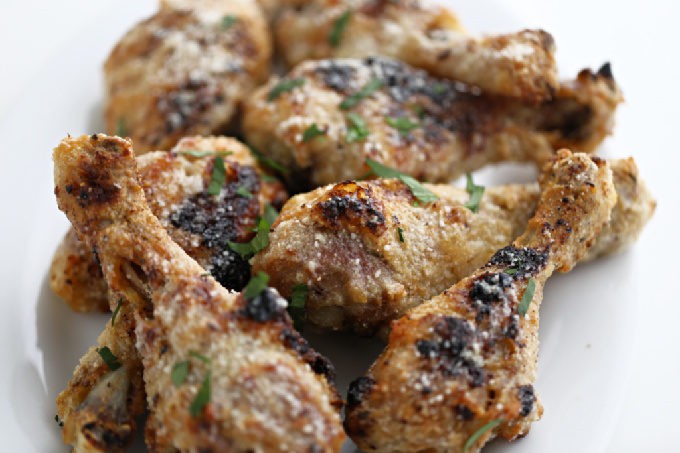 After you bake them, then you'll brush on some more garlic and parmesan…
oh, you can never have too much garlic or parmesan!
Now if you're a huge garlic fan… you'll love THESE:
I love garlic and use lots of varieties, I like the paste that is in the refrigerated section of the grocery store in a tube from Gourmet Gardens, it has a great flavor (I do not like the jarred type is has a funny taste to me) If you haven't tried the paste, it's yummy give it a try the next time you see it.
Garlic Parmesan Chicken Legs
Ingredients
2 1/2 lbs chicken legs (about 7 legs)
1/4 cup cornstarch
1 teaspoon garlic powder
1/2 teaspoon salt
2 tablespoons parmesan (the shaker type that's crumbly)
1/2 teaspoon oregano
Topping
1 tablespoon butter
1 tablespoon minced garlic
1/2 teaspoon garlic powder
Heat the butter, minced garlic and garlic powder in the microwave until the butter is melted, then mix thoroughly,
Add 1-2 tablespoon parmesan cheese,
*Garnish fresh parsley
Instructions
Preheat oven to 400°
Mix chicken legs with cornstarch, garlic powder and salt, parmesan cheese and oregano (in a bag or a bowl)
Place the chicken legs on a baking sheet lined with a wire rack.
Bake at 400° for 30-35 minutes (turning the chicken over halfway through) or until the chicken is fully cooked and crispy.
The "topping" goes on after the chicken legs are baked.
Use a silicone brush or spoon to apply the garlic parmesan topping when the chicken legs come out of the oven, then add the parmesan cheese on top.
Garnish with chopped fresh parsley