I LOVE pickles like really I eat them all the time…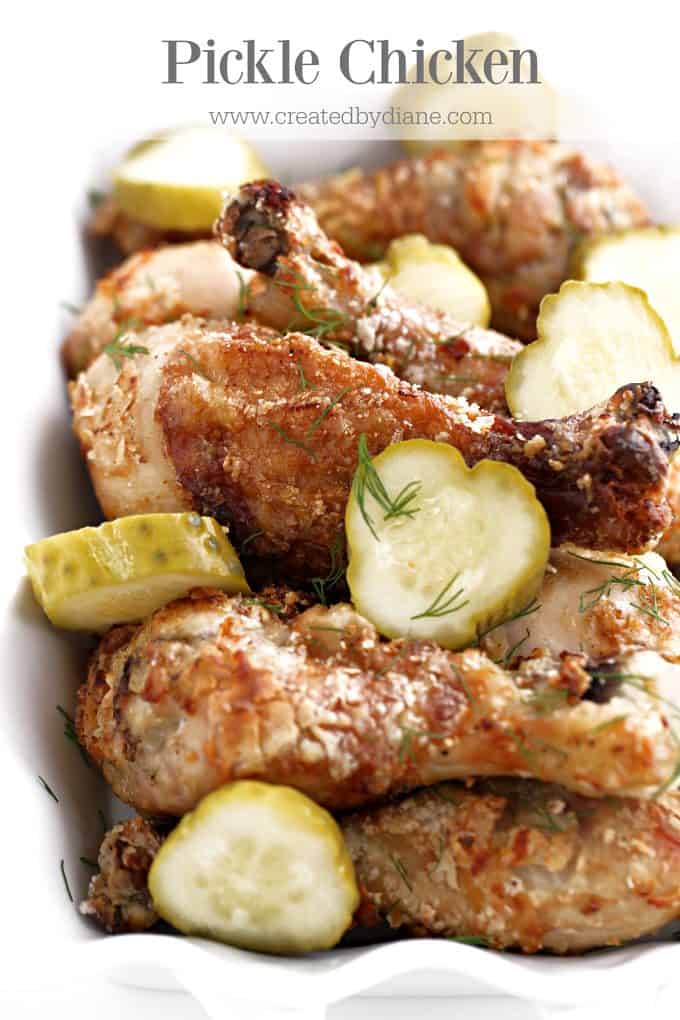 I always have, always will.
My favorite go-to pickles are Claussen brand, they aren't "cooked" so they are really crunchy and delicious.
I add pickles to so many things and love the tanginess.
I've even made a dry pickle seasoning to put on popcorn and other items, sometimes I add diced up pickles to it in a dip, YUM!
No onto the Pickle Chicken, it has this yummy flavor, be sure to remember to save some pickle juice to make it. Yes, you heard me right, save the pickle juice, I have at least 2 jars of pickle juice in my fridge at all times, not including the jars with pickles in them. I even drink it, it's so good!
I've even read there are lots of people that drink it, and that it has health benefits! Who knew?!?
Do you love pickles as much as I do? I sure hope so.
Even if you don't (I have a non-pickle lover in my house and they liked the chicken so don't discount this recipe if you have a non-pickle lover too) The chicken is crispy and delicious!
If you want another great recipe using pickles try my Low Carb Potato Salad.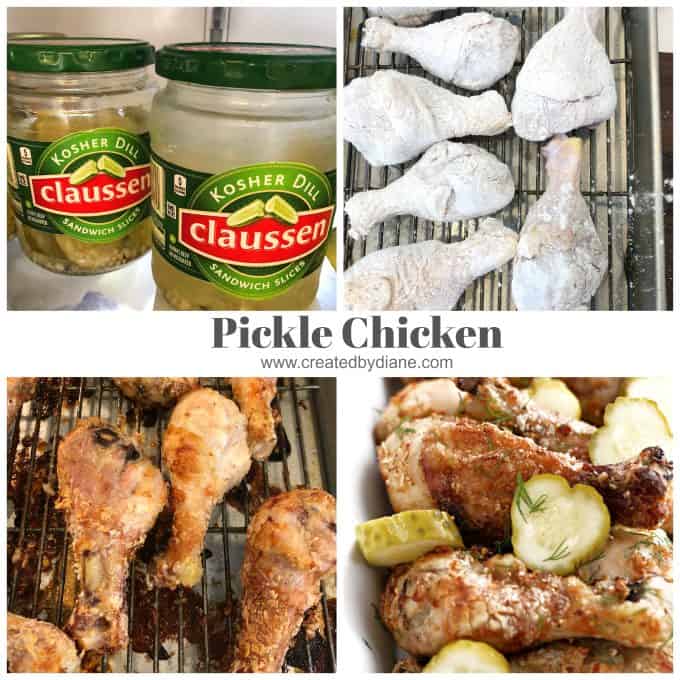 The key to the CRISPINESS of the chicken is dredging it in cornstarch… oh it's so crispy good!
You can use chicken wings if you prefer or boneless skinless chicken strips too, be sure not to overcook boneless skinless chicken, but if you are cooking the chicken on the bone is won't dry out as easily.
Pickle Chicken
Ingredients
2 1/2 lbs chicken legs
1 cup dill pickle juice
1 cup cornstarch
1 teaspoon coarse kosher salt
1/3 teaspoon black pepper
1/2 teaspoon dill (dry or fresh)
serve with
3 diced dill pickles
fresh or dry dill
Instructions
Marinade chicken in 1 cup pickle juice for 1 hour to overnight.
Preheat oven to 400°
I marinade in a plastic zipper bag, then I drain the liquid and add 1 cup cornstarch, salt, pepper, and dill to bag and mix it so that the cornstarch coats the chicken.
Place chicken legs on a rack on top of a baking sheet (lined with foil for easier cleanup).
Turn chicken over to crisp on all sides after the first 20 minutes.
They are usually done in 30-35 minutes depending on how large your chicken legs are.
Bake until chicken is fully cooked (above 165 degrees, I like the chicken to almost fall off the bone, so the internal temp is usually 185°)