It's no secret I LOVE pasta and if you're like me but want a yummy low carb option, this easy gluten free,  Zucchini Noodle Lasagna is a great recipe that won't have you missing the pasta.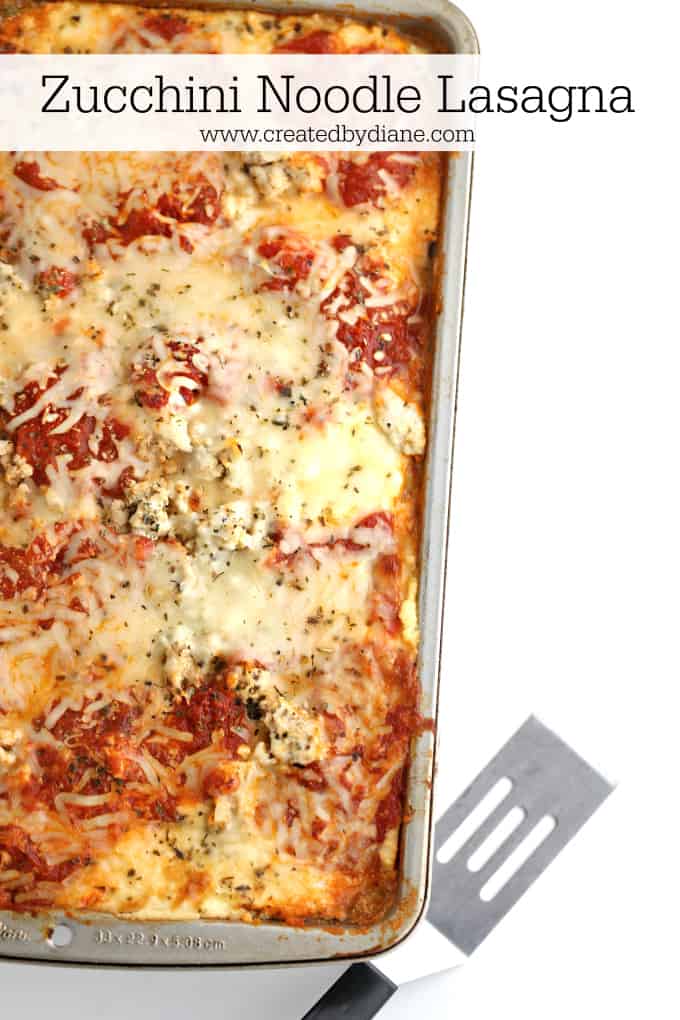 Lasagna screams comfort and is so delicious all cheesy and saucy and stacked ready for your fork to dig in.
You can make this recipe vegetarian or add ground chicken as I did.
You can add sliced mushrooms if you'd like a meat alternative.
Now for the noodle part, it's made from zucchini.
I used an attachment on my kitchen aid mixer that creates vegetable sheets. You could slice the zucchini with a knife thinly from the zucchini lengthwise to get similar results.
Other low carb recipes you may LOVE: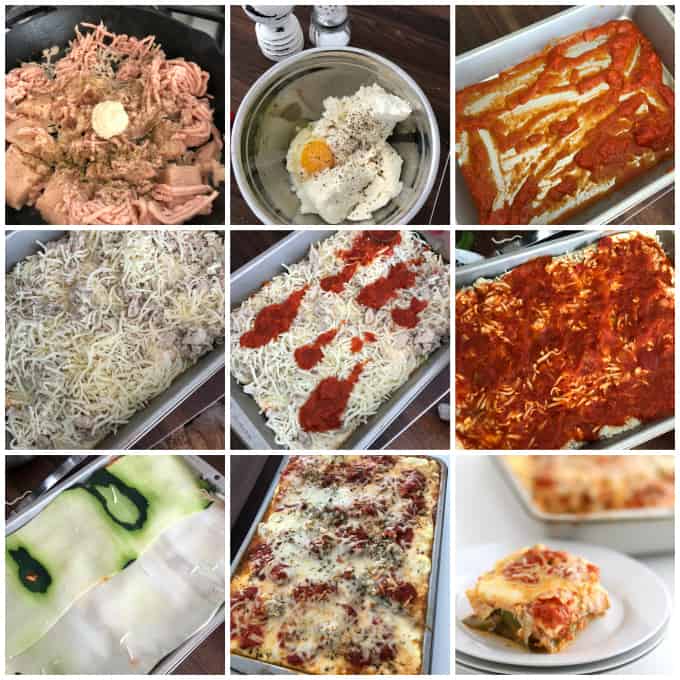 Saute the chicken with garlic, salt, and pepper, then prepare the ricotta cheese with an egg, salt, and pepper.
Then you'll layer the ingredients like you would with any lasagna and be prepared for a really delicious low carb, gluten free lasagna that will feed a crowd!
Lasagna is hard to resist no matter how you make it, this cheesy dish is always a winner.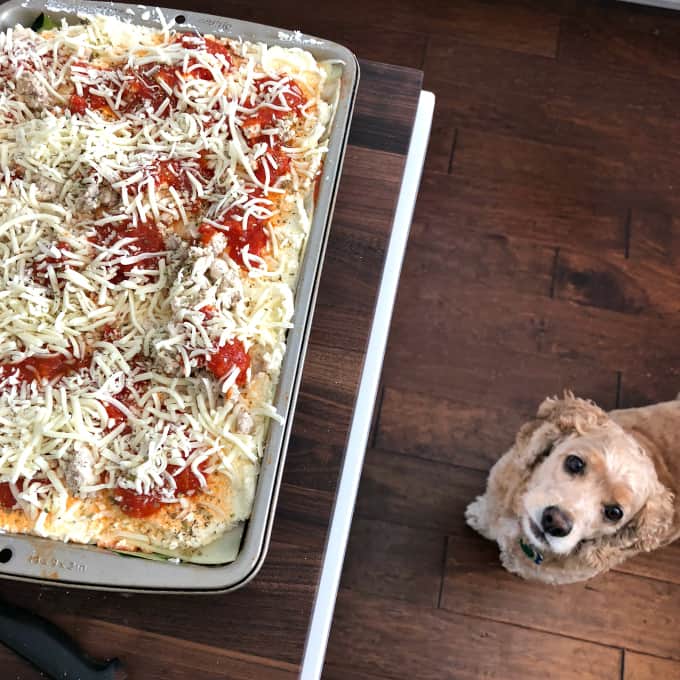 Charlie likes lasagna and wishes I would drop some cheese on the floor just for him. If you'd like to see more of Charlie check him out on Instagram @sweetcharliedog
THIS is the vegetable sheet cutter I used to make this dish. As I mentioned you don't need to use this sheet cutter, although is made is super easy, you can use a vegetable peeler and makes strips or cut the zucchini with a knife into thin strips to create the "noodles". I also used the cut sheets of zucchini to eat like I would a wrap, I also used them to wrap around cheese and meat for a sandwich bites.
This is my Chicken Lasagna recipe which would be yummy with zucchini noodles too, it's made with a creamy sauce no tomatoes for the non-tomato sauce lover. It's great to have lots of options to feed everyone!
Zucchini Noodle Lasagna
Ingredients
4 medium zucchini
16 oz ricotta cheese
1 egg
3 cups mozzarella cheese, shredded
2 lbs ground chicken (or 1-2 lbs mushroom slices)
1 tablespoon garlic paste
24 oz tomato sauce ( I often use Barilla or La Victoria or my homemade recipe)
2 teaspoons dry oregano
salt and pepper
Instructions
Saute ground chicken in a skillet with 1/2 teaspoon oregano and garlic paste.
Slice zucchini with a vegetable sheet maker or thinly sliced with a knife.
Mix the ricotta cheese with the egg and some salt and pepper.
In a 13x9 pan add some sauce to the bottom then place a layer of zucchini noodles to evenly cover the dish.
Next spread the ricotta mixture over the zucchini, add cooked chicken, then add mozzarella cheese, add some oregano salt and pepper then sauce.
Layer on the zucchini, ricotta, chicken, mozzarella cheese, then sauce two more times.
Cover with foil and bake at 350 degrees for 45 minutes or until it's heated thoroughly.
(you can add some grated Parmesan cheese to the top if you prefer)
After baking allows the lasagna to cool a bit so it sets up, it's even great baked a day ahead of serving too or made for lunches for the week, chill the dish, then cut into portions.