This is one side dish you will want to grab your skillet and make immediately!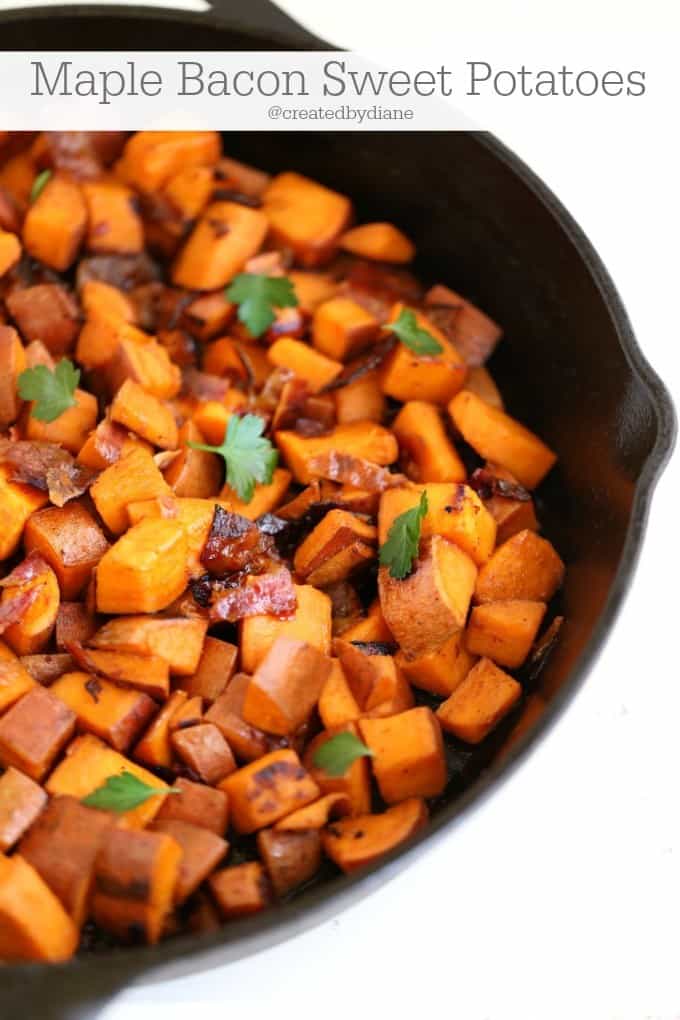 Maple Bacon Sweet Potatoes
Don't miss one delicious recipe and get my FREE e-cookbook click here!
One whiff of this and you'll think it's time for breakfast,
but it's not only good for breakfast with eggs,
it's great with ham or turkey and so many other items for dinner. Great for holiday meals as you don't need to make it far ahead of time and it doesn't take up space in the oven.
Perfect for holiday meals as you don't need to make it far ahead of time and it doesn't take up space in the oven.
These sweet potatoes cook up so quick, you can make this on the fly for any meal.
If  you didn't plan out dinner, just cook up the sweet potatoes and bacon and crack a couple eggs on top and pop the skillet into the oven to finish cooking the eggs and you've got a great meal.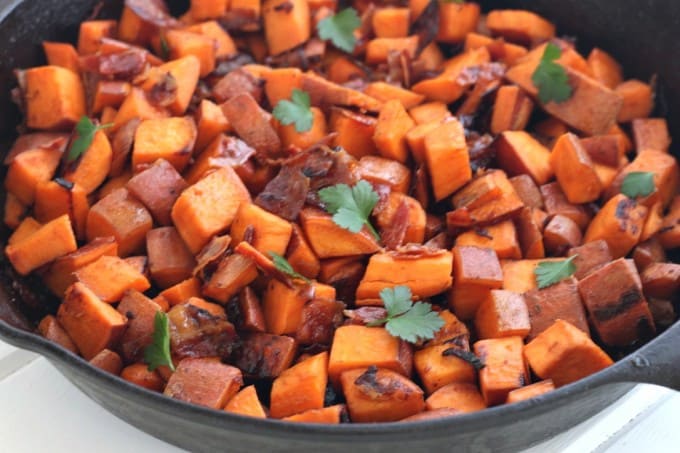 The possibilities are endless what you will want to serve this side dish with!
It also makes a great snack. I could eat this many times a week. I've been buying giant bags of sweet potatoes at my local warehouse store and they sure aren't going to waste.
THIS is the skillet I use and love and I use it so much I have 3 of them and more in other sizes too, it's a kitchen must have.

Maple Bacon Sweet Potatoes
Ingredients
2 lbs sweet potatoes, cut into pieces
1 tablespoon olive oil (or butter)
2 oz cooked bacon, cut into pieces
2 tablespoons maple syrup ( I use grade B maple syrup)
Instructions
Heat cast iron skillet over medium-high heat.
Add oil and sweet potatoes and cook while stirring for 3-4 minutes, or until fairly tender (in a cast iron skillet they will continue to still cook as the pan stays hot)
Then add the bacon pieces and get them crispy.
Drizzle the maple syrup and stir to coat all the sweet potatoes.
Meals you may enjoy the sweet potatoes with:
Thanks so much for stopping by to see this recipe!
Sharing this post is appreciated and encouraged. Use the share buttons at the top and bottom of the post, there are many options to all your favorite social media channels and you can also email it to a friend. Print out the recipe to enjoy it on your next kitchen adventure. Please don't copy and paste the full post, it's prohibited without written consent from me. Recipes including wording and photographs are Copyright of createdby-diane.com.
Please enjoy this recipe and click here to sign up for email updates to receive recipes in your inbox.
~Diane