Just take a look at it and try to resist… it's not only so pretty, it tastes delicious too.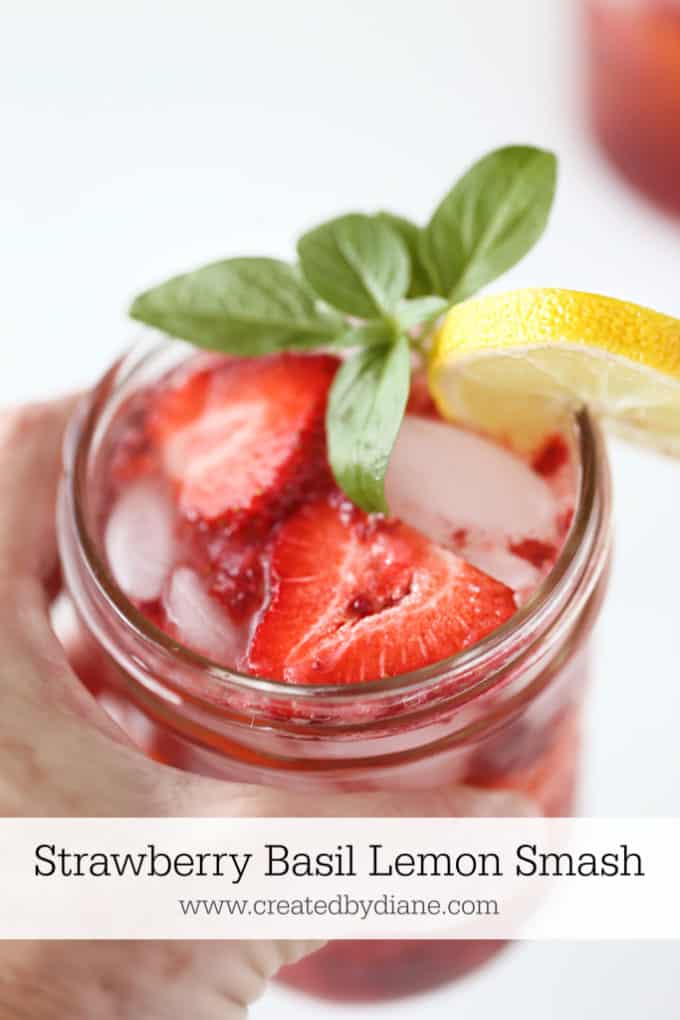 I am a huge strawberry and lemon fan… and there are so many options to enjoy such great flavors together in a drink to your liking…
You can make this Strawberry Basil Lemon Smash a cocktail or a mocktail you choose.
I just love fresh herbs and adding in some fresh basil to this drink gives it a super fresh flavor that is undeniable!
I've been making Strawberry Smashes for months, so many varieties and all delicious. The key is fresh ripe strawberries!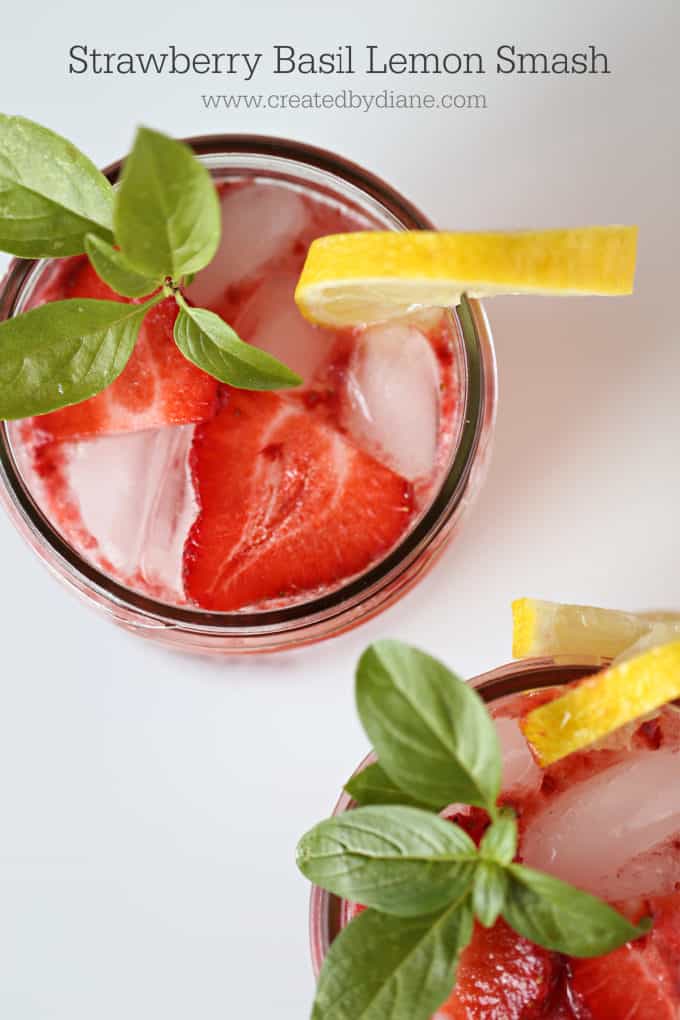 I'm all about simple drinks.
This is so tasty and not overly sweet which is so great especially if you are low carb and still want a cocktail or mocktail.
You can make this drink as sweet as you prefer. 
Lemon seltzer is perfect in this, but plain seltzer water will work just as well.
When I smash up the strawberries, I added some basil to it to give it some added flavor.
Basil gives fruity lemonade drinks a great minty flavor without overpowering it.
If you want it SUPER Strawberry flavored drink you can add more than just fresh strawberries… make a batch of my Strawberry Syrup and add a tablespoon or two into each drink, it's so delicious!
And if you're looking for more strawberry deliciousness…  give this strawberry lemonade scone a try.
Oh, I just love strawberries, here are some other yummy recipes to try. One Hour Strawberry Shortcake… a sheet cake, easy to make and perfect for all your cake celebrating needs!
Strawberry Smoothie… oh this is a great dessert option or the perfect way to start your day if you like smoothies for breakfast! 
Or how about some Mini Strawberry Cream Pies topped with toasted meringue.
Strawberry Basil Lemon Smash
Ingredients
6-8 strawberries, sliced
4-6 basil leaves
1/2 of a lemon juiced ( about 1 tablespoon)
2 oz vodka or bourbon (or your favorite alcohol of choice)
12 oz seltzer (flavor of your choosing, lemon, plain, coconut are all delicious)
Ice
Lemon slices for garnish
Additional basil leaves for garnish
Instructions
Split the strawberries between two glasses.
Muddle the strawberries and basil leaves until they are crushed well.
Add in the lemon juice and give each a stir.
Pour in half the vodka or bourbon into each glass (or your favorite alcohol of choice)
Add ice to each glass.
Top off the drinks with seltzer, lemon seltzer is great, plain is totally good or try coconut seltzer for a fun flavor option.
Top the drinks with lemon slices and basil leaves.