Well if you're like me and love quick and easy recipes and equally love coconut, you will be sure to LOVE this Coconut No Bake Cheesecake!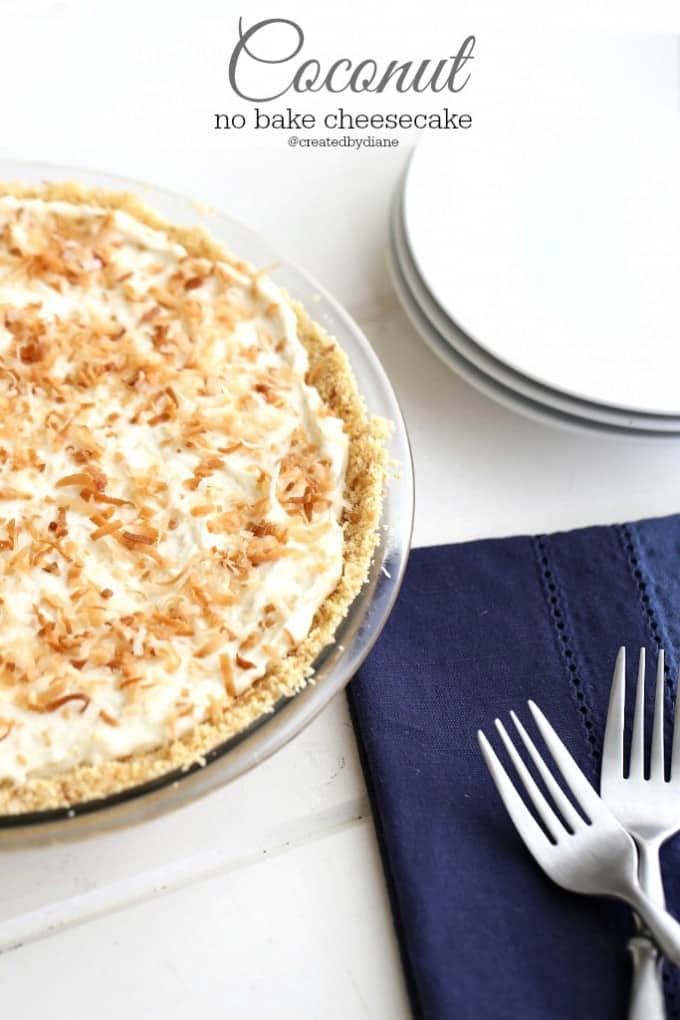 Coconut no Bake Cheesecake
Don't miss one delicious recipe and get my FREE e-cookbook click here!
Bite after bite of this delicious coconut cheesecake had everyone thinking I slaved over it.
Really they just loved how creamy and delicious this was and oh the toasted coconut was a huge hit on top.
I love toasted coconut, don't you? (if you said yes, I have a bunch of other coconut items listed at the end of this post for you to check out)
No one could believe it was no bake,
the coconut and the graham cracker crust is a great flavor combo and added to it some toasted coconut and well,
it was a true winner!
I have never been a huge fan of no bake items as they usually have some artificial taste or ingredient I don't like,
but believe me, this had a rich creamy delicious flavor any cheesecake fan won't be able to pass up!
Coconut No Bake Cheesecake
Ingredients
2-8 oz packages cream cheese
2/3 cup powdered sugar
1/2 teaspoon vanilla extract
1/8 teaspoon coconut baking emulsion
1/2 cup heavy cream
1/2 cup coconut
crust
1 cup graham cracker crumbs
1/4 cup toasted coconut
3T butter
1/4 cup toasted coconut for top
Instructions
Make crust
place graham cracker crumbs in a bowl with toasted coconut and butter and mix with a fork or pastry cutter until it resembles coarse crumbs.(Add an additional tablespoon if it's dry, it should be moist)
Press crust into pie place evenly and smoothly.
With mixer beat, cream cheese until creamy.
add in powdered sugar and mix.
add vanilla and coconut extract, heavy cream.
mix in coconut.
Pour cheesecake mixture into pie crust.
Top with toasted coconut.
Chill 4 hours.
Notes
I love coconut baking emulsion.
Baking emulsions are flavors suspended in a water base vs an alcohol base and taste delicious. I use LorAnn's baking emulsions. They are available online at their store or amazon. I often find them in cake and baking supply stores, Ross, Tj Maxx, Home Goods. If you are unable to locate it. By all means use coconut extract.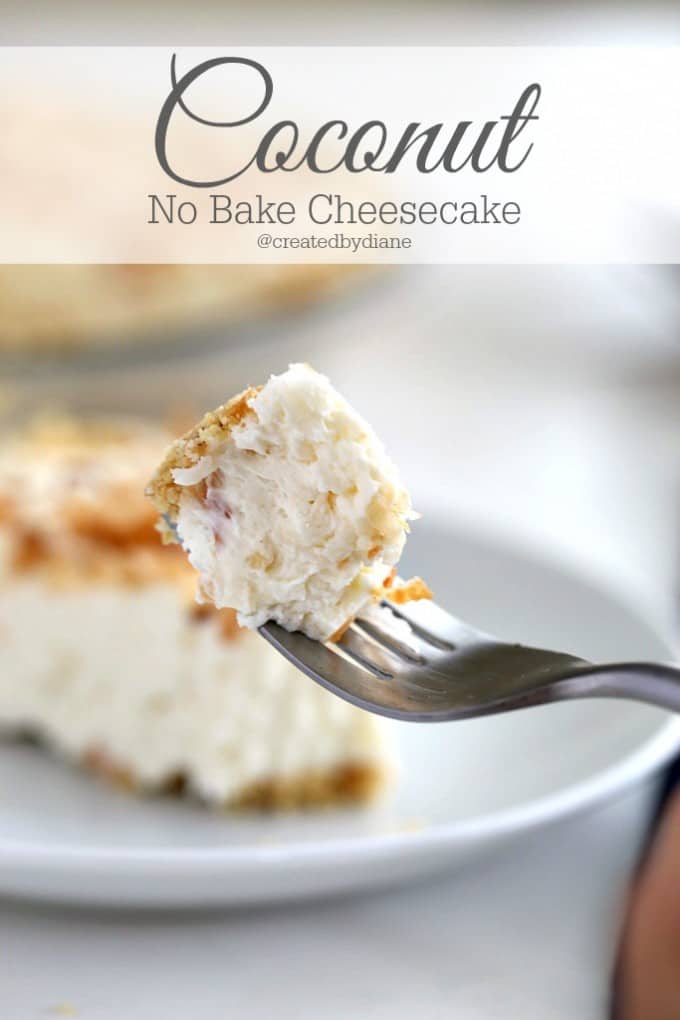 If you need more delicious toasted coconut here is my post on how to toast coconut.
And here are some more coconut recipes:
Grilled Cake and Pineapple with Toasted Coconut
Coconut Chicken with Pinapple Guacamole
Caramel Coconut Chocolate Chip Skillet Cookie Pie