Sweet and Easy Almond Joy Cupcakes to start off the Christmas Season in Style.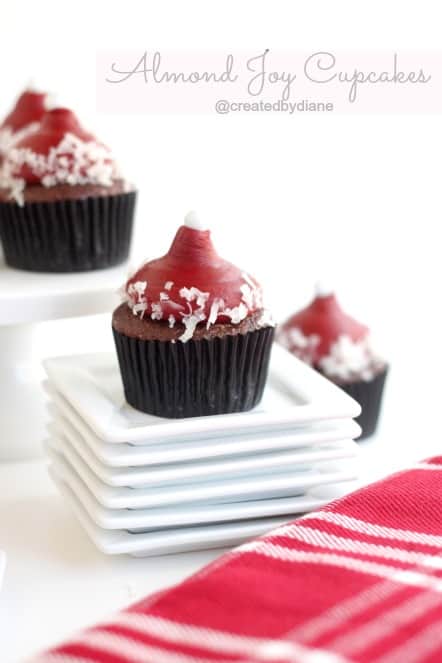 Have you started decorating for Christmas yet?
Do you wait until the day before to do everything?
Either way, you will HAVE To make these because they will put you in the Christmas spirit immediately!
You will want to dig out your stocking and hang them and find a Santa hat to put on in the kitchen while baking.
I wouldn't say I'm playing the Christmas carols yet, but give me another week and I'm sure we'll be seeing them at our sink.
Every year when we do the dishes we sing Christmas carols. Well, my son sings with me, all depends on the song if my daughter will chime in.
What is your favorite Christmas song?
I need to add some new songs to my playlist so share some with me.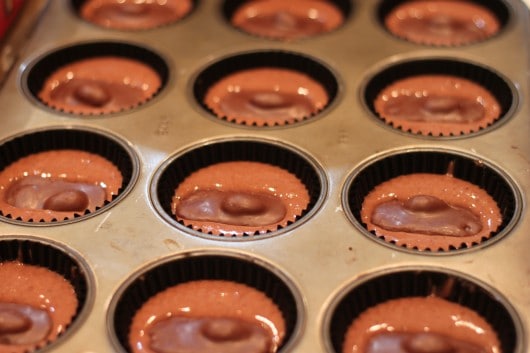 These start off right away with an almond joy tucked into the cupcake batter, but that's not all….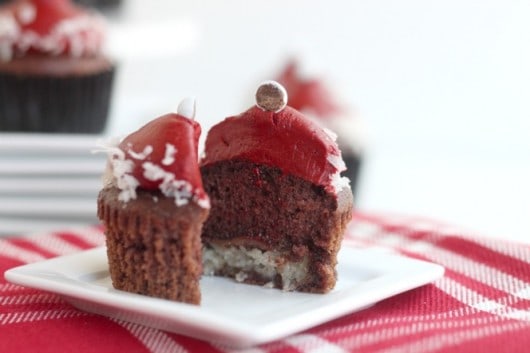 The frosting is Hershey's New Almond Joy Frosting and it's oh so fabulous,
trust me….I think I consumed one container with a spoon before even baking the cupcakes.
Luckily I saved some for the cupcakes.
The frosting is chocolate brown in color right out of the container, but with a little addition of red coloring….surprise you have a pretty Christmas RED that will be the hit of any Holiday Celebration!
Be sure to check out these Santa hat shortbread cookies too.
Almond Joy Cupcakes
Ingredients
1 box Betty Crocker German Chocolate Cake mix (plus ingredients to prepare)
2 16 oz. Betty Crocker Almond Joy Frosting
4 cups powdered sugar
2 teaspoon red food coloring (I use Americolor)
1 11.3 oz bag of snack size Almond Joy Candy
1 cup shredded coconut
24 white Sixlets Candies
Instructions
Mix cake mix according to package directions.
Place 3 tablespoons of batter into each lined cupcake area.
Put one Almond Joy Candy into the center of each area of batter.
Bake at 325 degrees for dark pans for 18 minutes.
Cool cupcakes completely before frosting.
Mix red food coloring with Almond Joy Frosting along with the powdered sugar to make the frosting smooth, but firm.
Pipe frosting onto cupcakes with an 809 round tip fitted on a piping bag.
Press coconut around the edge of each cupcake.
Top each cupcake with a Sixlet Candy.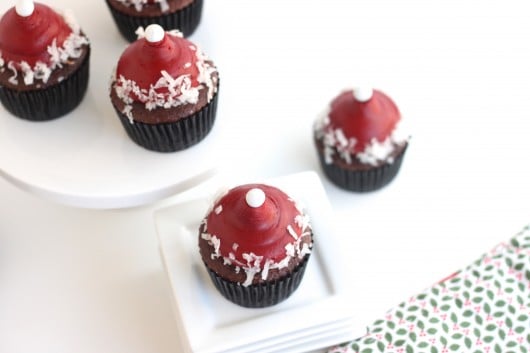 Just by adding a little coconut to the edge and a white sixlet candy to the top, before you know it you'll be throwing on your sparkly shoes and heading out to the festivities,
or grabbing a cozy seat on the couch will do too!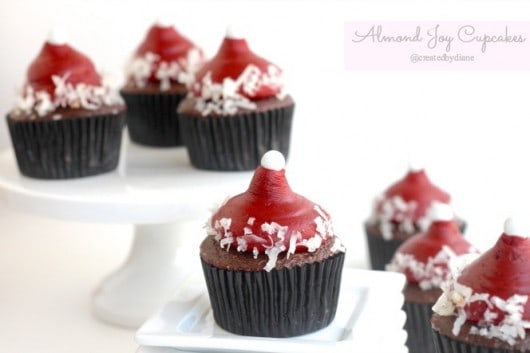 What do you look forward to most this time of year?

Don't forget to share with me your favorite Christmas song, I really need to make a playlist and I'm all ready for some "new to me" songs as well as classics.