Grilled Pina Colada Pie
Easy as PIE!
This fun pie comes together easily and can be made on a GRILL.
Pineapple and coconut pie in a skillet or hand pies, I'll show you how to make both.
This recipe is fun and delicious.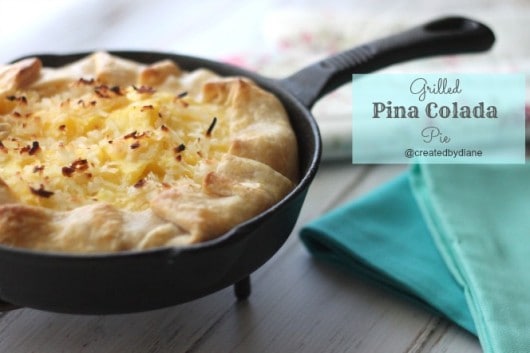 I know some of you don't think pie is easy, but it really can be.
Pillsbury makes pie making even easier, they take the mystery right out of it and allow you to be creative with your pie making, so you'll have more time to enjoy PIE!
I just love pie and have for as long as I can remember.
Now onto this Grilled Pina Colada Pie it's super-easy and SUPER-delicious too.
I just love summer recipes that can go right on the grill. Perfect for dinner with friends or family especially since we all tend to grill more I bet you have a hot grill many nights a week in the summer and how great would it be to have a pie like this come off of the hot grill to enjoy.
Grilling pie couldn't get any easier than in a cast iron skillet, but I also make hand pies if those are your favorites. Kids tend to like  hand pies as a grab and go treat, so this recipe will allow you to make a pie and 4 hand pies, I won't tell if you hoard the hand pies all to yourself. Hand Pies, what Hand Pies?
I added a little bit of run into this pie, if you don't prefer to use alcoholic beverages when you bake, an easy substitute would be rum extract, but really almond would work too for a fun twist.
I'm loving that the weather is heating up and we are spending even more time outside. The nights are still chilly, but really that is the perfect time for a  nice warm pie, don't you think.
Place pie crust in 8″ cast iron skillet with pie crust hanging over the edges.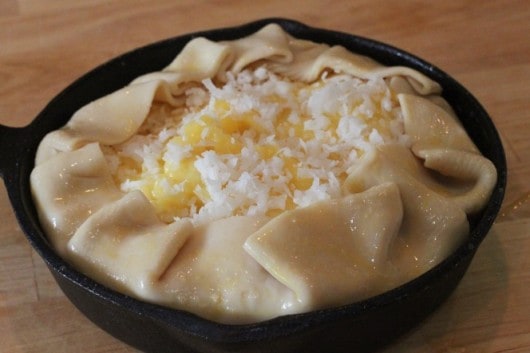 Add filling and wrap end of crust toward center of pie, fill pie with fruit mixture, then brush with and egg wash.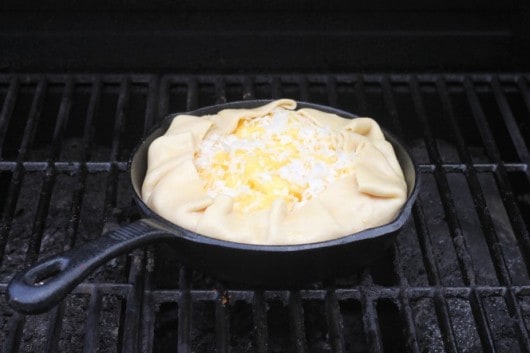 Place pie on preheated grill and in no time you will be enjoying a fun pie.
Grilled Pina Colada Pie
Ingredients
1 box Pillsbury Pie Crust (2 crusts)
1 fresh pineapple
1 package instant vanilla pudding mix
1 1/2 cups milk (slightly less than package requires)
1 cup sweetened shredded coconut
1 tablespoon rum (or 1/4 teaspoon rum extract for non alcoholic substitution)
egg wash
Instructions
Take pie dough out of fridge and place it on the counter so you can roll it out nicely after about 15 minutes.
Place one pie crust in an eight inch cast iron skillet.
Mix pudding with milk and let set up for 5 minutes.
Cut the pineapple into chunks and mix into pudding after the pudding has set.
Stir in coconut.
Place the pineapple and pudding mix into pie crust.
Mix egg with water and brush on edges of pie crust, so it browns nicely.
Put cast iron skillet on preheated grill at 450 º
Cook for 10-14 minutes or until the crust is golden and firm.
Remove from grill and allow to cool a few minutes and then serve.
Cut pie crust into 4 6" circles (using a bowl as a guide helps)
Place 1/4 cup filling onto one half of each pie crust.
Fold over other half and put some egg wash on the edge and crimp to seal the hand pies with a fork.
Be careful not to over fill the hand pies or the filling will come out the edges.
Lightly oiling the pie crust will help it from sticking to the grill.
Place hand pie on grill for 8 minutes and then turn over and cook other side a few minutes more until crust is golden and cooked.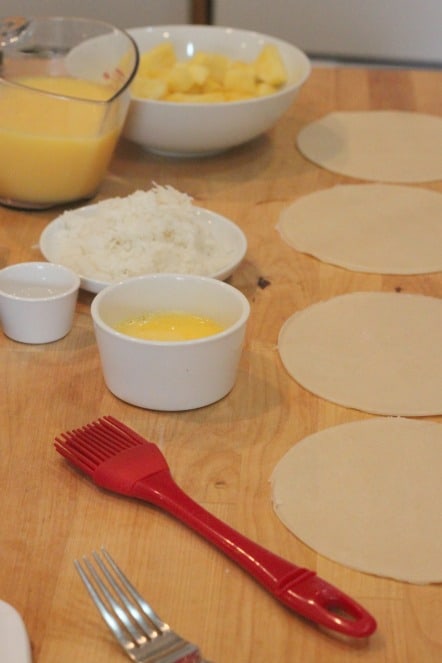 I like silicone brushes for applying the egg wash and oil to the pie crust.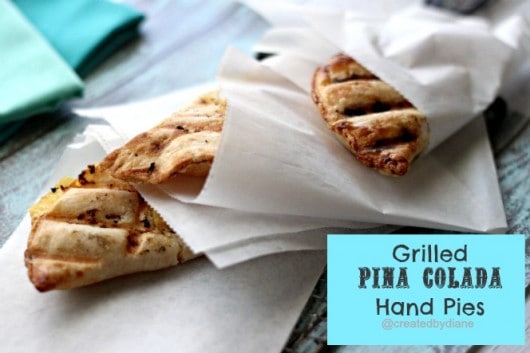 I just love hand pies and these will be grabbed up and gone before you know it.
* I was compensated for this post by Pillsbury, as always all opinions are my own.