Caramel Coconut Chocolate Chip Skillet Cookie Pie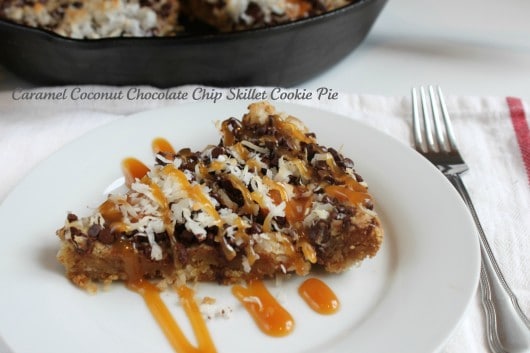 Caramel Coconut Chocolate Chip Skillet Cookie Pie
I love pie, but there are times when I want pie with no pie crust. Either I don't want to make pie crust, or I want a cookie pie crust. There are no rules in pie, so this pie has a cookie pie crust. Not one thing wrong with it. Disagree…well you can, but I don't know that I'll hear it. I'm pretty sure I'll be too busy devouring this.
Caramel Coconut Chocolate Chip Skillet Cookie Pie (printable recipe)
1/2 cup butter
1 cup sugar
3 teaspoons vanilla
1 1/2 cups flour
1/2 teaspoon baking soda
1/4 teaspoon salt
1 egg
10 caramels unwrapped*
1 1/2 cups coconut
1/4 cup mini chocolate chips
caramel sauce for serving
On stove heat 12 in. cast iron skillet on medium. Once the skillet is hot, turn to medium-low heat, add butter.
When butter is completely melted sugar. Onto the sugar butter mixture add flour, baking soda, salt, vanilla, and egg. Stir to incorporate all ingredients.
Place caramels* on top of dough, then add chocolate chips
and coconut. Place skillet in preheated 350-degree oven and bake for 15 minutes.
It's done baking when two inches in from edge comes out with smooth when tested with a toothpick. Don't bake until center is totally cooked, the pan will stay hot and it will dry out the cookie and it won't have that really great moist center.
* I will be cutting the caramels into quarters next time, and the caramel sauce made this irresistible.