Everything is better when it's smaller, right. These cute mason jar lid cakes are not only adorable they are equally delicious. The flavor of blueberry and banana just makes these over the top delicious.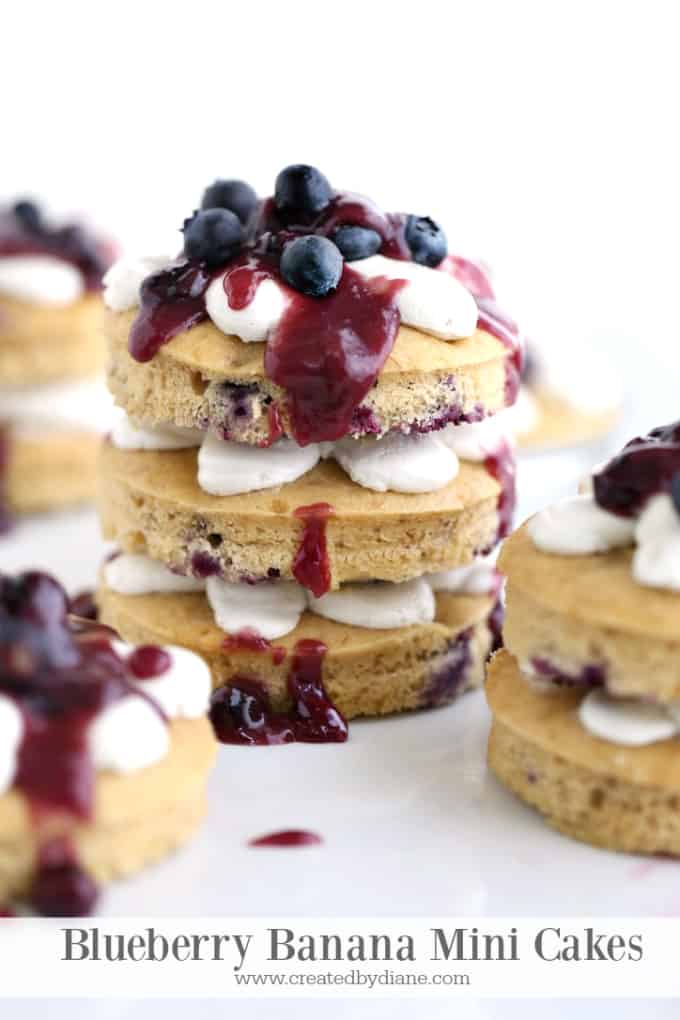 You can stack up the cakes as high as you like, or serve them in a single layer.
These blueberry banana cakes are topped with a blueberry sauce that is so tasty, and the frosting on these is Swiss Meringue Buttercream.
It's a delicious buttery frosting that is so perfect, it's similar tasting to Italian Buttercream, it's Swiss Meringue Buttercream, it's easy to make and I'm sure you'll be seeing more of it on my blog the ingredients are similar, and so is the flavor, the process of making it is not the same, but the results are so similar it really gives you a solid option when making frosting if you haven't made it before.
I recently posted my BANANA recipes here, and you can find BLUEBERRY recipes here and these cakes combine those two great flavors in the most irresistible cakes!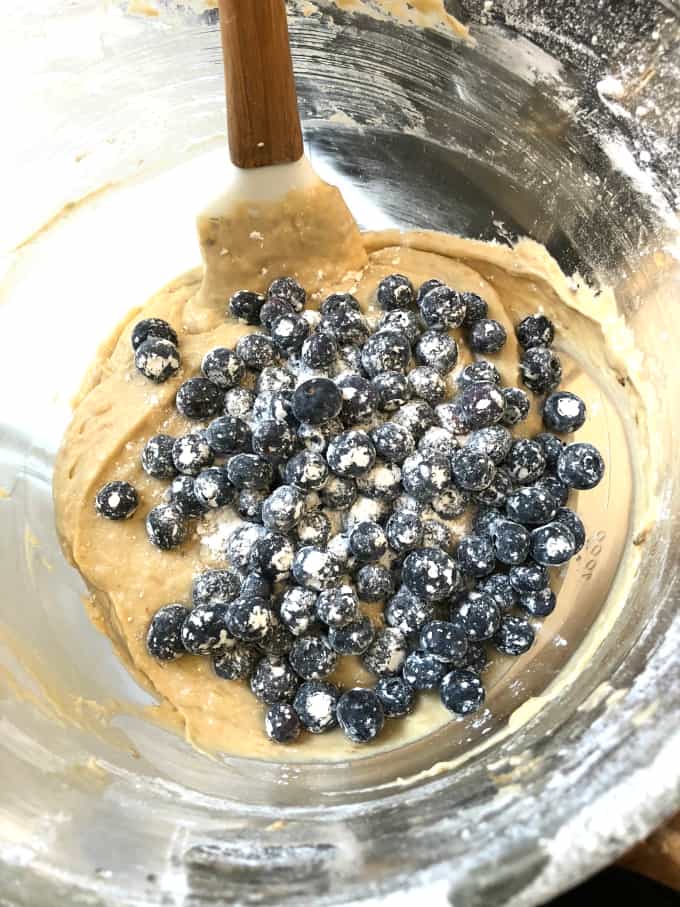 Tossing the berries in a little flour before you add them to the batter helps they stay "afloat" so they don't sink when the cakes are baked.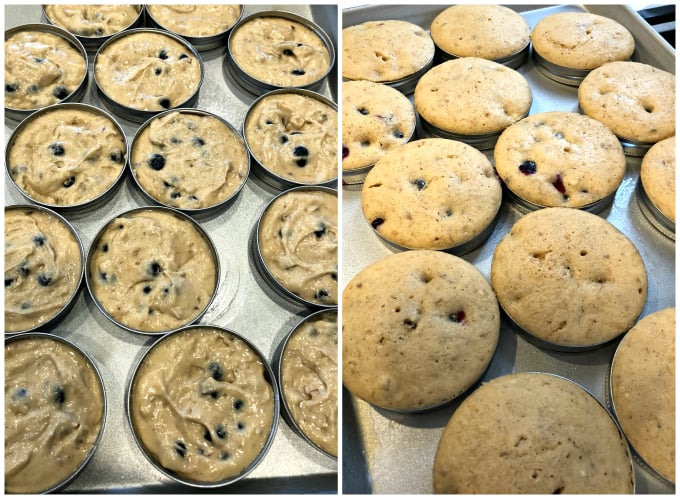 Prepare the jar lids with a baking spray and place them on a baking sheet.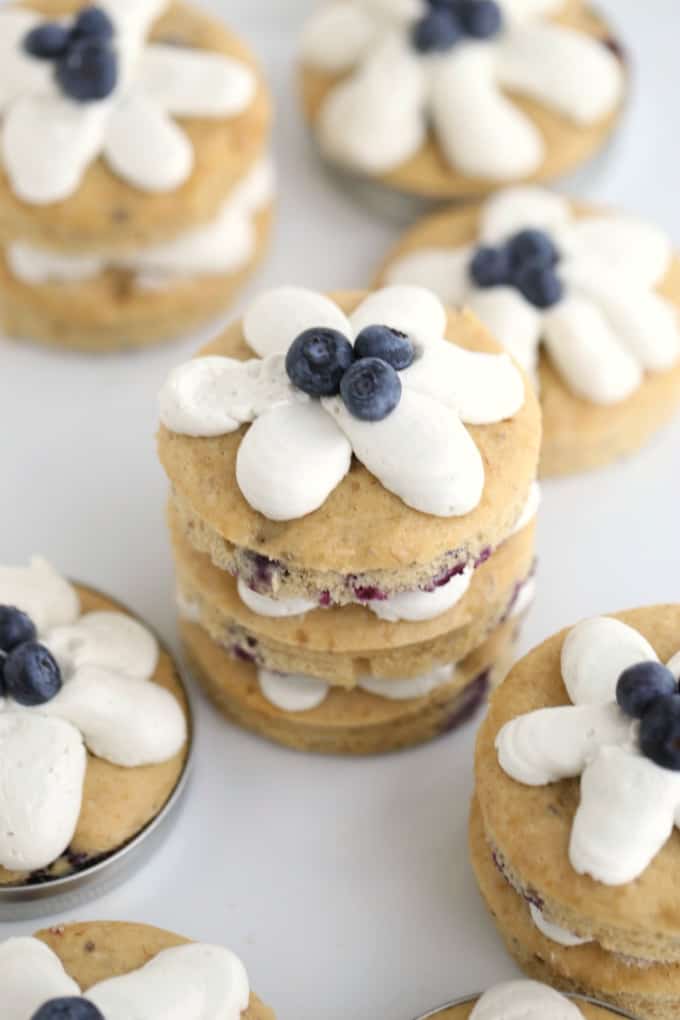 You can serve them in the jar lids,
or you can remove them from the lids serve them as single cakes, or layer them up and enjoy layers of deliciousness in every bite.
I made a batch of my favorite Blueberry Curd and topped with cakes with some and then added some extra blueberries.
If you are like mini desserts, be sure to check out my post on Mini Jar Lid Pies.

Blueberry Banana Mini Cakes
Ingredients
1/4 cup butter
1/2 cup sugar
1 egg
1/2 teaspoon vanilla
1 medium banana (mashed with a fork)
1 cup cake flour plus 1 tablespoon to coat blueberries
1 tablespoon baking powder
1/8 teaspoon salt
1/2 cup blueberries
*additional 1/4 cup blueberry for topping cakes
Instructions
Toss the blueberries in the tablespoon of flour and set aside.
In the bowl of a mixer beat butter with sugar until mixed well.
Add in egg, vanilla, and banana, mix until combined.
Place flour, baking powder, and salt in a bowl and stir to combine.
Add half the flour mixture to the butter mixer then add half the buttermilk,
Then add the other half of the flour mixture, then the remaining buttermilk.
Stir in the blueberries.
Prepare the mason jar lids by spraying them with a baking spray or grease and flour them.
Place the jar lids on a baking sheet.
Place 1/4 cup batter into each lid.
Bake at 350° for 15 minutes.
Test the cakes with a toothpick, it should come out clean.
Let the cakes cool before removing them from the jar lids or serve them in the lids.
Recipe adapted for smaller cakes from Liv For Cake's Blueberry Banana Cake recipe
Swiss Meringue Buttercream Frosting
Ingredients
2 egg whites
1/2 cup sugar
1/2 cup butter (cool and cut into tablespoon-sized pieces)
1/4 teaspoon vanilla
Instructions
Place egg whites and sugar in a bowl that fits over a saucepan well.
Add water to the saucepan and bring the water to a boil, be sure the water does not touch the bottom of the bowl.
Heat the egg whites and sugar until they are hot, the sugar is melted and smooth, not gritty.
Place the mixture in the bowl of a mixer, beat over medium-high until the mixture is no longer hot and it's stiff and shiny. This takes about 10 minutes.
Add in butter one tablespoon at a time beating on medium-high until it's all incorporated and continue mixing until it's a smooth frosting, this takes about 5 minutes.
Mix in vanilla.