Cinnamon Apple Cocktail, oh yes this is one TASTY drink!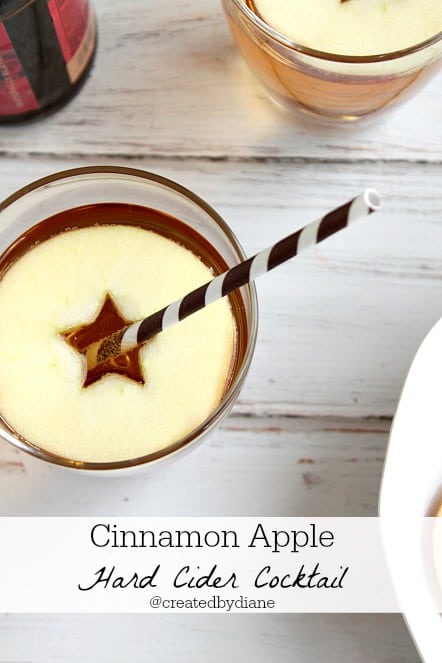 I am always up for trying a new drink,
but I really don't prefer REALLY Sweet drinks.
I usually like Margaritas, Long Island Iced Teas, Vodka and Cranberry and well,
now I'm adding this one to the list for sure!
It's so easy and delicious and really is perfect for anytime,
but especially around the Holidays,
it must be the cinnamony-goodness!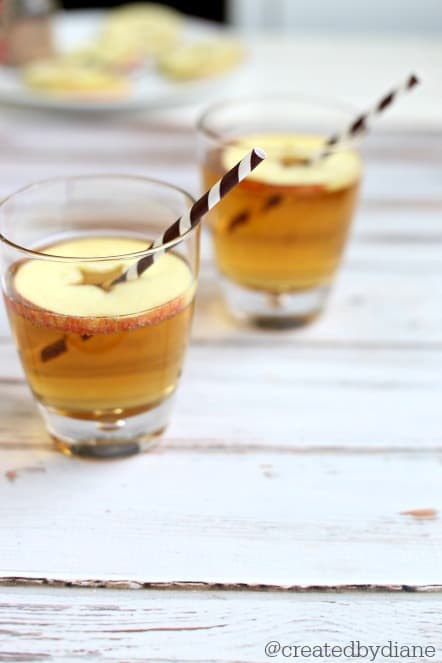 This drink is so wonderful it's like a delicious apple pie,
that you can't wait to enjoy another slice of.
I have no idea where this drink has been all my life, but I am LOVING it!
I think the added apple slices are not to be ignored,
really
they soak up that delicious cinnamon flavor and
ate the bonus of having a snack along with your drink!
CHEERS!

Cinnamon Apple Hard Cider Cocktail
Ingredients
2-4 oz Cinnamon Fireball Whisky
1 12oz Hard Apple Cider (I used Amber Woodchuck Hard Cider) there are many hard ciders on the market.
1 apple
mini star cookie cutter
Instructions
Pour 1 to 2 ounces of Fireball Cinnamon Whisky into each glass
top it off with the cold hard cider
Slice the apple into 1/8" slices and use the star cookie cutter to remove the stem area and seeds from each slice
For more cinnamon and apple goodness
take a look at these Grilled Apple Cinnamon A la Mode Tacos
Cinnamon Apple Oatmeal Breakfast Bars
and these Snickerdoodle Cookies are always a favorite!