Cinnamon Madeleines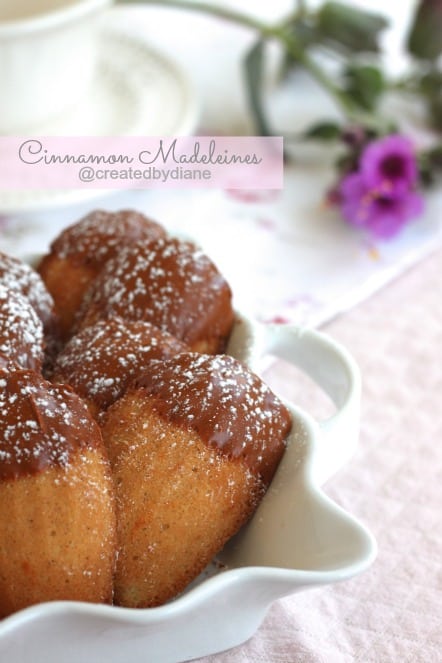 I can hardly believe the school year is coming to an end. I celebrate the days my kids have off far more than the days they are in school.
For some, they like the break when the kids are in school and although I may agree on moments, I truly really love having them around.
Don't get me wrong, it they are arguing I DON'T like that part at all, but as my kids have gotten older…some of that has stopped. Notice I said "some".
Spring break went way to fast and now I'm looking forward to spending days at the beach and pool with them, and hopefully get in a short trip or to up the coast.
That is if they can fit it into their busy schedules. I recall when I was the only one who scheduled them to do things, now it seems like they have schedules coming in from all over.
Since I won't be waking at the crack of dawn to drive them to school, I thought I'd work on a new recipe to enjoy on my summer mornings.
These Madeleines are the perfect answer, especially since I'm  not really moving to Europe like I may have thought about for a minute or two on my last post. Since Madeleines originate from France, I will just have to imagine the French Countryside as I sit and enjoy them with a cup of tea. Between Scones and Madeleines, well I think I could just have a European Breakfast every day. That is as long as I get to sit and relax a bit, I hate the rush-rush of school day mornings.
What are you looking forward to?
Is it kids getting out of school? A summer trip? Spending time at the beach? Or are you dreading the heat of the summer and counting the days until school starts up again?
Well I will admit the extreme heat, I'm not looking forward to. How hot does it get by you? It gets over 100 easy here, I like under 90 degree days. That seems hot enough for me and well… Chocolate doesn't seem to melt so easily as it does when the temperature rises above that 90-degree mark.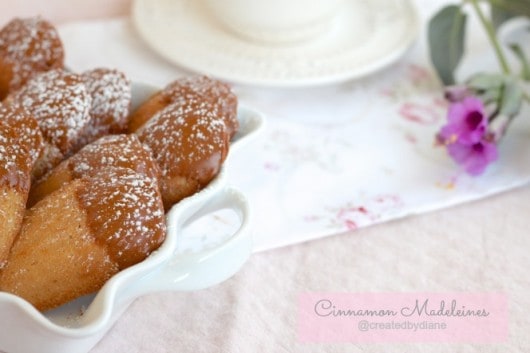 Cinnamon Madeleines
Ingredients
10 tablespoon melted and cooled butter
2 large eggs
2/3 cup sugar
1 teaspoon vanilla extract
1/8 teaspoon salt
1/4 teaspoon cinnamon
1 cup all purpose flour
1/2 cup Hershey's Cinnamon Chips
1 teaspoon shortening
powdered sugar for dusting
Instructions
Preheat oven to 375 degrees.
Butter and flour Madeleine pan.
Beat egg sand sugar in mixer, add vanilla salt, cinnamon.
Mix in Flour until just blended.
Pour the butter in a steady stream while the mixture is beating on low.
Be sure to scrape the side so everything is combined.
Bake Madeleines for 12-15 minutes.
Pop Madeleines out of tray when you remove them from the oven.
Then allow them to cool completely.
Dip the edges of them into the melted cinnamon chips.
I melted the cinnamon chips in a bowl in the microwave for 30 seconds and added a teaspoon shortening so it would be smooth.
Place dipped Madeleines into fridge for 5 minutes, just until the chocolate is firm.
Dust with powdered sugar before serving.